COMMENT
By
Jonathan Birchall
at Ewood Park
Under the sweltering heat of the Indian summer sun at Ewood Park, a cloud remained over
Manchester City
ahead of their clash with
Blackburn
on Saturday afternoon. Its eventual silver lining was to prove emphatic, and from an unexpected source.
With temperatures on and off the pitch peaking, the title-challengers required cool heads in Lancashire, and their inspiration was to come from a young man who is supposed to have the hottest. For Mario Balotelli, it was a case of going from trouble starter, to problem solver.
Goalless at half time, City looked a group carrying the millstone of Munich around their neck, despite six changes to the starting line-up having been made by Roberto Mancini.
The better side but lacking fluidity, the visitors were dealt a blow when Sergio Aguero hobbled off with a groin injury after only 25 minutes to be replaced by Samir Nasri, leaving the team with Balotelli as their only recognised striker, with Edin Dzeko remaining on the bench as punishment for his own misdemeanours at the Allianz Arena.
45 minutes later and the Italian's troops where marching back to Manchester as 4-0 victors, and Balotelli had led the charge.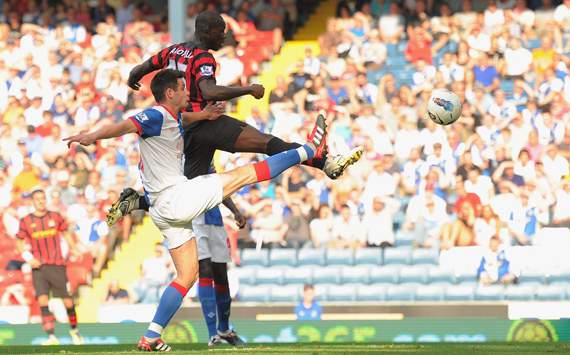 On the double | Balotelli scored City's second to put the game beyond Blackburn
The timing of the Palermo-born striker couldn't have been better, for Mancini or himself, as he reassured his manager that even with Aguero injured, Dzeko bench-bound and Tevez in exile, City need not be stunted going forward.
It was a game that had all the ingredients for a Balotelli meltdown in the style of which we've seen all too often for a player of such obvious talent. Having hit a point blank strike high over Paul Robinson's bar early on, the former Inter starlet followed it up with a curled 20 yard effort and a near post flick following some excellent work from the last Argentine standing, Pablo Zabaleta. Yet still the net failed to bulge, the deadlock remained intact.
But as chances mounted, frustration didn't.
SUPER MARIO SHINES


BALOTELLI DOUBLES CITY'S LEAD

59'

Goal from Balotelli as Man City finally find the goal-scoring touch! Balotelli swept the ball in at the near post after a cross from Nasri. The Italian has now scored three in three.

FROM OUR PLAYER RATINGS

7.5
Was given his first league start in place of the benched Edin Dzeko and although looking a little rusty at the start the Italian grew into the game. Saw a fine effort from 25 yards out go just wide after wasting an early chance before hitting the post in the second half. Finally got his goal to double his side's lead.
It was the 21-year-old's fourth and final miss, possibly even more so than his goal to double City's lead after Adam Johnson's astonishing opener, that impressed most. Or at least his reaction to it. After controlling the ball on his chest in the left channel, Balotelli swung a superb effort past Robinson and onto his far post. Blackburn survived, the City fans prematurely erupted. The striker didn't.
There was no irritation etched onto the youngster's face, nor admiration of a near-perfect effort. Balotelli knew he had a job to do, and he swiftly went about doing it.
"Sometimes I don't smile outwardly but I am smiling inside," Balotelli told the Daily Mail in January.
It was an admission that served to highlight the fact that in the eyes of many, the youngster is simply misunderstood by his detractors, but the indifferent facade lasted all of five seconds as he stood in front of the bouncing sky blue Darwen End having leapt to volley his side into a 2-0 lead on the hour mark on Saturday.
In a similar vein to the youngster's hug with Mancini after he came off the bench to score against Everton last weekend, Balotelli broke into a brief but brazen smile. Self-assured but not cocky, the youngster grabbed the attention of all within Ewood Park without overtly seeking it.
"I think what Mario's been doing for the last six or seven weeks, has been that he's showing a consistency in his concentration and a consistency in his performances," said David Platt, City's first team coach following the win.
"He's had a lot column inches and a lot of it has been negative. All the criticism that he's had is fine but I think he deserves the plaudits as well.
"His performance today had a lot more maturity about it but it doesn't surprise me because his concentration levels have been very high."
Maturity was the most noteworthy word from the former Arsenal man's assessment. During a turbulent week in which two players of greater experience, and previously greater respect within the game than the Italian, showed their childishness, Balotelli delivered a performance to prove that he's much more than the problem child of old.
A band synonymous with the blue half of Manchester once said: 'Don't Look Back in Anger', and it's a piece of advice Mancini may want to take on board after such a highly-charged few days. After all, Balotelli has shown that there's plenty to smile about going forward.