ANALYSIS
By
Rob Stewart
It seems like a long time since Mike Ashley used to sit amongst
Newcastle United
supporters but the way things are going at St James' Park that could be about to change.
The Newcastle owner had to stop watching away games with members of the Toon Army as his club was plunged into crisis when Kevin Keegan quit Tyneside three years ago.
But now, with Newcastle currently fourth in the Premier League table following their best start to a top-flight season since Keegan's first spell in charge, even Ashley's fiercest critics might start changing opinions and welcome him with open arms again on away-day trips.
Ashley has had to take plenty of flak since he took over the club four years ago, most notably bringing Dennis Wise to Newcastle and forcing Keegan out, overseeing relegation from the Premier League and latterly failing to replace Andy Carroll following his £35 million sale to Liverpool.
His detractors have had plenty of ammunition to fire at the Sports Direct founder but now they may have cause to re-evaluate their assessment of the billionaire businessman, even if he still gets up their noses from his ivory tower following a promising start to the season.
With their club remaining unbeaten after five matches of the league season – as well as two League Cup ties – for only the eighth time in its history, Newcastle fans should be riding high when they turn up at St James' Park on Saturday when victory over Blackburn could see Alan Pardew's side climb to third in the nascent Premier League table.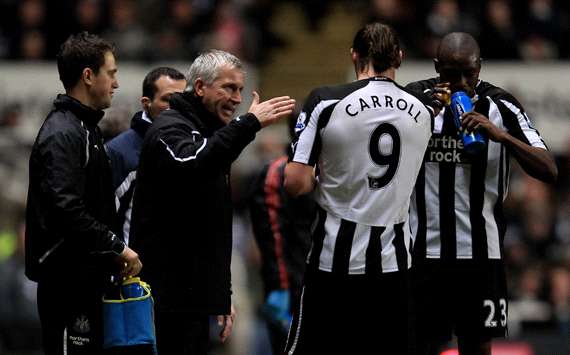 Big business l The £35m sale of Andy Carroll could be a Mike Ashley masterstroke
However, the sight of a huge Sports Direct logo emblazoned across the ground in a huge marketing ploy is guaranteed to upset the purists at St James' Park who remain at odds with Ashley's hard-headed approach to the football business, which was underlined by Sir John Hall, who sold him the club.
"I sat with his representatives over three days thrashing out a deal. I was keen to know why they wanted the club and they were quite honest," former Newcastle owner Sir John said in an interview with fanzine ToonTalk over the summer.
"They wanted to market their sports goods in the Far East and would use the club to help do this. To me it made sense to market the club globally. It was a win-win situation for Mike and the club. We hadn't done this. "
Only time will tell on that score but Ashley might, just might, be getting it right and he may be a football visionary.
Newcastle supporters are supposedly the biggest romantics in English football and while Ashley might not share their wide-eyed optimism, this start to the season should earn him grudging respect.
That is because there is a growing sense of realism in the north-east amid the economic downturn that prompted him, for example, to call off the pursuit of Paris Saint-Germain striker Mevlut Erdinc when, according to Newcastle sources, the player "moved the goalposts over his personal demands".
Ashley has overseen a cultural shift at St James' Park, which used to be home to some of the best-paid players in English football such as Alan Shearer and Michael Owen but is now a mixture of journeymen, such as Leon Best and Demba Ba, and up-and-coming talent such as Yohan Cabaye, a £3.5m snip from Lille.
Like Cheik Tiote, Cabaye is one of the players targeted by Toon talent-spotter Graham Carr, the father of comedian Alan Carr, who has become a trusted lieutenant to Ashley and Newcastle managing director Derek Llambias thanks to a string of astute signings of players on relatively low wages in the £35,000-per-week bracket.
Fabricio Coloccini and Alan Smith remain the biggest earners at Newcastle as they apparently rake in £80,000 and £60,000 per week respectively, but otherwise Ashley has brought the payroll under control with the likes of Joey Barton and Kevin Nolan having been ushered away in a tight fiscal policy as the club stops hemorrhaging money.
Plus, the deal that saw Carroll head to Anfield is starting to look like the best bit of business in the history of English football as the striker struggles to come to terms with life on Merseyside and a cut-price return to Geordieland looks ever more feasible.
Ashley was lambasted when he sacked Chris Hughton last season but the appointment of Pardew is starting to look inspired because not only is he a good coach/manager, but he also has plenty to prove having been dismissed by Southampton in August last year amid concerns about staff morale.
Like his paymaster, Pardew's reputation is being rehabilitated as he adapts to life within the Ashley regime, rolling with the punches as he copes with the sale of Carroll and the subsequent failure to hire a new talismanic No.9.
Pardew has a savviness that bodes well for his own career prospects but more importantly to Newcastle's long-term hope of returning to the upper echelons of the Premier League and staying there.
Follow Rob Stewart on