EXCLUSIVE
By Wayne Veysey | Chief correspondent

Football consultant Alex Fynn, described by Arsene Wenger as a "football guru" and one of the leading figures in the formation of the Premier League, has collaborated with Kevin Whitcher, editor of the Gooner fanzine, on an updated edition of
Arsènal: The Making of a Modern Superclub.
Here, in an interview with
Goal.com
, Fynn explains how Arsenal are at a crossroads in their history, why Wenger's powerbase has been weakened at the club, the players the manager has regretted not signing and what lies ahead for the Frenchman and the club he has been in charge of for 15 years.
It has been a tumultuous few months at Arsenal. Where do you see the club now?
The club is at a crossroads now. They have to decide on a strategy that significantly improves the playing side and the commercial side.
Should the club's current position be attributed principally to Arsene Wenger or the board?
Both. The board are fortunate to have had Arsene Wenger as their manager for so long and they have supported him wholeheartedly. In so doing they maybe gave him a bit too much scope and it is difficult to take some of these powers away from him. Because the board placed so much faith in Wenger they didn't have an alternative plan. They let him get on with what he did so well, which is to win trophies, but the emergence of Chelsea and Manchester City altered the playing field significantly and Arsenal have not responded. The bottom line is the board need to be stronger with Wenger and challenge him more. Wenger needs to change the playing style.
Your book chronicles the fall-out between the board and Wenger's great ally and friend, David Dein. How much has he been missed since he was forced out of the club in 2007?
Without David Dein, there would be no Arsene Wenger and without Arsene Wenger there would not be the Arsenal we have today. Dein saw the financial threat from Chelsea and felt the team should be prioritised rather than the stadium but the rest of the board disagreed and, as a result, we have Emirates Stadium. For the first couple of years after the stadium was built Arsenal were contenders for the main trophies because of Wenger's supreme ability, but that time has passed.
Do you believe Arsenal have the resources to compete with the big guns at home and abroad?
If you look at the club's revenue and take the property into account, Arsenal vie with Real Madrid as the biggest club in the world. Even without property, and just including football revenue, they are the fifth biggest club in the world. They are very successful in terms of the bottom line and they make a profit. Wenger has a wage and transfer budget in this financial year of £150 million. Before the sale of Samir Nasri and Cesc Fabregas, he had a transfer budget of £40m. He hasn't spent that in the way many fans feel he should have spent it. He could have spent and strengthened at his leisure. Instead, Arsenal did their business in the last hours of the window.
Do you sense that Wenger's powerbase has been weakened this summer?
Yes, the situation has changed. There were two key incidents. The manager would have preferred to go on his annual Austria pre-season tour but the board thought it was important to service the fans overseas as Arsenal are a worldwide business. In order to promote their commercial activities they needed to go to the Far East and Wenger accepted it. Secondly, he wanted to keep Samir Nasri. The board pointed out to him the facts of the situation, namely, 'You want to keep our most expensive wage earner whose contract expires in 12 months, who doesn't want to be here and for whom we have been offered £23m. That doesn't make good business sense.' Again Wenger agreed.
Would it have been chief executive Ivan Gazidis persuading Wenger to sell Nasri?
It probably would have been Ivan Gazidis but he would needed to have kept the board informed of what he felt should have been done. Gazidis has been a force for good at the club, particularly when you look at where Arsenal are lagging behind commercially. Their football revenues make them the fifth biggest club in the world, but in terms of commercial revenues, they are 13th. So there is a bit of leeway to make up but they are progressing well. Gazidis has always had power. He has just chosen to use it discreetly in the past.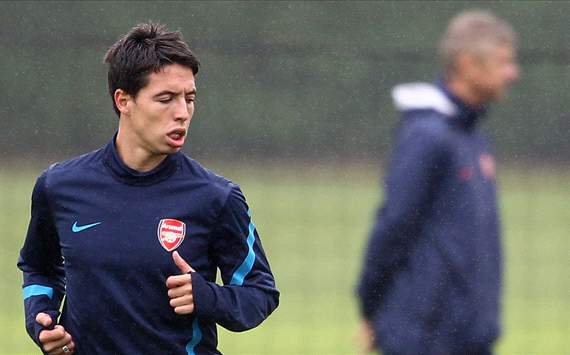 Sold to the highest bidder | Nasri's departure was against Wenger's wish to keep him
Are you surprised that Wenger caved in and sold Nasri?
He might be stubborn in terms of the way he runs the football side but when the facts of life are spelt out he will accept them. The problem with Arsenal is they haven't spelt out the facts of life too often to the manager.
So, there is now someone to knock on Wenger's door and have a quiet word with him about the football strategy?
In the past, the knocking on the door was few and far between. Now it is a little bit more frequent. There are still obvious decisions that need to be made, first of all on the playing side. It is perfectly obvious that Arsenal need an experienced defensive coach. Wenger also needs a strong number two. Chelsea, Liverpool, Manchester City and Manchester United have these people in place. Wenger has taken on too much himself. However, he has earned that by his success. When he came Arsenal were overjoyed to qualify for the Uefa Cup in 1996. He has given them 14 seasons of the Champions League, a couple of doubles and, unforgettably, the Invincibles season. He has earned the right to do it his way.
Do you think Wenger's youth project is a result of his own philosophy or the restrictions caused by building Emirates Stadium?
The restrictions were placed on him when the stadium was being built. He did so well with these restrictions that he felt even when they were lifted that he could continue with the same policy, forgetting that Chelsea were a competitor and there was now an even more competition in terms of Manchester City, while Manchester United were there all along. Someone needed to challenge him in the summer of 2008 and say: 'You must buy Xabi Alonso. Saying it will kill Denilson is not acceptable.'

The one that got away | Wenger declined the chance to buy Xabi Alonso in 2008
In your book you say that Arsenal were only a couple of million short of Liverpool's asking price for Alonso. Does the failure to buy the Spaniard and others like him highlight how much David Dein has been missed?
Many people misinterpret the role of Dein. Although he wouldn't challenge Wenger by saying 'for goodness sake Arsene, we need a defensive coach', he would say, 'Arsene, if you want Xabi Alonso, forget about the money'. They were close friends and worked together as a partnership. Wenger says himself that 'David did my dirty work for me'. Wenger didn't have the time or inclination to sit down with agents but Dein did. He was a tough negotiator and enjoyed the cut and thrust of negotiations. Unlike Chelsea and Manchester City, Arsenal no longer sit down so often with the mega agents like Pini Zahavi or Jorge Mendes, but if Dein was around there would be more contact.
Richard Law has taken on Dein's role of transfer and contract negotiator. What do you make of him?
He is a lawyer and not a football man in the way that Dein is and not an Arsenal man in the way that Dein is. Although Dein could have done more in terms of challenging his friend [Wenger], his absence shows how badly he is missed.
Should the board regret ousting Dein?
They acted the way they did because the stadium was the priority. Dein acted unilaterally. He believed while the stadium was being built that money should be found for the team. That was the point of difference, even though his friend, the manager, promised the board he could make do and mend. Dein went against the board policy which was supported by Wenger.
Would Arsenal have bought five players in the last 48 hours of the window if they had not lost 8-2 at Manchester United?
If they had drawn 2-2 would they have bought anybody? I don't think they would have acquired all the players they have. Wenger has been a critic of the loan system among Premier League clubs and has never before loaned a player [Yossi Benayoun] who he felt probably had his best days behind him. He used to only give one-year contracts to players once they got to 30.
There were well sourced rumours that there was pressure from the top of the club to make radical signings in the final days of the window. Do you believe Wenger was forced to act by the board?
He is making the decisions because he can now see that he might have been looking too far ahead in the past. If he could have his time again maybe he would have bought Xabi Alonso, maybe he would have reorganised the defence earlier. The Man United debacle brought it all home to him that there was just enough time to adjust the situation.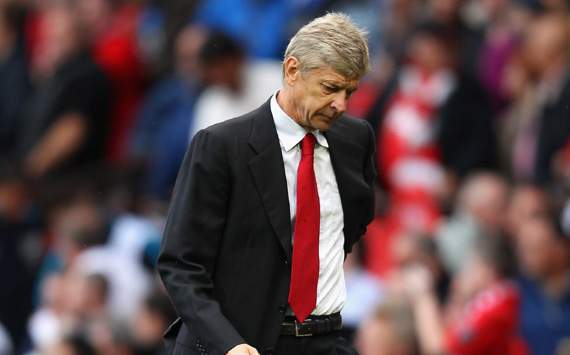 We're Gunner need new stars | The 8-2 defeat at Old Trafford led to a flurry of late buys

Did you find it odd that Wenger was at a Uefa coaching conference in Switzerland on the final day of the window?
It is unusual. Dein wouldn't have made it easy for him. Not by saying, 'Arsene, you can't go', but by forcing him to face up to last-minute decisions that would have involved both of them.
Wenger is under contract to Arsenal until 2014. Do you envisage a situation where he could leave the club before then, possibly even this season?
If he has another disappointing season like how the one ended last season and he is roundly criticised he might feel he has done all he can for the club, particularly because he wants to go home to France eventually. The French version of Manchester City, Paris Saint-Germain, have him on their wish list and he has had close ties with that club in the past. He would feel another challenge may revitalise him as manager. He wants to be hands on. Like Sir Alex Ferguson, he can't envisage not being hands on with regards to the playing side. Wenger has turned down offers in the past from clubs of the calibre of Real Madrid because he couldn't envisage the same freedom that Arsenal can give him.
Could you envisage him in a director of football role at PSG?
PSG have got a very good director of football in Leonardo, who is exceptionally experienced. If Leonardo and Wenger can work harmoniously then that might be an answer and a new challenge, so long as he decides who the club acquires.
There have been rumours about Manchester City targeting Wenger, a switch that would seemingly contradict his 'financial doping' stance?
I don't think he would go to another English club. Also, he is not materialistically inclined and does not spend money in a lavish way. What is important to him is job satisfaction. Last season, he wasn't getting the same job satisfaction as previously. If he is not getting job satisfaction this season then I think he might seriously consider calling time on his Arsenal career.
Given that there is a strong possibility that Wenger could leave Arsenal, would the board sack him if results go downhill?
No, because of what has gone before. They owe him too much. The only way that would happen is if there is a complete change in the current board. That might happen because all of the key men who have supported him over time are in their 70s. If the board remain in place, he will be at Arsenal as long as he wishes, even if they finish mid-table this season. But there would be unilateral criticism from fans and he would personally feel that he had let the club down and that maybe enough is enough.
Which brings us to 'Silent' Stan Kroenke, the majority owner who lives in the US, who doesn't care much for football and who keeps his own counsel. Would his view be different to the septugenarian-dominated board?
That is the big unanswerable question. It would be very nice if Kroenke publicly stated his position. What happens if suddenly Arsenal don't sell 60,000 tickets but they sell 40,000. You would probably think Kroenke might be a bit more proactive. He doesn't have the same feel for the club as long-term English supporters like Peter Hill-Wood, Dein and Ken Friar and if Arsenal were facing a financial problem he would have to protect his investment.



Arsènal: The Making of a Modern Superclub is published by Vision Sports Publishing and available from www.visionsp.co.uk.



Follow Wayne Veysey on