It was the game that just wouldn't quieten down –
Manchester United
and
Chelsea
served up a Premier League classic on Sunday, with
Sir Alex Ferguson
's men emerging 3-1 winners after a pulsating afternoon.
It seemed like every moment was even more incredible than the last, so here we count down the 10 most amazing bits of action from 90 minutes of drama, controversy and perhaps the most infamous miss of all time.
10. Fernando Torres fires over the bar, 71 mins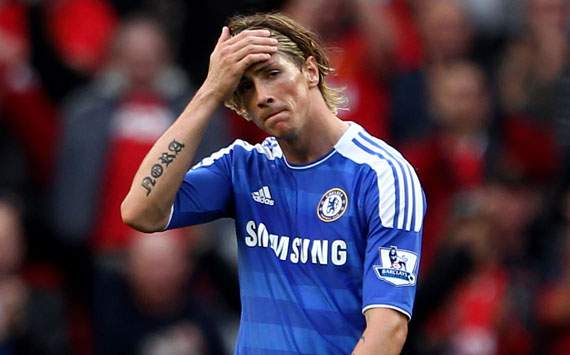 This would have been the moment that people would have been debating as a counterpoint to the Spaniard's deftly taken goal, had it not been for another more unsightly moment soon after. The ball bounced back towards him after ricocheting around the United area, and the Chelsea man shaped a volley towards David de Gea's goal.
Hearts were in the home fans' mouths as Torres prepared to shoot, and it looked for all the world like he would burst the net with a vicious strike. However, he just failed to get his foot over the ball enough to keep his shot down, and it fired high over De Gea's bar.
The United fans howled their merriment at the former Liverpool striker's anguish, unaware that much, much worse was to follow.
9. Chris Smalling heads United 1-0 ahead, 8 mins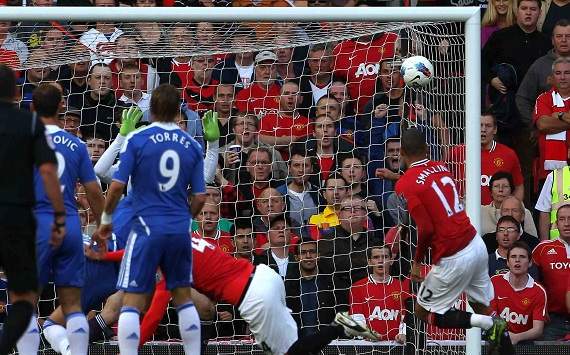 The game was only just finding its feet when United won a free-kick on the left flank. Ashley Young stood over it, and flighted in a delightful cross that picked out Smalling, who glanced a header high past Petr Cech into the top corner.
It was the scoring touch of a natural goalscorer, never mind a defender, but Chelsea fans would have every right to be up in arms about the goal being allowed to stand, as Smalling appeared to be one of a number of United players offside when Young struck the free-kick.
8. Ashley Cole clatters Javier Hernandez, 78 mins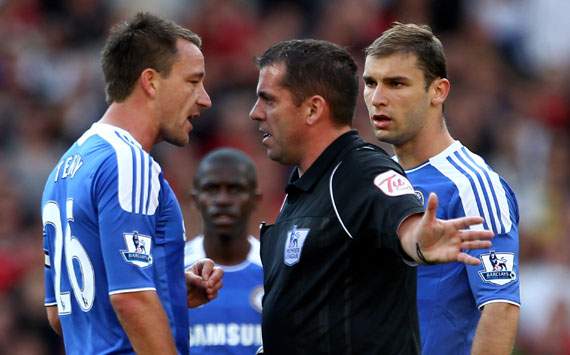 The game was getting away from Chelsea and when Wayne Rooney scuffed a shot against the post, it bounced invitingly back to Javier Hernandez just yards from Cech's goal.
The Mexican had to rush his shot however, as Ashley Cole lunged in to try to block the attempt. The ball whistled into the side-netting, but Cole made sure he didn't miss his target, catching Hernandez high on the shin.
The United forward required extensive treatment before hobbling his way around the side of the pitch and down the tunnel, while Cole became the latest player in referee Phil Dowd's book, much to John Terry's mirth. No penalty was awarded though.
7. Dimitar Berbatov denied by goalline clearance, 90 mins
The game was all but won, but last season's top scorer in the Premier League was looking to open his account in the dying moments. Berbatov was set up beautifully and unselfishly by Rooney, who had sprung the offside trap and then drawn Cech from his goal before laying the ball square to his strike partner.
Berbatov had to stretch but managed to poke the ball towards goal, only for Cole to scramble back in time to stab it wide of the post. It was a breathless end to a breathless match.
6. Wayne Rooney puts United 3-0 up, 45 mins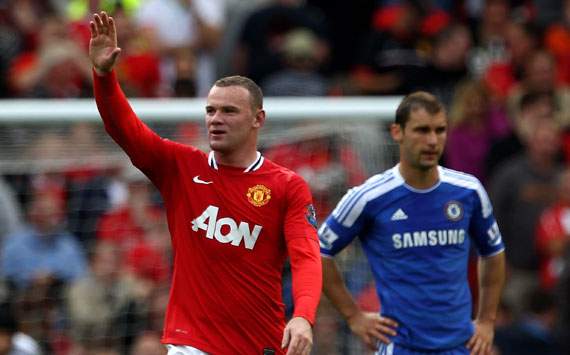 For the second Old Trafford match in a row, United scored three goals in the first half against a side that finished in the top four last season. The manner in which Rooney's ninth of the season came about, however, was quite bizarre.
Phil Jones had rampaged into the box before being dispossessed and slipping, falling on the ball and seeing it spin behind him. John Terry slid in to try to blast the danger away, under pressure from a recovering Jones, but the ball battered off Nani and perfectly into the path of Rooney, who simply had to sidefoot home his easiest goal of the campaign so far.
5. Ramires submits contender for miss of the season, 26 mins
This would have been the worst miss of most seasons – instead, it might only make the top three in this match alone!
Juan Mata's weighted pass on the left put Torres through on goal, and rather than shoot, the Chelsea forward unselfishly laid off perfectly for the onrushing Ramires to sidefoot into the goal. Even Daniel Sturridge was queuing up behind the Brazilian, such was the manner in which United had been caught square.
Somehow, Ramires managed to get into a terrible body shape and prod the ball straight at a recovering De Gea before ending up flat on his face, where Sturridge – only partially in jest – kicked his team-mate as he lay on the turf.
4. Fernando Torres scores his second ever Chelsea goal, 46 mins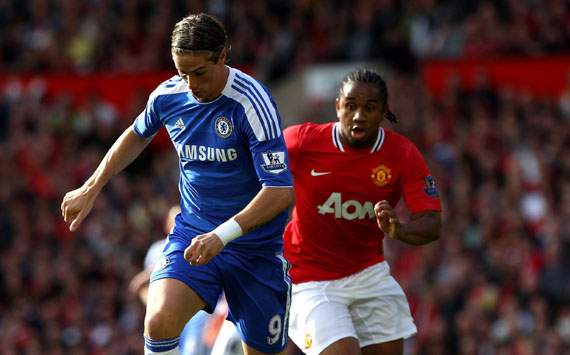 It was the moment that had the world thinking 'he's back!' Torres gave his side hope of getting back into the game with a delightful strike just moments into the second half.
Substitute Nicolas Anelka played a great pass through to the Spaniard who had ghosted in between Phil Jones and Jonny Evans and then brilliantly scooped the ball over De Gea with the outside of his right foot.
It was a display of the kind of goalscoring instinct that made Chelsea pay £50 million for his services only seven months ago - but his valedictory celebration in front of the Stretford End was to come back to haunt him.
3. Rooney 'does a Terry', 57 mins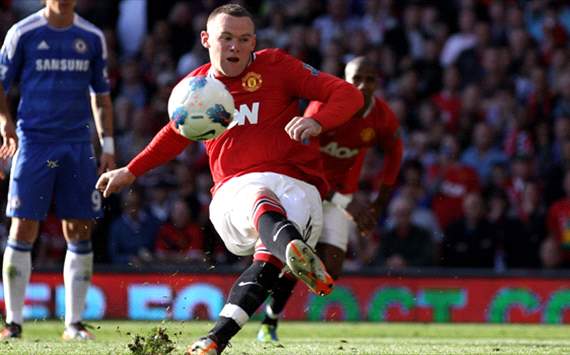 At 3-1, the match was following an eerily similar path to the 8-2 victory that Manchester United had recorded against Arsenal in their last match at Old Trafford.
It seemed as though Rooney would be progressing towards a third successive hat-trick when United were awarded a penalty as Jose Bosingwa's despairing lunge brought down an onrushing Nani yards from goal.
John Terry furiously protested and got a booking for his troubles, but up stepped Rooney. The England star was seemingly set to score his second goal of the game – only to slip badly and drill the ball spectacularly wide of Cech's upright.
It was a carbon copy of Terry's own infamous shootout gaffe in the Champions League final of 2008, against United in Moscow.
2. Nani scores a wonder goal to make it 2-0, 37 mins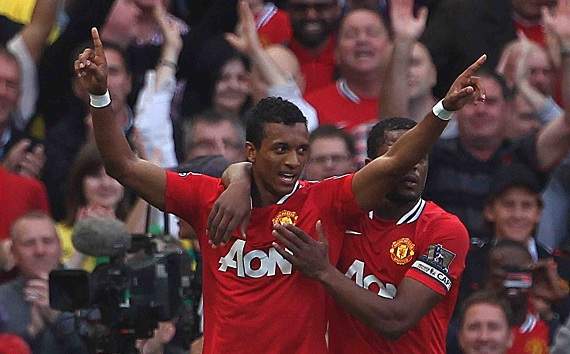 The Portuguese lit up Old Trafford with a majestic run and strike, but it was another moment of controversy for those of a Chelsea persuasion.
A long pass from deep found Nani out wide on the right, but TV replays were to show that he had drifted back from an offside position. Regardless, the United winger drifted effortlessly past Mata's limp challenge then hared towards the box before unleashing a 25-yard strike that whistled past Cech and into the top corner.
It was a contender for goal of the season, and Nani's inimitable tumbling backflips had an extra spring in them as the ground rose to acclaim a brilliant strike.
1. THAT Fernando Torres miss, 83 mins
It will go down as one of the most incredible moments of this or any other Premier League season. The league's most expensive player, about to score his second goal of the game having gone the previous nine without success, and having bamboozled De Gea with a gorgeous stepover that oozed class, confidence and composure.
And then suddenly… it all went horribly, laughably, incredibly wrong. His skewed left-foot shot fizzed past the left upright and left those in the stadium and the watching world gasping.
It was the most amazing moment of one of the Premier League's most incredible matches ever.