By
Greg Stobart
Ledley King
's activities during a regular working week are different to any other footballer in the Premier League.
The Tottenham club captain played his first game of the season in the 2-0 win at Wolves last Saturday and will have spent the last six days working hard to make sure he can start Sunday's clash against Liverpool.
But King will not have been out on the training ground with his team-mates before today, when he will take part in a light, tactics-based training session before making a final decision on the state of his knees.
Those knees have no cartilage, meaning his chronic condition degenerates with every step, with every jump and every kick. It makes the story of one of the most talented defender's of his generation a sad one.
Harry Redknapp, the Spurs manager, says King's knees swell up "like balloons" after matches and the 30-year-old is unable to play two games in a week. He spends his weekdays recovering in the gym at the training ground and the swimming pool at chairman Daniel Levy's house in Hertfordshire, which is on the same road as King's own home.
King made just nine appearances in all competitions last season, returning for the final two games of the season following a seventh-month lay-off due to a troublesome groin problem. It is unlikely Tottenham would be able to tolerate such an injury record with any other player – Jonathan Woodgate left on a free transfer over the summer – but King is an exceptional case.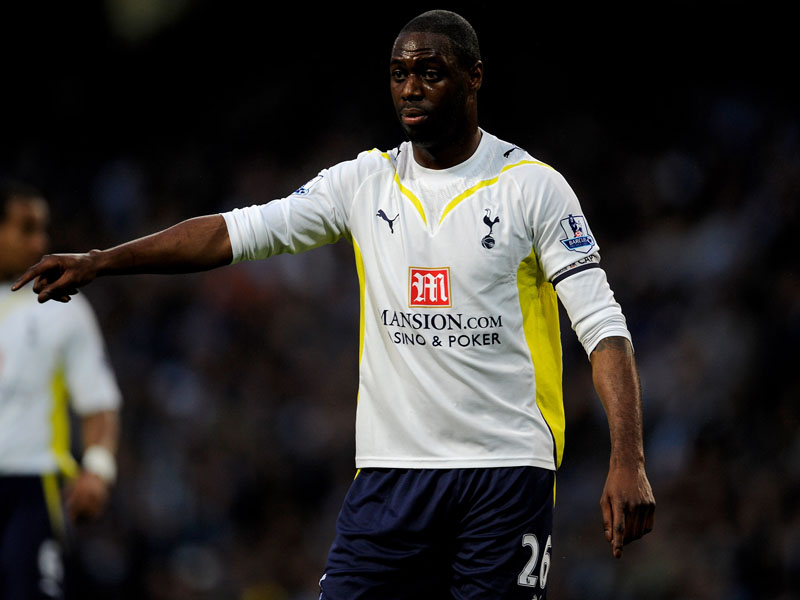 King-spiration | Ledley King remains as important as ever to Redknapp's Spurs
Despite missing the whole of pre-season, King produced a superb performance at Molineux last week to underline his quality, value to the team and incredible ability to slot straight into the side after prolonged spells on the touchline.
Former Spurs manager Martin Jol has described King as the best defender he had ever seen while Redknapp continually expresses his bewilderment that the Academy product is "a freak" for the way he is able to defy his injury troubles.
"Ledley is an amazing player," reflected Redknapp last weekend. "He only ever trains for a few minutes the day before a game. It will take all week now for his knee to go down and then we will try and get him on the park next Sunday [against Liverpool] but he is one of the best centre-halfs you will ever see.
LONG LIVE THE KING


REDKNAPP'S RECORD WITHOUT KING

GAMES PLAYED
GOALS CONCEDED
AV. GOALS CONCEDED PER GAME
GAMES WON
WIN PERCENTAGE

97
123
1.26
32
32.9%


REDKNAPP'S RECORD WITH KING

GAMES PLAYED
GOALS CONCEDED
AV. GOALS CONCEDED PER GAME
GAMES WON
WIN PERCENTAGE
54
55
1.01
40
74.1%
"He doesn't make too many last-ditch tackles because he is already in position to deal with it. Like the Bobby Moores and Alan Hansens over the years, they understand what they are doing - and that's what he does."
As someone who played with Bobby Moore and was a great friend of the 1966 World Cup-winning captain, it is not the sort of comparison Redknapp would make lightly.
After Spurs shipped in eight goals in their opening two games of the season, it was no surprise that they looked so much more defensively sturdy with King restored to the backline. Theirry Henry said King was the only defender in England who could tackle him without committing a foul and his anticipation of the game rubs off on the other players. One of the most notable things is the improvement in team-mates like Michael Dawson and Younes Kaboul when they are paired alongside King.
On Sunday, he will come up against the in-form Luis Suarez with fond memories of the way he successfully shackled the Uruguayan striker in Tottenham's 2-0 win at Liverpool last season. That day, King returned to the side and Spurs won for the first time in three months for an important game, securing a Europa League spot in the process.
It was a typical example of the difference King makes to Spurs, the impact he has always made: whatever the state of his knees, they are a much better team when he plays. He provides the quality and leadership missing in a defence that can look very vulnerable, and which Redknapp wanted to improve by signing Gary Cahill in the final days of the summer transfer window.
Last season, Spurs won four of the six league games when King played, conceding just four goals; while without him they conceded 1.31 goals per game and won 57.81 per cent of their matches. People inside the club are convinced that they would have achieved a top four finish had King managed to play just a handful more games.
It is a common trend throughout King's career at White Hart Lane since he was handed a debut by George Graham in 1999, fittingly against Liverpool, in a 3-2 defeat at Anfield.
In 2005-06, for example, Spurs won 67.13 per cent of 26 Premier League games with King in the side but triumphed in just half of the 12 matches he missed. The following season, they conceded an average of 1.29 goals per game in 21 matches with King and without him were far more leaky, shipping 1.59 goals on average.
Redknapp has admitted that he finds it difficult to handle King's situation, to be unable to rely on a top class defender for more than 20 matches this season. The Spurs boss recently warned that King will face a tough task to prove he deserves a new contract when his current deal runs out next summer.
But Redknapp knows that King is still, by some distance, his best centre-back, even if he will never again be 100 per cent fit. There has inevitably been talk about possible retirement but there is an optimistic mood at White Hart Lane that he can play a prominent role this term.
Spurs now have a cast of stellar names in their squad including Gareth Bale, Rafael Van der Vaart and Luka Modric, who was the subject of a £40m bid from Chelsea this summer.
Yet King is somehow considered just as important to Tottenham's prospects this season, despite his lack of appearances and his inability to train properly.
It was at Anfield last season that he provided a crucial reminder of just how important he can be for Spurs, as he had Suarez in his pocket throughout the game and steered Spurs to a clean sheet.
On Sunday, Liverpool will again be the opposition as the injury nightmares will be temporarily forgotten and he will have the opportunity, for 90 minutes, to give Tottenham fans a taste of Ledley King: the world class defender.