By
Nick Price
Biggest conspiracy nut since David Icke
Kenny Dalglish (Liverpool)
The veteran boss had plenty of reasons to be irate after his side went down to a one-goal defeat by Stoke City at the Britannia Stadium: his side wasted lots of good chances to score, a few of his players were rubbish, and it poured it down in the second half meaning his suit got soaked through. He couldn't, however, have too many complaints about the refereeing – but he did.
Stoke's penalty came as a result of Jamie Carragher wrapping an arm around Jonathan Walters' waist in the area, but Dalglish said after the game that he couldn't believe it was given. The Reds had appeals of their own too, both for handballs in the box, but both – Dirk Kuyt slamming a shot into Rory Delap from a foot away and Matthew Upson sliding in to block a Luis Suarez shot, which richoted off his leg and onto his arm before bobbling out for a corner – were debatable calls rather than definitively wrong or particularly worthy of argument.
Yet for Dalglish, whose side were unbeaten prior to shooting themselves in the foot against Stoke, those decisions were part of a wider conspiracy against Liverpool.
MTW
mouthed "WTF?" in the press lounge when the Scot said that "the first four league games have had contentious decisions in them and every one has gone against us" before ridiculously claiming his side were being "battered" by referees and he would have to speak to the club's owners to pursue a course of action to prevent it from happening in future.
As far as
MTW
can recall, the only contentious decision that has not gone Liverpool's way in the Premier League season was when Kieran Richardson was not sent off for Sunderland after he blatantly brought down Suarez on the opening day of the season at Anfield. There may have been an iffy penalty call against Bolton, but Dalglish's side thumped them and it would not have mattered any how, while the Reds were certainly not impinged by the officials at Arsenal when they cruised to a 2-0 victory.
Maybe Dalglish, after spending a decade out of the game, has been following the fortunes of Jose Mourinho and Co. and feels like he has to complain that the whole of football is out to get him whenever a result goes against him, or maybe he's been Youtube-ing shapeshifting lizards and the Illuminati controlling the world and has lost sight of reality, because one thing is for certain, a couple of dodgy decisions in a couple of games doesn't mean there's a conspiracy against Liverpool.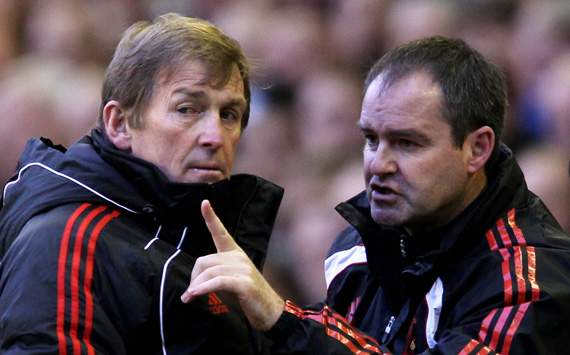 "I'm watching you" | Dalglish makes sure the referee doesn't turn into a lizard
GOOD WEEK


Arsenal
It doesn't matter how you win when you're stuck in a rut, and Saturday's slender 1-0 victory over Swansea will be a massive weight off the club's shoulders, with a few of the new signings showing signs of progress. The season can at last start for Gooners.

Manchester
For the second round of games in a row, the city's two clubs stood out by a mile as the best in the league, netting eight fantastic goals between them. Who cares if it turns into a two-horse race if they continue to play like that?

Tottenham
Picked up their first league win of the season comfortably at Molineux against a Wolves side that put three past them on the same turf last season. T'riffic, as Harry Redknapp would say.
BAD WEEK


Fernando Torres
The £50m man watched on from the bench as Juan Mata, Nicolas Anelka and Daniel Sturridge showed their class in the win over Sunderland. If he keeps up at this rate he'll be on the move again soon enough.

Jamie Carragher
The experienced defender was caught out of position and then ridiculously used his arms on Jonathan Walters in the box, gifting Stoke a penalty at a time when Liverpool were dominating.

Steve Bruce
Sunderland are still without a win and now they've lost their best player. There'll be a lot of angry thoughts going through that big fat head of his right now.
Most bizarre transfer of the season
Asamoah Gyan (from Sunderland to Al Ain)
The Black Cats' fans breathed a sigh of relief when the transfer window shut a couple of weeks ago, meaning their star forward could go nowhere – or so it seemed.
On Saturday, just hours before Sunderland were to kick off against Chelsea, the north-east club announced that Gyan was on his way to the United Arab Emirates on a season-long loan deal – an absolute head scratcher of a move seeing as he was his side's best player last year, there's no chance to bring in a replacement and Steve Bruce's side are now left with Nicklas Bendtner (!) as their most established striker.
The Ghanaian has said that the offer "was too good turn down", but
MTW
can't help but think that a 25-year-old shouldn't really be playing in a joke league just for the cash.
This column rarely finds itself agreeing with Bruce (he's hardly one to talk about loyalty seeing as he's left clubs high and dry in the past), but
MTW
nodded as the giant headed manager bemoaned the loss of Gyan, saying: "I had a conversation with Gyan 48 hours ago, with his agent. He shook me by the hand and it was a case of 'get on with it', he said he wanted to stay here, play here because the nonsense had gone on too long.
"I will let everyone else make up their conclusions over why he has left the Premier League to go to the United Arab Emirates. What are you going to the United Arab Emirates for?"
The answer to that big fat rhetorical question is, of course, money, money, money – at the cost of playing in one of the best leagues in the world and being taken seriously as a top-class athlete.
What a prat.
Best transformation since Susan Boyle blossomed from a lonely weirdo to a multi-million album-selling weirdo
Manchester City
Last year, the most expensive team in the world were often less enjoyable to watch than a troop of snails slithering along the pavement to eat a bit of a leaf.
It was as though Sheikh Mansour, the man who has pumped his own fortune into the club as his plaything, had spent a billion quid on a gold-plated car but forgot to make it go fast or do anything remotely cool.
This year the gold-plated car has had a massive go faster stripe splashed down the sides, been turned into a low rider and pimped out with a massive sub woofer and a spoiler – City have finally become fun.
They have scored 15 goals in four games and in Sergio Aguero, Samir Nasri and David Silva they have possibly the most exciting attacking trio in the country at the moment.
It's a far cry from the days of Emmanuel Adebayor being supported by Craig Bellamy and Gareth Barry, and thank the lord that Roberto Mancini has grown a set of testicles and let his ridiculously expensively assembled squad entertain us.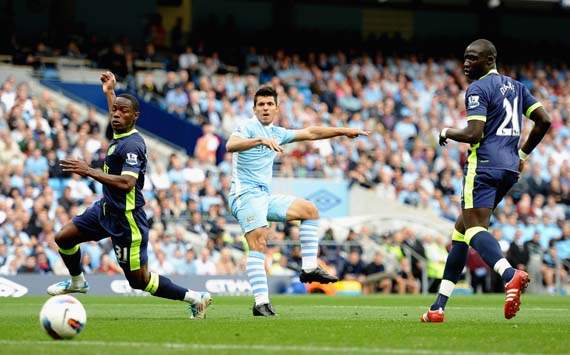 Goals, goals, goals | City without the shackles are a joy to watch
Fantasy football hero
Wayne Rooney (Manchester United)
A second successive league hat-trick from the England striker, who ran riot at the Reebok on Saturday. He pips Sergio Aguero to this prize, with the Argentine equally electric against Wigan as he netted a treble, while team-mate David Silva was sensational in setting up two of his goals.
Honourable nods to Asmir Begovic of Stoke for pulling off a treble save from point-blank range, for Raul Meireles for getting an assist on his Chelsea debut, for Emmanuel Adebayor for getting the Tottenham fans on his side with a goal on his Spurs bow, and for Peter Odemwingie for getting his first goal of the season, which earned West Brom their first win of the campaign.
Most blatant foul
Gabriel Tamas (West Brom)
The Romanian defender ridiculously got away with an absolutely heinous assault in the box in the dying stages against Norwich. The centre-back looked behind him as a cross was zipped in, clocked James Vaughan ready to jump, and swung an elbow straight into the striker's face.
A pretty obvious foul if ever there was one, but Mark Halsey missed it and waved play on, and must have felt a right berk when Vaughan angrily trudged off to the sidelines, blood spurting out of his mouth, to change a yellow shirt that had turned a violent shade of red.
Roy Hodgson, presumably having not seen a replay of the incident, said he would be disappointed if Tamas was retrospectively punished.
MTW
would be outraged if he wasn't.
Fantasy zero
Jussi Jaaskelainen (Bolton)
The veteran goalkeeper has looked shakier than an Elvis impersonator of late and shipped five goals at home against Manchester United, earning him the booby prize this week.
Rueful shakes of the head go to Jordan Henderson for missing three sitters in three seconds for Liverpool, and Michael Vorm for throwing the ball against his team-mate and into the path of Andrey Arshavin to stroke home into an empty net – well done, fella.
Quote of the weekend
"I'd be rubbish without it!" -

– Theo Walcott on his pace. If MTW was the mischievous sort it'd say he's little better than rubbish with it.


Best Thierry Henry impression
Daniel Sturridge (Chelsea)
In a weekend which saw several top drawer goals, the young striker got the pick of the bunch with an audacious backheel around the goalkeeper and into the far corner.
It could only have been cooler had he been sipping on a pina colada as he stroked the ball home.
Follow Nick Price on