COMMENT
By
Wayne Veysey
at White Hart Lane
This has been the summer of the strike. Down tools, brief the media about a dream move to a club offering greater possibilities and, with no great subtlety, try to engineer a transfer.
It has been a copybook followed by Cesc Fabregas, Samir Nasri and Luka Modric in the three principal will-they-won't-they transfer sagas of the summer.
Fabregas and Nasri eventually got what they wanted, but not without aggravating the clubs they were so keen to leave behind, while Modric's body remains firmly rooted in north London, even if his heart lies elsewhere.
Two of the trio were on show at a sunlit White Hart Lane at Sunday lunchtime, Nasri wearing a City jersey for the first time and Modric making his opening appearance of the campaign in the lily-white of Spurs following a mini-strike that has served to increase the antipathy in these parts to rouble-rich Chelsea.
To put it mildly, the pair had games of varying fortunes. Nasri set up three of City's five goals with a dashing display and looked completely in tune with his new team-mates. By contrast, Modric had been substituted before the Frenchman had slid in Dzeko for the third of his four goals following a performance that had been as forgettable as that of his team.
Predictably, Nasri was jeered beforehand by home supporters recognising his Arsenal connections, while Modric's name was loudly cheered when the teams were announced shortly before kick-off.
As far as the average fan is concerned, you can publicly agitate all summer for a move to a bitter rival but that is instantly forgotten if you are a marquee player with the ability to win a football match.
Not that Modric can be accused of lacking endeavour. It was just that he was generally anonymous and patently not match fit.
The man nominated by Sir Alex Ferguson, no less, as the best Premier League player of 2010-11 was not helped by Harry Redknapp's perverse decision to field a midfield without an anchorman in the opening period.
It was as if the Spurs boss was trying to prove to his doubtful chairman Daniel Levy why signing Scott Parker should be top of his agenda in what will surely be another mad scramble to bring in fresh blood in the last hours of the window.
Modric's fellow Croatian, Niko Kranjcar, was out of his depth against City's little and large front six and would probably have been withdrawn or re-stationed at the break had he not succumbed to a groin injury.
It meant Modric had to drop deeper and deeper to fight midfield fires and offer protection to a defence that could not cope with the power of Edin Dzeko and the impish flair of Nasri, Sergio Aguero and David Silva.
The creative powers and ability to design a game that is viewed in the Stamford Bridge dugout and boardroom as the missing piece in the jigsaw was mostly absent.
Yet when Modric was substituted in the 66th minute, he received a warm ovation from the home fans and a sympathetic tap on the head from his manager.
Publicly at least, no blame was being apportioned to the midfielder. It is as if the nicer everyone at the club is to Modric, the more likely he is to forget about his dalliance with Chelsea and fall back in love with Spurs.
While Modric looks around the Spurs dressing room and sees a squad that has its work cut out to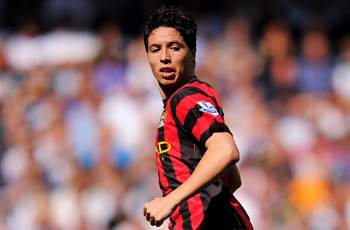 "Nasri can kick back safe in the knowledge that he has joined a club going places"
challenge for a Champions League place, Nasri can kick back safe in the knowledge that he has joined a club going places.
How far exactly, it is probably too soon to judge. But most neutrals are already concluding that the Premier League title is heading for Manchester. It is simply a matter of whether it resides in a blue or red trophy room.
Spurs' biggest league defeat of Redknapp's reign can partly be attributed to a distracted Spurs being caught on a bad day.
But such was the power, imagination and high calibre depth of City that any doubts about whether they can last the distance have surely been shredded.
One of the main criticisms of Roberto Mancini during his reign at the Etihad Stadium has been his caution default mechanism.
Not this season. Not at White Hart Lane, a venue were City were comprehensively outplayed this time 12 months ago and fortunate to escape with a Joe Hart-inspired point.
Mancini fielded his big four attacking guns in front of midfield sentries Gareth Barry and Yaya Toure and instructed his players to overwhelm Spurs with their greater technical qualities. This they did to thrilling effect, while Carlos Tevez and Mario Balotelli, a more than handy pair of back-up strikers, remained in the stands wondering what their roles will be this season.
They won't be alone in pondering their futures in the next few days.
Spurs' season starts for real on September 1. The same is true of Modric.
Follow Wayne Veysey on