By
Richard Parry
Tottenham
fans should be in buoyant mood.
Rivals Arsenal are stuttering, with just one point from their opening two games, while Harry Redknapp's side are four points off a Champions League spot with two games in hand. So far so good.
Sadly not. Having had their opening game against Everton postponed for safety concerns, Spurs face the daunting test of a trip to Manchester United to start their Premier League season, as they play catch-up with the rest of the pack.
Only one club can honestly boast an impressive record at Old Trafford, and that's United themselves. That said, Spurs haven't won at the Theatre of Dreams since 1989, and some of the events in recent memory have been enough to make Spurs fans wish they'd been dreaming...
The magic and madness of Manchester United versus Tottenham is almost the stuff of football folklore, and ahead of this season's performance,
Goal.com
cast an eye back on some of the fixture's more astonishing events of recent years.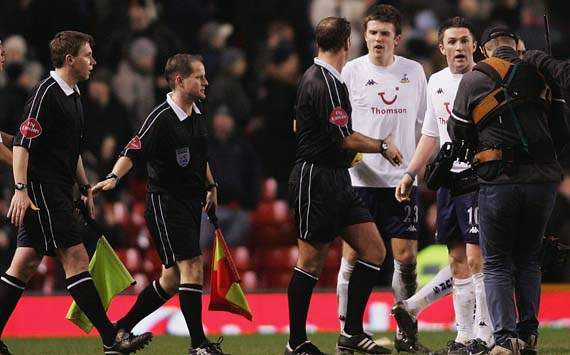 Starring Pedro Mendes, Roy Carroll and Mark Clattenburg...
January 2005. With the match goalless, and the clock winding down with its final ticks, Pedro Mendes latched on to a half cleared Rio Ferdinand header. With United keeper Roy Carroll loitering on the edge of his penalty area the former Porto midfielder unleashed a half volley from all of 50 yards.
As the former Wigan keeper sprinted back to his goalline, he fumbled the Portuguese's effort over the line. 1-0 Tottenham! A memorable win! No? Oh...
Despite the ball crossing the line by a clear yard, no goal was awarded. Take a bow Mark Clattenburg, and his assistant Rob Lewis.
Speaking after the match, Lewis defended himself insisting that "there was nothing I could have done differently apart from run faster than Linford Christie". Understandably, Spurs boss Martin Jol was less than sympathetic.
"We are not talking about the ball being a couple of centimetres or an inch or two over the line, it was a metre inside the goal," the Dutchman bemoaned, while Mendes conceded: "I've never seen one so over the line and not given in my career. It's really, really over. What can you do but laugh about it?"
Mendes would only score one goal for Spurs during his two-year spell with the club.
CARRICK TAKES THE MICHAEL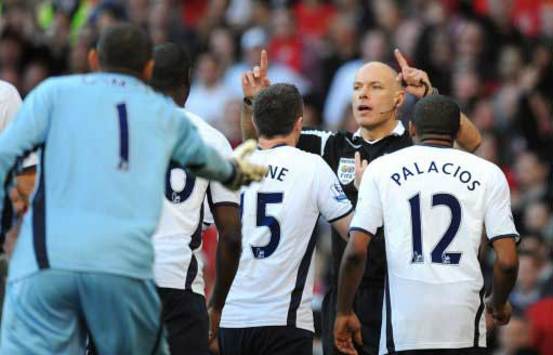 Starring Michael Carrick, Howard Webb and Heurelho Gomes...
April 2009, and Redknapp's first experience of Spurs' Old Trafford hoodoo. Having learnt their lesson from four years before, Tottenham insisted on making the net ripple with each goalbound effort, as goals from Darren Bent and Luka Modric put Redknapp's side 2-0 up at the break.
After the interval, with the match approaching the hour mark, former Spur Michael Carrick burst into the box and rounded keeper Heurelho Gomes before tumbling to the ground. Future World Cup final referee Howard Webb put his whistle to his mouth, signalled the penalty, and Cristiano Ronaldo fired home. 2-1.
What followed was an awesome display from title-pursuing United, with four legitimate goals, but the importance of the penalty was such that even Sir Alex Ferguson acknowledged afterwards: "It was a bit fortunate. Football is funny like that." Comforting words I'm sure.
THE SAME OLD TRAFFORD STORY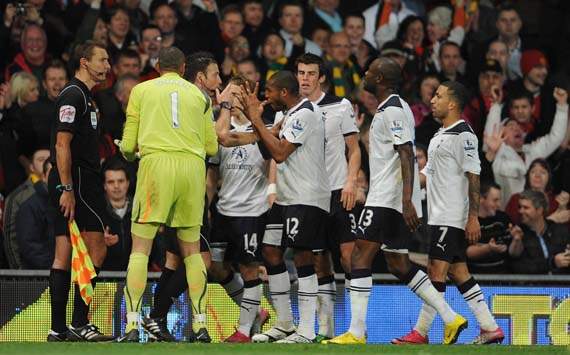 Starring Nani, Heurelho Gomes and Mark Clattenburg (again)...
October 2010. United are already one up, after Nemanja Vidic's opener, but alas Spurs are still very much in the game.
Nani looked to latch onto a chipped through ball from Wes Brown, and under the close attentions of defensive vigilante Benoit Assou-Ekotto, he tumbled to the ground. His descent was such that Gomes was convinced that the former Sporting winger had dived, and that in turn Spurs had been awarded a free kick.
Unfortunately for the Brazilian, Clattenburg – wrongly, given that Nani had handled the ball – had not, and as soon as the Spurs No.1 had placed the ball on the ground Nani got to his feet before firing the ball into the net... 2-0. The potion of Old Trafford plus Clattenburg was upsetting enough for the White Hart Lane faithful, without the need to merge an erratic extract of Gomes.
Clattenburg will be nowhere near Old Trafford come Monday night, having been refereeing the Fifa Under-20 World Cup in Colombia, a total of 5271 miles from Manchester.
Donning the whistle and cards in his absence will be Lee Probert - and the signs are not too encouraging for Tottenham once again.
LEE PROBERT'S RECORD SINCE 2007
WHEN OFFICIATING SPURS

Games: 6
Spurs wins: 0
Spurs defeats: 4

WHEN OFFICIATING UNITED

Games: 5
United wins: 3
United defeats: 0
Follow Richard Parry on