The striker carried the menace of old in the opening weekend's goalless draw at Stoke, but the Blues still need a magic maker to ease the load on the £50m man
COMMENT
By
Nick Price
at the Britannia Stadium
For much of the second half of last season,
Fernando Torres
toiled and failed to score for
Chelsea
, looking every inch a £50 million misfit at Stamford Bridge.
He failed to score in his 85 minutes on Sunday too, but anybody who watched his performance against Stoke will have been impressed by the Spaniard as he went up against the uncompromisingly tough Ryan Shawcross without fear, and showed flashes of the off-the-cuff brilliance that used to mesmerise Merseysiders in his spellbinding three-and-a-half years with Liverpool.
Stoke City, as Andre Villas-Boas emphasised repeatedly after the game, present a unique challenge to even the best teams in the Premier League, and it was a surprise when the Portuguese boss handed Torres – who had been a doubt having sustained a knock to the head in midweek – a start ahead of the sturdier strikers available to him. But the World Cup winner held the ball up well, almost as if he had been given a pre-game injection of Didier Drogba's DNA, and repeatedly went up in the air against – and occasionally beat – the hosts' no-nonsense centre-backs.
He also showed flourishes of genuine quality – be it a pirouette on the ball to hoodwink a marker and create some space, a slinky drop of the shoulder to gain an extra yard or a distracting run to fool the defence and give him the room to float in an inch-perfect cross – as well as bursts of the blistering pace that has left the faces of countless defenders singeing over the years as he turns on the afterburners and hares towards goal.
Stoke boss Tony Pulis suggested after the game that Torres was back to his best, telling reporters: "I thought he looked like he was when he first went to Liverpool. He caused us all sorts of problems today. He was very, very good."
But he wasn't great.
A slaloming dribble in the first half saw him put two defenders on their backsides as he twice feigned to shoot before breezing past just like the Torres of spring 2009 would have done, only for the Torres of spring 2011 to do the shooting as he scuffed wide under pressure. In the second half too he didn't have Asmir Begovic at full stretch like John Obi Mikel and Nicolas Anelka had, with his finishing not as finessed as his refined build-up work.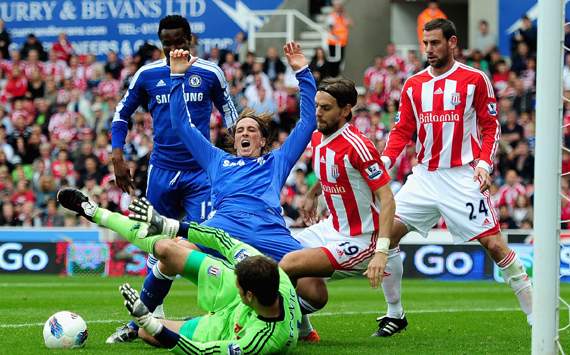 Fernando frustrated | The striker was denied by Stoke but looks to be back to his best
Then again, he could perhaps be forgiven for not having that scissor-like sharpness in front of goal given that his four attempts (the most he has ever had in a single game for Chelsea) came only because he had worked exhaustively to fashion them for himself. Torres may have linked up well with the midfielders and he did his utmost to supply Florent Malouda and Salomon Kalou, who both flunked on the flanks, but the favour was not returned.
TORRES ON THE COMEBACK TRAIL

PLAYER RATING
8
Held the ball up well while showing flashes of pace that had Stoke's backline scrambling. Showed the touch of the 2009 Torres and surely it's only a matter of time before his finishing is as refined as it used to be. Had he been given better support from his team-mates, he might well have been able to re-calibrate his shooting boots.
Like in his Liverpool days when he played without Steven Gerrard or Xabi Alonso, Torres was forced to do it all himself and it was simply asking too much to expect him to keep pulling rabbits out of the hat, especially when he often found himself with two if not three red and white shirts within touching distance.
The goalless draw was yet further evidence that Chelsea need to splash out on a schemer and/or a versatile attacker that can ease the strain on Torres' shoulders. Malouda's heydays seem a distant memory, with the Frenchman failing to turn in regular high-quality performances last season and looking shorn of quality on Sunday, while Kalou has flattered to deceive for too long to seriously be considered a regular member of the attacking trident that Villas-Boas favours.
Frank Lampard also seems to be on the wane, and on Sunday he was often sitting too deep and lacking the pace to link-up with Torres in areas where they could have combined to hurt their opponents.
At times it seemed as if the striker was playing in a game of his own such was absence of quality alongside and the gaping hole behind him, and when Mikel and Ramires pushed forward to fill the gap they were unsurprisingly lacking the vision to conjure up some magic with their star forward.
Signing Luka Modric, or a player possessing a similar set of special skills, would lessen the load on Torres and the rest in blue who have a weapon or two up their sleeve, with the Tottenham midfielder possessing the ability to keep the ball cycling around with ease, thus dragging markers out of position and enabling Chelsea's cannons to line themselves up in space to fire down on goal.
On Sunday, Villas-Boas spoke of his hopes for his side to be more dynamic, regardless of formation, when it comes to using the ball and creating chances. In Torres, Chelsea have just the man, in just the mood, to benefit from such free-flowing football – bringing in someone with the panache to pull the strings in midfield would give him the chance to add goals to his impressive craft and complete his comeback.
Follow Nick Price on