The Argentina forward's sensational story sees him move from the slum suburbs of Buenos Aires to one of the world's richest clubs as a successor to his international team-mate
PROFILE
By Daniel Edwards & Ben Hayward
When Sergio Aguero stepped off the bench to replace Carlos Tevez for Argentina in September 2006, the moment will have been insignificant for Manchester City fans. It was Aguero's debut for the Albiceleste and it represented the fulfilling of a teenage dream for the young striker. For those who had witnessed the player's progress, however, it had never looked in doubt.
Given the nickname 'Kun' by his grandparents as a child thanks to a striking resemblance to a Japanese anime character, success arrived very early to Aguero in Argentina. The lifelong Independiente fan was brought up in the modest Buenos Aires suburb of Bernal, and after being picked up at an early age by Rojo scouts made his first-team debut at just 15 years and 35 days old, becoming the youngest player to feature in the Argentine First Division – a record previously held by a certain Diego Armando Maradona. And he was sent on by another member of the 1986 World Cup-winning side, former Boca Juniors, River Plate and Real Madrid defender Oscar Ruggeri.
At 16, Aguero was already a regular in the starting line-up, and soon proved himself to be a scourge of arch-rivals Racing Club. A virtuoso goal against La Academia in a 4-0 victory was the push he needed for an outstanding 2005 Apertura season, which had scouts across Europe watching the little schemer intently.
Sergio hit nine goals in that season to finish joint-third top scorer, an astonishing feat in a poor Independiente side which slumped to a 12th place finish. The teenager hit exactly half of his side's goals in that campaign, and it was clear that, sooner or later, he would outgrow the club which had raised him since he was almost a child.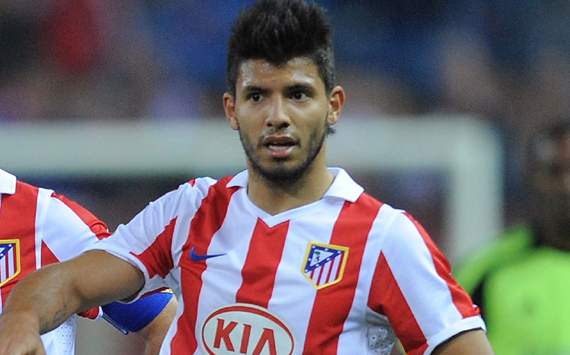 Hero | Aguero's star has shone brighter than ever for club and country this year
Atletico Madrid would eventually win the battle for his signature in May 2006, but Aguero's deification by Rojo fans would only grow. The
€
23 million (£20.3m) that the club received for the transfer would allow them to start renovation work on their historic but dilapidated Doble Visera home, and set in motion works to bring it up to the standards of a European stadium.
Five years on, fans still pay homage to their departed hero, as in the minutes leading up to a Clasico, they unfurl a giant banner with the projected final appearance of their new stadium. The legend on it is unmistakable in its message: 'Thank you, Kun Aguero'.
If the move to Manchester City goes through, supporters will have even more reason to be grateful, as an additional £2.6m will make its way to the club's coffers as part of the original deal.
Independiente, of course, is now just part of the process for the fleet-footed forward. Since honing his silky skills in the suburbs and starring for the Buenos Aires club a lot has happened in Aguero's life. Atletico was, in many ways, the ideal step for the striker – a big club but one which would allow him to grow and give him the platform he needed to achieve greatness.
His first coach at the Vicente Calderon was Mexican Javier Aguirre, who was criticised as he used the Argentine sparingly in his first season. Aguero spent long periods on the bench but Atletico fans could sense his enormous potential. He combined fantasy with a dash of Argentine cunning, using his hand to score only his second goal for the club against Recreativo Huelva in October of 2006. Supporters were keen to see more of the player alongside local hero Fernando Torres, but he left the club the following summer to join Liverpool.
SERGIO AGUERO | Season-by-season at Atletico




| | | | |
| --- | --- | --- | --- |
| Season | Games | Goals | Assists |
| 2006-2007 | 42 | 7 | 3 |
| 2007-2008 | 50 | 27 | 10 |
| 2008-2009 | 47 | 21 | 11 |
| 2009-2010 | 54 | 20 | 11 |
| 2010-2011 | 41 | 27 | 6 |
| Total | 234 | 102 | 41 |
The following season, the Argentine became a fixture in the Atletico side and scored 19 league goals (27 in total) in an exciting partnership alongside Diego Forlan, which saw the club return to the Champions League. Aguero and Forlan played together for four years, forming one of Europe's most feared strikeforces.
Memorable moments include the Argentine's brilliant brace in a stunning 4-3 win over Barcelona in 2009 (still the only time Pep Guardiola's side have let in four goals) and two assists for Forlan in the Europa League final victory over Fulham two years later. Aguero also set up one and scored another as Atletico upset Inter's hopes of winning six trophies in a year to claim the Uefa Super Cup later in the summer.
It was a superb start to 2010-11 and there was even talk of Atletico challenging Barcelona and Real Madrid at the top of the table. That proved short-lived, but as Atletico plummeted, Aguero's star continued to shine even brighter. The striker assumed the role of leader as Forlan fell out with coach Quique Sanchez Flores, and bagged an impressive 27 goals in total, including 20 in just 32 league games and 10 in the last eight of those.


"It will be difficult for him to get to Lionel Messi's level, but 'Kun' has everything to become a football great."



- Diego Maradona

Europe's biggest clubs took note and as soon as the season ended, Aguero announced his intention to leave. After interest from Madrid cooled, Juventus appeared to be winning the race for the player's signature, but the Italians baulked at a £39m transfer fee and City moved in. And so, the cycle is complete: five years after coming on to make his debut for Argentina, Aguero is now set to replace Tevez once again.
Aguero is married to Maradona's daughter Giannina, with whom he has a son, Benjamin. Sergio and Diego even recorded a cheesy tune together for the little one. 'Kun' has a tattoo on his left arm with his son's name and date of birth, while another – on his right arm, inscribed in Tengwar, a form of writing invented by J. R. R. Tolkien – is said to translate roughly to 'Kun' Aguero in the Latin alphabet.
Named after an anime icon and finally a fundamental figure in Argentina's side, having scored three in the Albiceleste's ultimately disappointing Copa America campaign, Sergio's superhero status is almost complete. Now he must confirm that prestige on the pitch as Tevez's successor. So as City fans might say, Sergio Leonel 'Kun' Aguero: Welcome to Manchester!