Aston Villa's in-demand winger has overcome personal tragedy and stinging criticism to re-emerge as one of the Premier League's most prolific stars, as a move to Anfield beckons
PROFILE
By
Rob Stewart
Stewart Downing
has made a name for himself as a shining star standing out against a background of gloom at
Aston Villa
.
In a season of turmoil at Villa Park, Downing's star rose as he became the one player deemed to have excelled as the club slipped towards the Premier League relegation zone thanks to their underperforming team.
After struggling to find his feet at Villa following a £12 million move from Middlesbrough, Downing at last showed that he is starting to fulfil the potential that was apparent when he graduated from the celebrated Boro academy.
For years he has been linked with a with a move to one of English football's biggest clubs that has failed to materialise, but now – just weeks before turning 27 - he is ready to take the leap as the move he craves is within his grasp.
A transfer to Liverpool and the chance to rub shoulders with some of English football's finest players, such as striker Andy Carroll and skipper Steven Gerrard, will whet the appetite of Downing, who has prospered when the chips have been down.
His reputation remained intact when hometown club Middlesbrough slid towards relegation under Gareth Southgate two years ago, to the extent that Tottenham manager Harry Redknapp made a £10m bid to lure the player to White Hart Lane midway through the personally traumatic 2009-10 season.
The campaign would end painfully for Downing on an individual and collective level as his season was brought to a premature end with a broken foot before Boro slipped into the Championship.
When the club was relegated, Downing's departure was inevitable and then Villa manager Martin O'Neill rated him so highly that he was bought for £12m even though he was sidelined with the injury.
Many Villa fans would have been forgiven for wondering what all the fuss was about as he struggled to make an impression during his first season of football in the second city while easing his way into life away from Teesside.
However, last season represented something of a coming of age for Downing as Villa threatened to implode following O'Neill's sudden departure just before the campaign kicked off.
But while Villa underperformed, Downing kicked on and was an ever-present in the team that flirted with relegation, producing a string of impressive performances that saw him named the club's player of the year.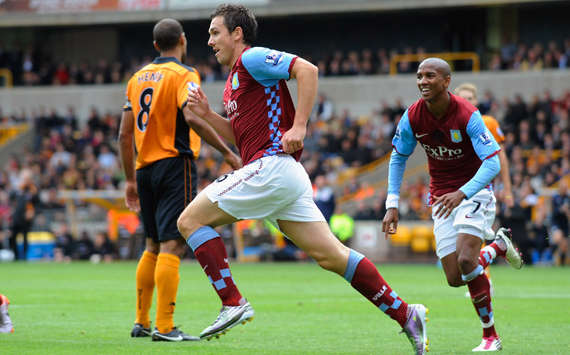 Villa thriller | Downing has emerged as the Midlands club's main man
Last season also provided evidence that he has added goals to a polished all-round game as he weighed in with seven Premier League strikes in addition to the seven direct assists for his team-mates.
His excellent crossing of the ball has been his main attribute since he came through the ranks at Middlesbrough and while he is best known for his endeavours down the left flank for club and country, he is equally comfortable down both wings thanks to his two-footedness.
Downing is also a dab hand when it comes to set-pieces, can see a pass and is blessed with a terrific shot, and while he might not possess as much pace or as many tricks as former Boro colleague Adam Johnson, now plying his trade at Manchester City, he is technically superior.
Like David Beckham, he might not always beat his marker but he always seems to find a way to deliver an inch-perfect cross, as demonstrated in Boro's dramatic run to the 2006 Uefa Cup final.
The fact that he thrived in inauspicious circumstances with Boro and then at Villa should really be no surprise because Downing has always prospered in the face of adversity.
He was brought up on the tough Pallister Park council estate in Middlesbrough but he overcame those under-privileged surroundings and then family tragedy when he lost a young sister – four-year-old Vicki to leukaemia – as a schoolboy to find his way through to football's elite.
Downing's mental toughness must have come in handy when he had to overcome the fierce criticism that came his way after being handed his England debut by Sven-Goran Eriksson in 2005.
Downing on the up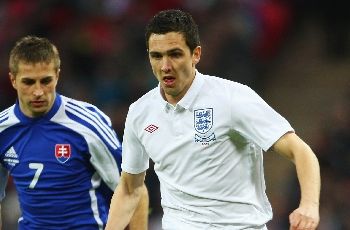 "So impressive has been his re-emergence that Downing has attracted interest from Arsenal, but he is hoping a £20m deal between Liverpool and Villa can be agreed this week..."
International football probably came too early for Downing, but an array of eye-catching performances last season saw him recalled to Fabio Capello's England squad just when it looked as though he would lose out to Johnson on a long-term basis.
So impressive has been his re-emergence that Downing has attracted interest from Arsenal, but he is hoping that a £20m deal between Liverpool and Villa can be agreed this week following a series of protracted negotiations.
A source close to the talks told
Goal.com
: "There was some talk that he was going to hand in a transfer request when they returned to pre-season training last Friday and he would have done if he had to but it didn't come to that because he didn't need to.
"They have said that he can leave but only if they get the right offer – and he accepted that. The clubs were talking all last weekend and he could move to Liverpool this week. But so far nothing has been agreed and he is waiting for permission to be able to speak to them.
"There has definitely been interest from Arsenal but so far nothing has come of it and anyway Stewart would prefer to join Liverpool and it could happen this week if the talks between Villa and Liverpool go well."
Downing had a taste of European football with Boro during Steve McClaren's reign as manager and while he might not get to sample the delights of the Champions League just yet with Liverpool, he is confident that a return to the elite competition will be just around the corner if he gets to work the supply lines for Carroll and Luis Suarez as part of Kenny Dalglish's red revolution.