PROFILE
By Robin Bairner, Jonathan Birchall & Kingsley Kobo
Following a sixth season that has ended with a bare trophy cabinet at the Emirates,
Arsenal
boss
Arsene Wenger
has made
Lille
's
Gervinho
the club's first major signing of the summer.
It was made clear by Gunners supporters to chief executive Ivan Gazidis earlier this summer that answers to their questions were no longer good enough. Having seen their side disintegrate at the campaign's most pivotal stage once again, the fans needed the promise of additions to a squad that requires improvement if it is to challenge for a title in 2011-12.
The signing of the Ivory Coast international for Wenger's side will have gone some way to appease the fears of those disillusioned followers of the north London club.
Having also reportedly been monitored by Liverpool, Tottenham, Manchester City and Newcastle, it is fair to say that this is a player who is thought of highly by Premier League scouts. To secure his signature is certainly a statement of intent from a club trying desperately to fight decline.
Goal.com have taken a look at Arsenal's new arrival.
Street kid to superstar
Born Gervais Yao Kouassi on May 27, 1987 in Anyama, a small town in Abidjan, Ivory Coast's largest city, the now-19 time capped international was a street kid who abandoned schooling at an early age to focus on football.
It was a popular practice at a time when Ivorian football was blooming into a true power on the continent, with the first graduating batch of youngsters from the West African country's famous football academy Mimosifcom signing contracts to Europe at a young age.
Kouassi was discovered in 1998, sent to the Mimosifcom's vast domain known as Sol Beni (blessed soil) and quickly caught the eyes of the staff, composed of foreign expatriates including a Brazilian coach who decided to coin a nickname of Portuguese-Brazilian connotation out of Kouassi's first name Gervais, settling on Gervinho.
After five years at the facility, Gervinho graduated but didn't achieve immediate success. He had to join a division two club side in the hinterland locality of Toumodi in his native baoule region.
However, after two years, Gervinho could move abroad launching his professional career at Belgian side Beveren, a club with whom Arsenal have strong links. He was to spend two years at the club before moving to Ligue 1.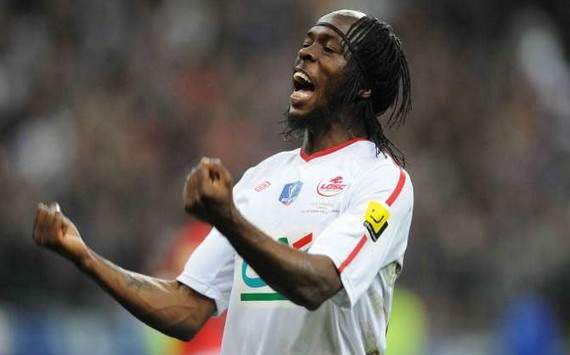 The Lille deal |
Gervinho was instrumental in his side's double-winning season

Flourishing in France
Since moving to France there can be little doubt that Gervinho has been a complete success, growing from a wonderfully talented yet frustratingly inconsistent winger with Le Mans, whom he joined in 2007, into a league and cup double winner with Lille only four years later.
The Ivorian joined Le Mans when they were in something of a purple patch - a team that was able to bring in talented youngsters to groom and sell on at greater fees. Gervinho, at that time watched by Barcelona, was arguably the pick of their squad, cutting a dashing, yet occasionally infuriating figure, down the flank, particularly during his second term, in which he would score seven league goals.
Though he hadn't done enough to convince the Catalan giants into making a swoop, Gervinho's reputation had grown sufficiently to allow him to join Rudi Garcia's Lille in 2009 for the relatively cheap price of €6.5 million (£5.7m).
It was at the Stade Metropole, under the guidance of Rudi Garcia, that he really started to flourish, benefiting from the coach's insistence that his club play attractive, attacking football. The winger was given great freedom in a very offensively minded formation, and in this he began to shine impressively and, most crucially, regularly.
In playing 32 matches in his first campaign, he would score 13 goals, and his role in Lille's title success this season cannot be doubted. Though Eden Hazard earned much of the praise, Gervinho was arguably the more effective player, scoring 15 goals and creating 10 more - both figures superior to the much-coveted young Belgian.
SNAPSHOT
| GERVINHO
(
Lille & Ivory Coast
)



Age: 24

Contract: 2012

Intl caps: 19 (5 gls)


Position: RW/ST

Value: £10-13m

10-11 apps: 35 (15 gls)




In five words: Quick, athletic, tricky and versatile

Gunner make it?
As a forward who favours the right flank but can play on either, Gervinho is likely to slot into Arsenal's front three by replacing Nicklas Bendtner or Andrey Arshavin, two players whose occasional showings of quality have flattered to deceive consistently for a number of seasons.
The Lille man's ability to beat a man has provided the ultimate complement in that his endeavours are now concluded effectively through calm finishing or incisive passing.
Johan Djourou sees the 24-year-old as an ideal signing, stating last month: "He has all the ingredients to play for Arsenal, that is a definite.
"He is just a great player… quick, with so much talent and good skills. He is a great, great talent and we need that because he can play as a striker, as a No.10 or on the wing."
More will need to be done at Arsenal if they are to transform their side into a great team once again but the signing of the exciting Ivorian is a fantastic way to start off what Gazidis promised as a busy summer transfer window.
The man himself is certainly keen. In 2008 he said: "I need to keep working and Arsenal will open the door for me. I have dreamed about that club. To play for them will be the best day of my life and I will do anything to play for Arsenal."
It's not only the Gunners fans whose prayers look like they've finally been answered.
Our

provides the best breaking news online and our

football fan community is unmatched worldwide. Never miss a thing again!