ANALYSIS
By Jonathan Birchall
It is unlike Liverpool to do their fiercest rivals any favours, but by making their move and breaking Phil Jones' £16 million release clause this week, Manchester United have been forced to pursue the highly-rated defender a year earlier than originally planned.
Hardly ideal on the face of it, but with numbers dwindling in United's midfield following the retirement of Paul Scholes and the imminent departure of the perennially unfortunate Owen Hargreaves, the versatility of the 19-year-old may just be a blessing in disguise.
Indeed, the promise of Jones' potential partnership with Chris Smalling in the centre of United's defence in the coming decade is enough to whet the appetite of both fans of the Premier League champions and England.
However, with Nemanja Vidic and Rio Ferdinand to remain first choice at the back, we may have to wait a little longer to see this youthful collaboration blossom, excluding the Under-21 European Championships this month, in which the duo will work in tandem under Stuart Pearce in a sign of things to come.
Fortunately for United, Jones isn't a player limited to a single position and has proved himself an energetic holding midfielder with the ability to break-up the rhythm of his opposition – precisely what Sir Alex Ferguson's men were lacking at Wembley when the Barcelona carousel was ramped up full throttle.
The Scot's interest in Jones is said to have been a concerted one, with his admiration of the youngster stemming back to when he first broke into the Blackburn first team in 2009.
Ferguson will have since seen the youngster prove himself a willing worker in midfield as well as in defence.
Sam Allardyce, an ally of Ferguson and the manager that gave Jones his first Premier League start in March last year noted his potential as a more advanced player in November.
He stated: "With Jonesy playing in midfield now, I think he is awesome.
"He does all things well, defends well, uses the ball well, his energy levels are really, really good, so that is a bigger competition for those midfield players.
"He has been outstanding in the middle, it is not his normal position but he is very comfortable with it."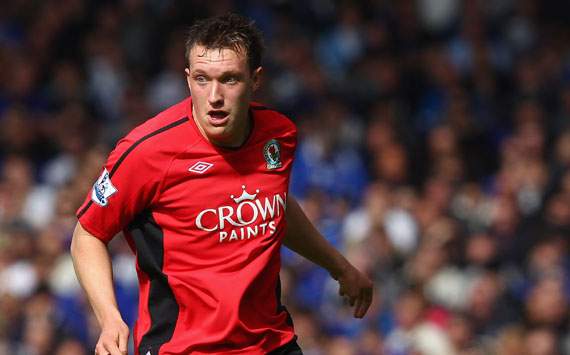 Philling in | Jones has proved himself to be a fine defensive midfielder when called upon
Music to the ears of fans at Old Trafford, who have lamented their side's over-reliance on Darren Fletcher, a player who has yet to fully recover from a bewildering illness that has plagued his season.
Despite this, the Preston-born youngster is first and foremost a defender and quite clearly a very talented one at that. Seen by Chelsea fans as the replacement for John Terry, Liverpool fans as the man to take Jamie Carragher's place and by Arsenal supporters as a man with the solidity required to provide a backbone to their brittle defence.
United, with Smalling already proving himself a phemonenal talent, don't just have the best two centre-halves under the age of 25 in the country, but have taken away the missing piece in the puzzles of their closest rivals.
Carlo Ancelotti, a manager who has worked with defensive luminaries such as Paolo Maldini, Alessanrdro Nesta and Fabio Cannavaro has already expressed his admiration for Jones: "He is one of the best defenders of his age and one of the best in England.
"He will have to work hard but I believe he has the ability to arrive at the same level as John Terry."
Hard work shouldn't be an issue for a player that has fought his way into a side that hosts the impressively imposing centre-back pairing of Ryan Nelsen and Chris Samba.
When Steve Kean opted for the more experienced pairing, he noted that Jones is a commodity not to be wasted and found space for the youngster in his midfield – it would be a switch that paid dividends, namely Premier League survival.
The youngster has shown time and again that he has the cool head and technical potential to make it at the Theatre of Dreams, with a fine performance on the day his new employers won the league at Ewood Park that will have frustrated and impressed Ferguson and his soon-to-be team-mates in equal measure. It may have just convinced United that he was the real deal.
At 19, the future looks bright for Phil Jones - wherever he is put on the pitch.