ANALYSIS
By Jonathan Birchall
Only six months on from breaking the transfer record for a British player in Andy Carroll, Liverpool have all but secured the signature of another North East native about whom there is growing excitement.
Jordan Henderson is set to be the next starlet to join the Kenny Dalglish-led revolution at Anfield, though with the total value of the deal expected to be at least £20 million, there is understandable trepidation from Reds fans over a player who has only made one appearance for England and is yet to experience European football.
Despite their concerns however, there is little doubting that the 20-year-old from Wearside has the potential to become, just like his new manager, a true hero on the Kop.
Henderson's potential as a tireless midfielder brimming with creativity shone from an early age, having joined his hometown club's academy from the age of eight and it was at youth level where the midfielder would prove how valuable an asset he would later become, helping Sunderland's Under-18 side to back-to-back league wins.
The youngster made his debut for the Sunderland first-team in 2008 under Roy Keane, who made no secret of his admiration for the then 18-year-old.
He said of Henderson at the time: "I just like the kid, he's got an innocence about him that's rare these days — and Jordan can play, the kid's got a real chance."
The 'kid', who is set to travel to Denmark for the Under-21 European Championships later this month, had a similar impact on current boss Steve Bruce when the ex-Manchester United man arrived at the club to replace Keane.
Having spent five months in the Championship getting first-team experience at Coventry City, Henderson returned to the North East a better player and a commodity in which Bruce saw real potential.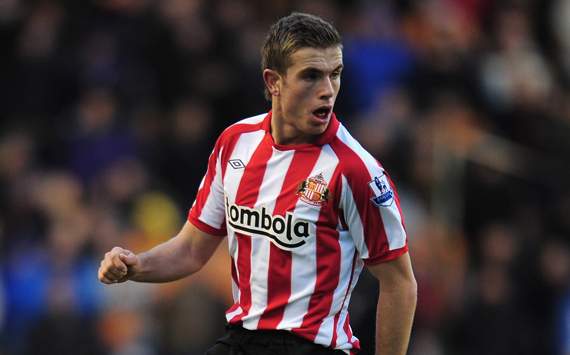 Kop prospect | Henderson could be a successor for Steven Gerrard at Liverpool
Speaking in October, the Black Cats boss said: "When I walked through the door, more than any other player, he grabbed me - and he grabbed me within two training sessions. I asked, 'Who's that?'.
"To be fair, I had more conversations when I first got the job about Jordan than any other player. He must have done exceedingly well at Coventry, which we know he did.
"We had half the Championship wanting to take him on loan again so I had heard a little bit about him.
"I had seen him and been recommended him once by my chief scout saying Sunderland had a hell of a player when he was at Coventry. But he grabbed me straight away in the first couple of training sessions and hasn't looked back. He has done fantastically well."
Bruce was speaking following Henderson's call-up to the England squad proper, though the night he picked up his first cap will be remembered as a chastening one by the midfielder, despite the pride and recognition with which it came.
Having been drafted in by Fabio Capello, the youngster started against France alongside Gareth Barry and Steven Gerrard but was deployed far too deeply to provide the creative spark that has become his trademark. In the face of Samir Nasri and Yoann Gourcuff, Henderson looked out of his depth at Wembley.
However, despite not making another appearance for the Three Lions since, the starlet has excelled at the Stadium of Light this term, with arguably his finest-ever performance coming in his side's 4-2 defeat of Wigan, in which Henderson picked up a brace to all but secure the Black Cats' Premier League status for another season.
Voted as the club's young player of the season, Henderson's rapidly rising stock has not gone unnoticed and the move to Liverpool should only enhance a youngster whose seemingly limitless potential may prove to be enough to eventually de-throne Gerrard, the current royalty on the red half of Merseyside.
Speaking in November, Bruce insisted that the youngster was not for sale, stating: "We've got the brightest young prospect in the British game in Jordan. He's certainly the best young British footballer there is. At 20 he's got the world at his feet."
Some may remain hesitant over what is being spent to secure the youngster's signature but for a player that will only turn 21 next week, Henderson has both the ability and time on his side to prove the doubters wrong.