By
Nick Price
Paul Scholes retires and football gets a little bit more depressing
The Manchester United midfielder pulled the curtain down on a glorious career at just the right time, unlike the vast majority of his tackles, this week. Ten Premier League winners medals, three FA Cups, and two Champions Leagues to his name – it's safe to say that he's the most successful red head since Ron Howard.
He was a brilliant if heinously underrated footballer – had Sven-Goran Eriksson shown the testicular fortitude to drop one of Steven Gerrard or Frank Lampard, his midfield misfits, and placed the ginger ninja in the middle then England might have looked more like a team and less like a cheap assortment of discombobulated football superstars over the past decade – and in an age of all-encompassing media guff, endlessly tedious press-conference nonsense and selfish moneygrabbing players happy to trade on their popularity to hold their clubs to ransom in exchange for being ever so slightly more ridiculously rich, it was nice to see someone so totally normal, so thoroughly professional and genuinely modest reach the very top.
Xavi and Andres Iniesta, the best in the midfield business these days, have recently expressed their adoration for the little schemer, not that you'd catch Scholes basking in the adulation. He's always cut a figure of a man who'd sooner be out of the limelight, who'd probably be as happy to be a semi-professional getting regular football in front of tens of people as he would be being an icon across the planet.
What went on in Zurich this week ended up overshadowing Scholes' retirement, but here's hoping that a few people with his sort of selfless and principled mindset might be inspired to take up a career in the mirky world of football administration.
Sepp Blatter is the most popular man at Fifa
In stark contrast to good honest Scholes, we have the head of the governing body of world football, who this week proved just how popular he is in his workplace by gaining an unprecedented vote to continue his
evil reign
legitimate rule over Fifa.
That, of course, only came after his sole rival to the throne as the prince of the lair was suspended over bribery allegations. Not that Blatter himself has been immune from accusations of corruption, wrongdoing or downright unpleasantness over the years, or indeed even in the build-up to the biggest sham of an election since Kim Jong-il was last given a 100 per cent share of the vote in North Korea.
WWLTW
has been captivated by the goings on at Fifa HQ this week, which seems only slightly less surreal than Hank Scorpio's Globex Corporation compound. On Tuesday, Blatter faced – or rather he just turned his nose up in disgust at – the world's media who had assembled to ask serious questions like: "Why the hell is an election going to take place when there's only one candidate?"; "How come your best pal Jack Warner promised a 'tsunami' of evidence to undermine you but then came out with bugger all and told his mates to vote for you?"; "Why should anybody believe that you give a damn about changing things up when the status quo suits you and your buddies' bank accounts just nicely?"; and, the one he's ducked for the last 19 years, "What did you think of Danny DeVito's portrayal of you in Batman Returns?"
Frankly, Fifa is a joke; an embarrassment for us all – as citizens of Planet Football – to effectively be ruled by. It's been remarked this week that if it were a UN member state Fifa would be in line for a regime change, and now that Scholes has put his playing career to rest we've got the perfect man to lead the charge against – and leave a mark in the shins of – the utter morons who try their darndest to ruin this beautiful game of ours.
Come on, Paul, your time to find a voice has come.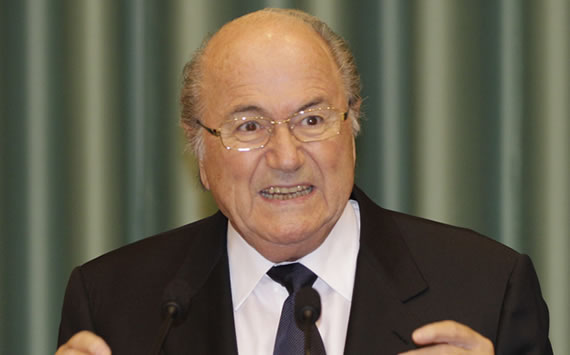 Pure fear | Blatter braces himself for a Scholes challenge – aim for the knees, Paul
Sam Allardyce's big ambitions haven't quite turned into reality
This column was perplexed when the news broke that the former Bolton, Newcastle and Blackburn boss was to take over at struggling West Ham, a club who wouldn't pass a competency test if it was conducted by a drunk clown, as it remembered Big Sam mouthing off about being a top manager not so long ago.
"I'm not suited to Bolton or Blackburn, I would be more suited to Internazionale or Real Madrid," said Allardyce in September, presumably while wearing a Sir Alex Ferguson 'bestest fan' t-shirt before launching into a tirade about the foreign managers with their funny accents taking all the top jobs. "It wouldn't be a problem to me to go and manage those clubs because I would win the double or the league every time.
"Give me Manchester United or Chelsea and I would do the same, it wouldn't be a problem. It's not where I'm suited to, it's just where I've been for most of the time. It's not a problem to take me into the higher reaches of the Champions League or Premier League and would make my job a lot easier in winning it."
Hammers, don't get too excited about the prospect of firing back up to the top flight because he'll soon be off to Madrid when Real get tired of Jose Mourinho's antics.
"Sergio,"
WWLTW
imagines Allardyce dishing out orders in Bernabeu, "hoofy it uppo to the grande lumpo up top."
What we will learn this weekend...


Gareth Barry will plod about aimlessly at Wembley, leaving Jack Wilshere to do all the work as England return to form by struggling to a draw against Switzerland.

Darren Bent will score for the Three Lions and bang on, again, about how he was right to leave high-flying Sunderland for lowly Aston Villa in order to get Fabio Capello's attention.

The France team will have an argument.
Michael Owen is happy to go part-time striker, so why the hatred?
The usually duller than a day at an old folks' home striker sparked a Twitter furore on Wednesday when he hit back at critics having a go for accepting a new deal to sit on the Old Trafford bench rather than looking for a place in a first team elsewhere.
The former England man (let's face it, he's never getting back in the squad seeing as he's less prolific than even Jermain Defoe) had the world up in arms when he tweeted this: "Just to answer some of your tweets. Prefer playing less often in a top team than every game in a poor team. Been there [and] didn't enjoy it."
That made some people crazy, as if he'd announced that he'd just bludgeoned a kitten to death and then spat in its owner's cornflakes rather than reasoned that he'd like to play a small part in a successful team as he approaches retirement.
Of course there are those that say it's cheap and ungrateful of him to refer to his time at Newcastle – presumably it's they who are the 'poor' team and not Liverpool or Real Madrid, the two other clubs Owen has played for – and they would be right. The impish, injury-prone striker pocketed a fortune but spent most of his time on the sidelines nursing his knackered hamstrings and busted knees, and to describe the Toon – after they had stuffed his bank account yet saw scant little of him in action – as 'poor' is classless.
But why on earth should Owen be pilloried for wanting to hang about at Old Trafford in the twilight years of his career? It's hardly as if there has been a queue of teams trying to sign him up (and there wasn't two years ago either), and if Sir Alex Ferguson deems him worthy of a new contract then he must have plans to use him next season.
Besides, at least he's honest about his intentions and his lack of interest in doing what we'd all love to be doing ourselves. He deserves grudging respect for that.
Robin van Persie has a big potty mouth
The Arsenal striker showed that he can hurl out swears as fiercely as he can lash a ball into the back of the net (that's very, very well) by launching into an unprompted dig at Barcelona and Chelsea.
He whinged about Spanish players trying to get people booked before getting worked up about Chelsea "bitching" about referees and told both to: "Just shut the f*** up and focus on playing football."
Funny that, Robin, because this column and probably millions of Gunners across the planet wish that you, your complaining team-mates ("ooh, they tackled us, it's so unfair"), and your hypocritical whining manager ("It's a disgrace, he should be banned for the rest of his career", "I didn't see my player going studs up into his opponent's shin") would just shut the flap (that's what those ***s mean, right?) up and focus on playing football too – you're bloody good at it, so just stick to that and you may finally win something.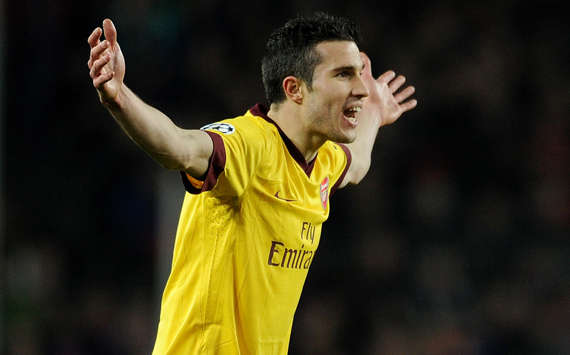 Annoying! | Arsenal would have ended their drought with the Hypocrisy Trophy
Mark Hughes won't be able to stop any of his players leaving if he becomes Aston Villa manager
The Welshman with the most soothing voice in football announced on Thursday that he was quitting Fulham, but denied that he had been approached by any other club (ha!) and simply wanted "as a young, ambitious manager" to "further" his experiences.
That'll be music to Stewart Downing and Ashley Young's ears if, as expected, the former Manchester City boss replaces Gerard Houllier at Villa Park. For what possible response could he have if either of the club's wingers, who have both been linked with moves to bigger teams, handed in transfer requests to further their playing experiences?
Wayne Rooney is a bit dense in thinking that Lionel Messi couldn't play well on a cold wet night in Stoke
The Manchester United forward waxed lyrical about the Argentine superstar after his Champions League masterclass, but trotted out the idiotic Andy Gray line by questioning whether or not the nippy wonderkid could cut it in the Premier League, where defenders hit hard, where fans shout "get it up 'em", and where referees tend to give short shrift to whinging divers (except the English ones, of course, who somehow seem to get away with it and don't get assassinated in the media).
"It's more physical, the Premier League — the likes of going to Stoke or Birmingham away are incredibly difficult games to play. I think if you look at the two players, Ronaldo is suited more for English football than Messi would be," mused Rooney like a chimpanzee.
He's the best player in the world by a country mile, he'd hardly be intimidated by Liam Ridgewell, Danny Collins or, heaven forbid, that footballing titan that goes by the name of Roger Johnson.
This column has seen a lot of Stoke and Birmingham this season just gone by and can confirm that Lionel Messi would run rings around such dross while playing a mean game of Snake on his mobile phone.