The out-of-favour Bulgarian has pledged to remain at Old Trafford but following his Champions League snub, is Sir Alex Ferguson gently easing his £30m striker out of the exit door?
ANALYSIS

By
Wayne Veysey
| Chief Correspondent
Dimitar Berbatov
may or may not be a fan of The Clash but the lyrics of the rock band's seminal anthem represent an appropriate summary of the Bulgarian's situation.
'Should I stay or should I go?' That is the question and it is one that has been hanging over the Manchester United striker ever since an offer of a three-year contract just before Christmas was downgraded within weeks to a one-year extension.
Both parties have returned to the negotiating table since then but United's stance has been unyielding. Take it or leave it, was the gist of their response to the player's view that he deserved greater reward for leading the Premier League scoring charts with 21 goals this season.
Goal.com
can reveal that, in the week before the Champions League final, Berbatov decided to leave it. He told United that he was happy to stay at the club but would not be taking up the club's offer of a new contract. His preference was, he said, to run out his £80,000-a-week current deal, which expires in 12 months, and leave on a free transfer in 2012.
How big a part this bombshell played in Sir Alex Ferguson's curious decision to omit Berbatov from his 18-man squad for last Saturday's defeat to Barcelona at Wembley only the United manager knows.
United insiders believe Berbatov and his representatives had attempted to call the club's bluff as part of a tactic to get a longer contract than the club were willing to offer. It makes sense, too. The Bulgarian might be a £10-15 million asset this summer but he will be worth nothing to the Premier League champions in a year's time.
With speculation mounting that he would not make an appearance for United's open-top bus celebration on Bank Holiday Monday, Berbatov turned up and posed for pictures with the trophy that he had done more than many of his team-mates to win.
Speaking to Bulgarian television, he insisted today that he wants to remain at Old Trafford and fight for the right to play a key role in the club's title defence next season.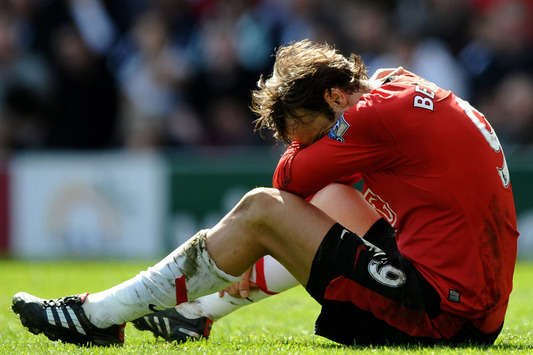 Should I stay or should I go?
| Berbatov is torn between leaving or remaining at United
"I will stay," Berbatov told Bulgarian television. "I will fight for the 20th title. If I were an easy quitter, I would never have made it this far. Everything at Manchester United starts from scratch for me on July 4.
"There will be new finals and we will be fighting for new titles. I am moving ahead. When you go through difficult times, you should not quit."
Berbatov did not take his place alongside the other unused squad members behind the United bench during the Champions League final, but the striker dismissed rumours he stormed out of the stadium.
"The truth is that I stayed at the dressing room and watched the Champions League final there, on a TV screen," he said.
"I was really disappointed. I was ashamed that I was not part of the team and did not want people to see how sad I feel."
Yet, how seriously should Berbatov's comments be taken? As the transfer window is flung open for business today and the three-month process of refurbishing teams begins in earnest, it is not uncommon for footballers to say one thing in public and do another thing entirely in private.
Few United fans would berate Berbatov if he had opened up his heart, revealed the pain and said his manager had left him with no option but to seek new pastures where his contribution would receive greater recognition.
For now, it seems, the Bulgarian is playing the loyalty card. If he does stay, it will put him in a strong position to get a big pay hike next summer when his transfer fee will be zero and United will be left with a £30.75m loss on their 2008 club record signing.
Berbatov will not be short of suitors. As
Goal.com
revealed today,
he would not be against a move to a Champions League club in England or even his former employers Tottenham
, while Bayern Munich also have a long-held interest in the player who established his reputation in the Bundesliga for Bayer Leverkusen. The forward has also told allies that he would be open to a switch to Spain or even Turkey.
This is the beginning of a saga that could run and run.
Follow Wayne Veysey on