COMMENT
By
Greg Stobart
at Eastlands
Manchester City
's Abu Dhabi owners may not have envisaged their grand plan being this slow to take shape, but after 983 days of their ownership the club finally met the target which is seen as the first step to their domination of European football.
City secured a top four finish with an unconvincing, cautious 1-0 win over Tottenham on Tuesday night but Spurs will understand as well as anyone given their recent slump that only the result matters at this stage of the season.
The irony was not lost that it was Peter Crouch who confirmed City's qualification for next season's Champions League with an own goal from almost the very spot on the Eastlands turf where he secured Tottenham fourth place 370 days earlier.
For City, it presents a chance for this expensively assembled squad – which cost the best part of £350 million – to make their mark on Europe's elite stage; an opportunity to attract the kind of players this summer that can aid a Premier League title challenge next season.
While their brand of football may not be particularly exciting, the fans who became so used to watching uncompetitive sides could not care less. Such is the buzz around Eastlands that the City supporters are nothing like as bitter about Manchester United's achievements this season as they might have been in the past.
To complete a perfect week, Mancini takes his players to the FA Cup final on Saturday to face Stoke City at Wembley, a game they are clear favourites to win. A top four finish and the club's first trophy in 35 years will register as a successful season in anyone's eyes.
And as Mancini has himself said, the key about winning silverware will be that it could imbue in the club a culture of winning and give the squad the confidence to believe in their ability to win even more significant prizes next year.
On target | City secured a top four finish by beating Tottenham on Tuesday night
While a victory against Stoke will be glorious for the fans who have been starved of silverware and taunted for so long, the reality is that the Champions League is the place to be in modern football as far as players, managers and chief executives are concerned.
It is quite amazing that City are on course for such a strong end to the season – with a third-placed finish over Arsenal even a possibility – despite many an unconvincing display in the Premier League.
Much of the football has been drab and uninspiring, highlighted again on Tuesday night as City packed the midfield, defended deep and allowed Tottenham to dominate possession.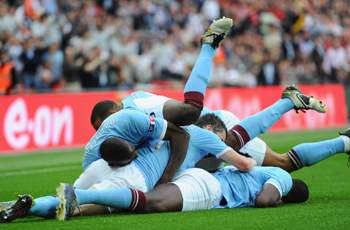 "It is quite amazing that City are on course for such a strong end to the season – with a third-placed finish even a possibility – despite many an unconvincing display in the Premier League"
The results have not been particularly amazing, either, especially since Christmas, but City have almost always occupied a top four spot this season and have managed to grind out results largely thanks to captain Carlos Tevez, who has scored 19 league goals despite some niggling injury problems.
The Argentine striker came off the bench in the 83rd minute here to make his first appearance in a month and looked hungry as he produced a busy cameo and nearly scored as he forced Carlo Cudicini to make a diving save with the last kick of the game.
Tevez's introduction to the game did not come before he had thrown a mini-tantrum at Mancini and the feeling is that the 27-year-old will most probably be forced to settle for a place on the bench at Wembley.
He is expected to leave the club in the summer, with Italy his preferred destination, but how City replace him and what they need to do to challenge on multiple fronts next season will be high on the club's agenda.
Mancini only has to look at how Spurs have struggled with balancing a debut Champions League campaign alongside a push for a top four finish in the league.
Harry Redknapp's side have won just once in their last 13 games since victory away at AC Milan in the Champions League last 16 and have picked up only nine points from their last 10 league outings.
It is a startling slump in form that left manager Harry Redknapp in defensive mood as he insisted Spurs had enjoyed a successful season – but the reality is that the Londoners failed because they failed to use the money and lure of Champions League qualification to sign a top class striker both last summer and in the January transfer window.
City will take note and try to learn from Tottenham's mistakes while also being wary of the implication of Uefa's financial fair play rules, meaning it may be that squad players have to be sold before Mancini knows his exact summer spending budget.
For now, he will just be focussing on completing an historic week for the club and a first trophy since winning the League Cup in 1976.
Stoke will present a tough task and will take heart from the manner of Everton's 2-1 victory over City last weekend, when the Merseysiders overwhelmed their visitors with an aggressive style of play and scored two goals from crosses in to the box that were headed home.
City will need to recover quickly from the defeat of Tottenham and must be 100 per cent prepared, not ready to take victory for granted and think that half the job was done with the win against Manchester United in the semi-final.
If their Champions League qualification justified their pragmatic approach, then no-one will be arguing if silverware can follow.
Follow Greg Stobart on