COMMENT

By Jonathan Birchall & Josh Clarke
The champagne, Cristal of course, will have to remain on ice for Manchester City.
The promised land of the Champions League beckoned at 3:29 on Saturday afternoon, after Yaya Toure had given them a lead over Everton that as it stood, left them 10 points clear of Tottenham and Liverpool - the only sides that can take from them what they have paid so much to secure, namely a place in the top four and a seat at the top table of European football.
In a fashion typical of the club before the Abu Dhabi billions, they threw it away.
As is the way of the Premier League this season, the pain of Roberto Mancini's men wasn't to linger for too long as only hours later, Spurs drew at home to Blackpool. It was a microcosm of an inept battle for fourth since the opening day of the season and now it will all come down to the two teams' meeting at Eastlands on Tuesday. Both sides will feel that it should have been settled in their own favour much longer ago.
The faltering favourites
After City's defeat at Goodison Park, Mancini summed up his side's problem like a man who has seen it happen a little too often for it to be labelled as 'one of those days'.
"You can never lose games like today if you want to become a strong team," said the Italian ruefully in his post-match press conference. You'd be hard pressed to argue with him. It is the lack of that winning mentality, the killer instinct that has become the staple of silverware-laden seasons in the red half of Manchester, that appears to be at the root of their problems.
The club's fans, famously long-suffering, will have felt at times this season that they have been given a team worthy of their unwavering support, and that was the case for the opening half an hour on Merseyside.
David Silva, a player so technically spectacular that his absence from the Champions League would leave football lovers disappointed with City's non-qualification, was at his imperious best throughout the opening exchanges. Spellbinding and a willing worker; Silva is a player with the mindset required to drag his side into the top four.
The second half demise of Mancini's side, though, was grimly predictable. There was a loss of concentration coupled with an air of being a little too comfortable as City not only took their foot off the gas but went into reverse, back to the days of being the great bottlers, the butt of the league's jokes.
Everton were excellent in the second half and to blame City's collapse an a purely individual nosedive would be unfair on David Moyes' men; but the clarity with which the visiting players showed their weakness of character was alarming in the final half an hour. For Leon Osman, all 5ft 8in of him, to leap highest in the City box to deliver the winner summed it up fairly neatly. He, and Everton, simply wanted it more.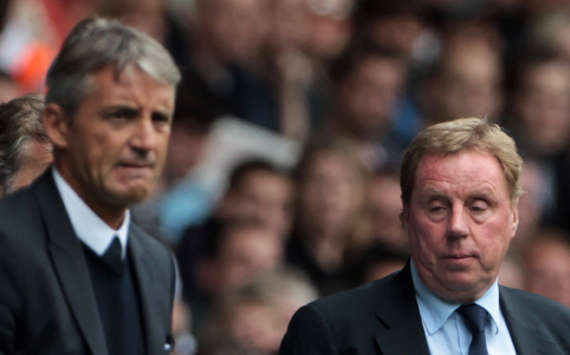 Top flaws | Both Mancini & Redknapp will be concerned with their stuttering sides
The challengers choke
Both Ian Holloway and Harry Redknapp will have felt aggrieved to be leaving White Hart Lane on Saturday with just the one point, with arguments aplenty as to why each was good value for three.
The draw was the latest in a long line for Spurs – six in their last eight Premier League games – a run which has seen them go from Champions League shoo-ins to Europa League hopefuls.
It was, again, a performance that flattered to deceive. For long periods of the game, Spurs were overwhelmingly the dominant force, with Blackpool at times desperately hanging on. Yet, for all their expansive play and attacking intent from deep, putting the ball in the back of the net is becoming a bit of a lost art at White Hart Lane and Spurs are paying for it.
There was a catalogue of guilty parties today. Roman Pavlyuchenko - withdrawn at half-time – was woefully ineffective. Jermain Defoe, other than finishing emphatically for the equaliser, was largely anonymous. Gareth Bale missed chances and Rafael van der Vaart is nowhere near as prolific as his explosive start to Premier League life suggested he would be.
The absence of ruthlessness in front of goal epitomises the team's lack of killer instinct when playing the league's smaller teams. Spurs have shown that they can turn up on the night and beat the European champions, yet they consistently fail to get the wins that the rest of the top four would view as bankers.
Now six points behind Manchester City in the race for fourth place, with just three games remaining, Harry Redknapp's side have paid the price for not putting their less glamorous opposition to the sword. Things could have been so different if Spurs could perfect the art of winning games. It sounds simple enough, but bullish faith in an error-prone goalkeeper and a continued inability to capitalise on domination has become Spurs' undoing.
A resurgent Liverpool now even threaten the probability of a fifth place finish. The predominant issue surrounding Spurs' Champions League qualification push was their ability to retain the services of their prized assets should they not be competing with Europe's elite next season. Well, what about if they don't even qualify for the Europa League?
All eyes on Eastlands
It's a question that may have to be taken very seriously come Wednesday morning. If City beat Redknapp's side on Tuesday night then the Champions League will be theirs to tackle next season. They will certainly be looking to exact revenge for the corresponding fixture last season, when Tottenham famously secured fourth spot at the expense of the Eastlands outfit.
How fitting it would be, however, if this tangled web were to be given a further weave through another Spurs win. At times sublime, more often than not ridiculous, either side's inclusion in the competition next season will certainly provide an enthralling narrative; to get there simply and without drama just isn't the way they do things.
Which way do you think it will go on Tuesday? Will City secure their Champions League spot with a win or will the battle for a place in the top four go on a little longer? Vote in our poll below and tell us what you think.