EXCLUSIVE
By Marie-Ange Kostoff

Lens defender
Raphael Varane has denied reports that he has already agreed a deal to join Manchester United.

The 18-year-old, who has impressed in a struggling team in Ligue 1 this season, insists he is only focusing on guiding his current side to safety.


How do you feel about the end of the season?
Raphael Varane: It will be very difficult, but we won't give up. We have been unable to get something from our good recent performances. However, we will continue to fight as long as we can mathematically avoid relegation.

And how does the squad feel at the moment?
The team has still hopes that everything will come good. There's not much needed to turn things around. We just need to turn a draw into a win to get going. Everybody will continue to do their utmost right until the end.


Are there any players who take more responsibilities than the others?
Yes, obviously some players take more responsibilities. Players like Franck Queudrue, Eric Chelle and Adil Hermach help us a lot on the pitch. Several players are trying to play a leading role to help the team.

Are you one of the players who voices his opinion or do you have the ambition to be one of the team's leaders?
Why not! For now, I'm still learning though as I try to speak up every now and then. I'm still a very young player though.

Is this situation even more difficult for you as a young player with little experience?
Yes, definitely. But these kind of difficulties will also form me as a player. It's not a good situation, but I will benefit from this on the long term.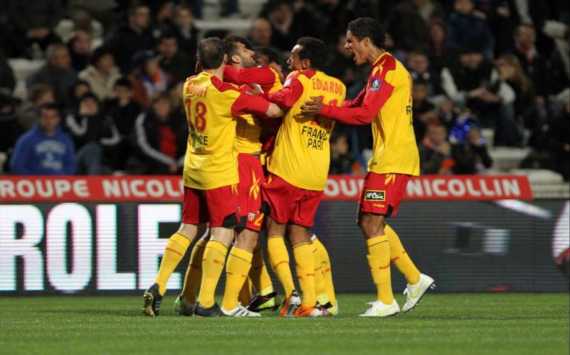 Survival | Defender concentrating on keeping Lens in Ligue 1

You previously said that the team doesn't really need something big to get on the right track, what do you think that's needed to turn things around?
We haven't had much luck and we could perhaps be a bit more opportunistic in front of the goal. It's basically small things that have cost us. We are not less than any of the other teams, but small details have been decisive on the pitch. It's frustrating to know that we can do better.

This must specially frustrating for you as a defender, because you can't really do much to help up front...
It's the final touch that counts and it's not easy to be an attacker. It's a very particular position. We'd love for things to work out well up front, but we can't do much about it. You will rarely see a defender in front of the opponent's goal.

Do you still think you can avoid relegation?
We're realistic and know that it'll be very difficult. There are still more matches to be played though and we won't give up just like that.

Your current contract with Lens runs until 2015, but will you leave if the club drops to Ligue 2?
I don't know that yet. We have yet to discuss it. We'll have to wait until the end of the season to discuss this with the direction. There are a lot of European clubs that are interested in signing me, but I want to focus on playing football for now. We'll see what happens after the season.

There are rumours about an agreement with Manchester United, is there any truth in this?
There's no concrete interest from Man Utd. No promises or offers. There has been contact from Manchester United's side, but also from other clubs. I don't pay too much attention to it. This kind of thing will pass.

Is the Premier League a competition that you like?
Yes, I do like the Premier League. But there's also interest from Spain and Germany. I don't like one competition in particular.

Who do you think will drop to Ligue 2?
That's hard to say. Some teams have a very complicated calendar. Caen and Auxerre don't have an easy run-in. The most important thing is that we don't relegate!

And who will win the league title?
I think Olympique de Marseille will take it. They showed again by winning the Coupe de la Ligue that they're a very sturdy team. They might not be the most entertaining team to watch, but they're very efficient.

Lille are your hometown team, why won't they win the league?
They're losing the momentum. They can be very strong in one match, but I don't think they're mature and consistent enough to win the title.