Former captain says end of season period is what United train for all year, hails impact of Javier Hernandez and insists Paul Scholes should not retire as he did EXCLUSIVE

By
Greg Stobart
| Northern Correspondent
Gary Neville
believes it will be "special" for
Manchester United
to overtake
Liverpool
in the record books by winning a 19th league title.
United sit six points clear at the top of the Barclays Premier League and former Red Devils captain Neville has urged his team-mates to enjoy the moment this season and make sure the club pull even further clear of their bitter rivals.
When Sir Alex Ferguson became United manager in 1986, he declared his ambition to "knock Liverpool off their perch" - and the Old Trafford club's dominance in the last 20 years has seen them draw level on 18 titles.
"To win 19 would be special because it would go past Liverpool's record," Neville told
Goal.com
ahead of United's clash with Arsenal at the Emirates on Sunday.
"It would be great for the fans. It would be great in terms of the way the club has gone over the last 20 years. We were 11 championships behind and to think now that we are level is a great achievement.
"But we're talking about a moment. Things go in cycles and can change so it's about getting that 20th and that 21st. It's not something that defines history because it always moves."
United are fighting for a memorable double as they have one foot in the Champions League final on May 28 following their ruthless 2-0 victory over Schalke in the first leg of their semi-final on Tuesday night.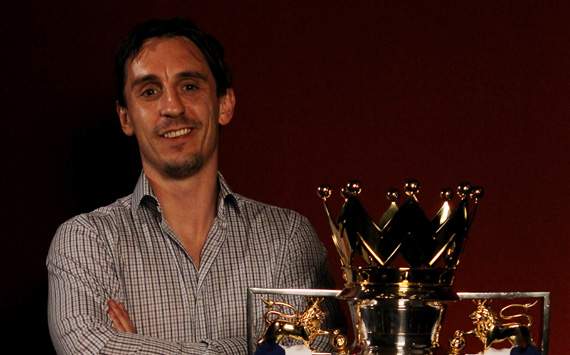 Red Nev | Gary Neville got to know the Barclays Premier League trophy well as a player
The quality of United's side was questioned earlier in the season but Neville, who retired in February after 20 years at Old Trafford, insists the club always sets out to peak at the end of the season.
"Things always come together at this point of the season," added the former defender. "These are the moments that the club wait for. There is no point in peaking in January or October – the best time to be at your best is now.
"People are always quite quick during the early part of the season to judge and come out with sweeping statements.
"You can't be brilliant all the way through a season for 10 or 11 months. We've seen in the last couple of months that the level of performance has returned to the top standards."
Mexican striker Javier Hernandez has played a crucial role in firing United forward in recent weeks, forming a devastating partnership with Wayne Rooney and taking his tally for the season to 18 goals in all competitions.
Neville can see comparisons between Hernandez and United great Ole Gunnar Solskjaer – and he is predicting 'Chicharito' can become a club legend in his own right.
"There are a lot of similarities to Ole Gunnar Solskjaer," Neville explained. "I know you should never make comparisons but he just seems to have a single-mindedness in front of goal but also that unselfish work ethic.
"He is dedicated like you wouldn't believe and he's somebody who has really taken to the club. The fans will absolutely love him for many years to come. He will score buckets of goals."
Neville, 36, decided to retire because he felt he could no longer perform at the top level – but he has urged midfielder Paul Scholes to play on for another year rather than quit this summer.
Scholes was sent off in the FA Cup semi-final defeat to Manchester City and is considering his future.
And Neville added: "I would hope he can carry on for another year. It will be Paul's decision but I love watching Paul Scholes play football. For me, he's the best midfielder in the country on his day.
"He makes his own decisions, he doesn't need me to advise him, but as a United fan and someone who knows him very well I would like him to play on and continue. I think he still has so much to offer."
Gary Neville was speaking at a Barclays event as part of their sponsorship of the Premier League. Every 90 minutes throughout the season Barclays is offering fans the chance to win free tickets to Barclays Premier League matches by going to a Barclays ATM and requesting a receipt or by visiting www.barclaysticketoffice.com.