By
Nick Price
Real Madrid, Barcelona and Jose Mourinho are all disgraceful
Champions League semi-final. The Santiago Bernabeu. Real Madrid. Barcelona. Xabi Alonso. Xavi. Mesut Ozil. David Villa. Cristiano Ronaldo. Lionel Messi. Emmanuel Adebayor on the bench.
All the ingredients for an absolute feast of football, but instead we got a farcical game spoilt by one side's repugnantly cowardly 8-2-0 formation and the other's utterly pathetic playacting.
The hosts, supposedly the second best team in the world and led by a manager considered the exemplar of his generation, mustered up a limp six shots, not one of them from inside the box, and had just 28 per cent of the possession.
Last week
WWLTW
praised Jose Mourinho for winning the Copa del Rey with a pragmatic approach, but in the first leg in Madrid on Wednesday he took the school of thought to its ultimate low with an utterly cynical tactic that left no room for individual talent to shine and was about as attack-minded as a sedated dolphin.
If you get to this stage of the competition and play in such a spineless manner, you simply don't deserve to go through – you have to, at some point, release the shackles, especially so when your team is comprised of some of the finest offensive players in the world (and Adebayor).
But the visitors, who usually play the sort of football that poets would write epics about, did their bit as well to ensure that it was a dirty, ugly, horrible game that was about as attractive as Joe Pesci and Danny De Vito fighting for a bar of soap in the showers.
Sergio Busquets spent the 90 minutes looking for opportunities to audition for the part of 'bereaved husband' by clutching his head whenever an arm or a back as much as brushed his torso, and then falling in stages to the floor with mock tears and utterly stupid pleas to the referee to book those nasty opponents who... hadn't touched him.
Pedro got in the act too, tumbling over his own feet, crying at the officials whenever a man in white outmuscled him and generally behaving like a petulant little baby throughout.
Then Dani Alves took feigning injury to a whole new level with his disgraceful rolling to ensure that Pepe got sent off. The Brazilian tumbled half the length of the pitch it seemed and then, after overselling his pain so much, had to be carried off on a stretcher – the arrogant little cheat was clearly in no danger whatsoever, with the only injury likely to have been picked up in the episode being received by the medics who had to carry him and were at risk of a hernia.
If footballers feigned injury round
WWLTW
's way they'd find themselves receiving some real pain soon enough. (It really ought to be a rule introduced by Fifa: feign injury more than twice and the opposition get to do whatever they like to you. Pretend you've got a broken jaw? Well, your opponent can give you a broken jaw.)
That's not even mentioning the outright assaults launched by Javier Mascherano, who somehow stayed on the pitch despite trying to boot his opponent into space, Busquets on Alonso, and Pepe, who entirely deserved to walk for his despicable studs up challenge that would have left Dani Alves' leg in half a dozen pieces had it connected.
And
WWLTW
is even forgetting the half-time melee involving horse-faced, trophy-dropping, perma-whinging berk Sergio Ramos, who hung around like one of those scumbags that loiters outside shops and bars at night just waiting for a fight to get into.
Thank the football Gods that Lionel Messi gave watchers something to cheer about because otherwise it was a game devoid of any class and an embarrassment to the sport, with almost every single participant in some way at fault for making an utter mockery of the occasion.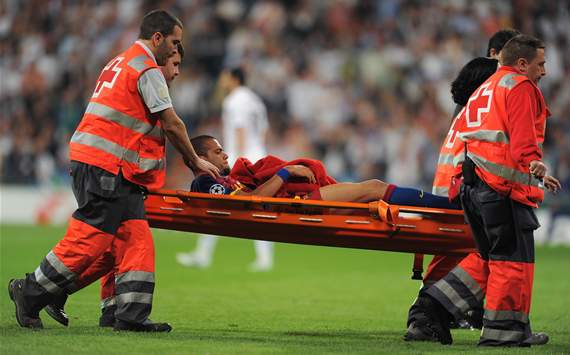 Not fooling anyone | "Woah there, lads, steady, I've got a pretend broken leg here"
Mourinho is the worst loser of all time
WWLTW
likes the cut of the self-proclaimed Special One's jib for the most part. He's
a wind-up merchant extraordinaire, who revels in the furore that his actions, formations and proclamations create.
There's a repugnance about the way he carries himself, but like an evil egomaniac you can't help but admire his genius and his enigmatic ways. Besides, he's always good entertainment, win, lose or draw.
But on Wednesday night he took it his bad boy routine a step too far. Not when he was sent off – a redundant act on the officials' part seeing as he was able to watch the game a yard away from his dugout – but for his outrageous and potentially slanderous comments about Barcelona benefitting from unusually generous refereeing.
He told reporters: "I don't know if it's the Unicef publicity or the friendship of [Spanish FA president Angel] Villar at Uefa, where he is vice president, I don't know if it's because they are so nice, but they have got great power. The rest of us have no chance."
That, coming from a man who hounded Anders Frisk out of football due to his despicable defamation and lies, and who is forgetting how his Porto side somehow went through at Old Trafford in 2004 after dubious officiating, rings awful hollow. Uefa should throw the book – the biggest one they've got and preferably direct it straight towards his giant mouth – at him.
Besides, maybe the tactical savant could have avoided a footballing embarrassment had he instructed his players to actually go out and play, rather than kick lumps (Alvaro Arbeloa, we're looking at you as well as Pepe) out of their opponents and sit back like wimps in their own stadium.
His comments following the game were a cowardly retort after an utterly gutless selection. Losing is fine, but losing after barely trying to win, and losing like that for (excuse the capital letters) REAL MADRID is as laughable as it is lamentable.
What we will learn this weekend...

Liverpool striker Andy Carroll will be injured when former club Newcastle come to town, but he'll get into the swing of things by watching shirtless from the stands and swigging a bottle of Brown Ale.

Fernando Torres and Edin Dzeko will both score for their sides after rubbing the lucky goal stone they both found, but they will not share it with Robbie Keane, who will continue to be atrocious for West Ham.

Manchester United will travel to the Emirates where Arsenal will complete the quadruple by finally bowing out of their last winnable competition.

Emmanuel Adebayor is a giant hypocrite
"Football is a game of men," said the 27-year-old after the defeat on Wednesday. "Whenever you play against Barcelona, whenever you touch them, they are on the floor crying like a baby. Whenever you make contact in a 50-50 they are on the floor, crying, putting their hand over their face, and their manager, their fans, they are always crying.
"Barcelona are a fantastic club, don't get me wrong, but they have to stop a little bit of that."
WWLTW
later observed a fascinating conversation between a pot and a kettle, which quite accurately summed up the words of Adebayor, a man who once declared he would stay at Arsenal and then told reporters five minutes later that actually he'd like to go to Serie A. Can't remember how it went, but it was something along the lines of:
Pot: "Hey kettle."
Kettle: "Hi, Pot, how's it going?"
Pot: "Not bad. You're black."
Kettle: "Yeah, and so are you."
Pot: "Damn, I'm a giant hypocrite aren't I? But nowhere near as much as Adebayor, who moans about people crying and diving and cheating and whinging when he's never done that in his career, has he?"
Kettle: "True. Now let's go make some tea and coffee."
Pot: "Let's."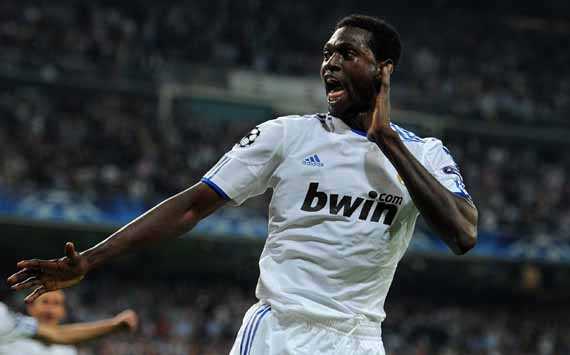 Shout, let it all out | "Sorry, can't hear you. I'm a cry baby too? I'm off to tell my mum"
Ryan Giggs is the best pensioner in Europe
Coming before the game of no pain and little quality on Wednesday night came a masterclass from one of Europe's finest ever players, who, despite being well advanced in years, still turned it on and proved that he is the man for all seasons.
No, not Raul, but Ryan Giggs, who managed to break through the wall that was Manuel Neuer, who had put on a goalkeeping clinic to singlehandedly prevent Manchester United from breaching his terribly defended Schalke goal until the 67th minute.
It was a sublime finish from a man who should by rights have retired years ago or now be playing football at a lower league level. The Welshman was brilliant, although the German hosts were so terrible that Rio Ferdinand and Wayne Rooney could have tweeted each other 'epic bantz' on the pitch for 90 minutes and it wouldn't have mattered a jot.
There's no point in the second legs now
WWLTW
argued the case for a straight-up World Cup-style knockout for the Champions League stages a few weeks ago, and this week's results have added weight to this column's admittedly hastily thought through and ridiculously romantic idea.
Manchester United showed up Schalke in emphatic fashion and while the Germans did score five at the San Siro last month, they're as likely to score three and concede none at Old Trafford as
WWLTW
is to wake up in a bed covered with £50 notes while Beyonce makes breakfast (bacon and egg with a runny yolk, please).
Likewise, Mourinho may be a tactical mastermind but he'd have to strike luckier than a two-time lottery jackpot winner to have a chance in hell of coming back from two-down to steer his side towards Wembley.
Expect to be bored stiff next week.
Premier League managers should start playing their rubbish forwards
Edin Dzeko – an utter waste of space for the most part since joining Manchester City in January – finally got off the mark in the Premier League just two days after mega flop Fernando Torres netted for his new club.
If there are any top flight managers reading this (chances of that are zero, seeing as
WWLTW
has slagged them all off at least once this year), throw on your terrible strikers as 'tis the season for bad forwards to score.
Mourinho could learn from Mick McCarthy
Aside from the Champions League there was also the small matter of a couple of Premier League games this midweek, with Bolton and Wolves both getting hammered 3-0 by Fulham and Stoke respectively.
After seeing his side put in a shift less respectable than a man sat topless in a restaurant, Wolves boss Mick McCarthy showed Mourinho how to take defeat.
The outspoken Yorkshireman and former Republic of Ireland manager was asked how he felt, and responded simply: "Asking me to say how I'm going to feel tomorrow morning, I know how I'll feel tomorrow morning, I'll feel s*** because that's how I feel now, and it'll probably be exacerbated in the morning."
Ee bah gum, there's no messing with that man. Add his humility to Mourinho's genius and you'd have the most enigmatic and brilliant manager of all time.
Follow Nick Price on