From battering teams in the Championship, to getting the No.9 shirt at Newcastle and becoming the most expensive Englishman of all time, a month-by-month look at the giant striker
By
Nick Price
May 2010
Carroll comes to the fore after the departures of injury-prone Michael Owen and rotund Mark Viduka, quickly establishing himself as Chris Hughton's favoured striker and goes on to grab 17 goals from 39 league appearances as hometown club bounce straight back up to the Premier League by lifting the Championship trophy – howay the lads!
Begins preparing for life in the top flight by changing shampoo and conditioner to ensure that long locks look as silky as possible come August.
June 2010
Despite representing England at various youth levels, the giant striker is eligible to play for Scotland and boss Craig Levein is urged to hand the then 21-year-old a cap so that he cannot play for the Three Lions. Unfortunately for the Tartan Army, the young giant harbours desires of playing in international tournaments at some point in his career.
Newcastle issue 'hands off' warning after Chelsea are linked with a move for the forward, who also goes to court over an alleged assault on an ex-girlfriend.
July 2010
The local lad batters down manager Chris Hughton's door to demand that he receives the No.9 shirt as worn by Newcastle legends Jackie Milburn, Malcolm Macdonald and Alan Shearer.
Hughton, not a small man it must be added, cannot refuse the horse-like figure that stands before him, and allows the young man to sport the iconic number on his back. Destined to go onto become a hero at the club, surely.
August 2010
Lives up to his headline billing by netting a thumping Premier League hat-trick in Newcastle's first home game of the season, a 6-0 thrashing of Aston Villa, and then nets equaliser at Wolves a week later.
September 2010
Fails to find the net in defeat to Blackpol at St James' Park, but plays his part in win at Everton before the Magpies are beaten again at home to Stoke.
Performances begin to earn credit from wide quarters, and earns the North-East Football Writers' Association's Young Player of the Year award. That sets off Harry Redknapp's Wheeler Dealer Alarm 2000, but Hughton warns suitors that the player is "completely settled here at Newcastle and loves the club", before saying that there is "no point even talking about silly rumours".
October 2010
The young striker looks to put an end to the transfer talk by signing a new five-year deal at the club, worth an estimated £27,000 a week. Geordies may want to scroll past the following paragraph.
"All I have ever wanted to do is play for Newcastle," Carroll said at the time. "Every time I pull on the black and white shirt – and even more so that I have No.9 on my back – it means the world to me so to be able to do that for at least the next five years is brilliant."
Celebrated by ending a five-game goal drought with winner in a 2-1 result at Upton Park, but hits a low as judge bails him on condition that he lives with a suitable guardian, with that being club captain Kevin Nolan. Wakes up one morning to find that his car has been torched, presumably by a disgruntled barber angry that he has nobody in the north east willing to have their hair done in corn rows.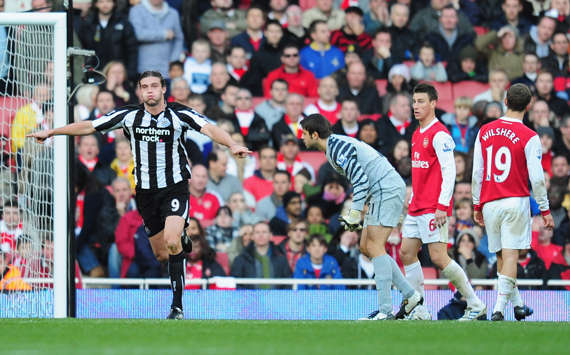 Familiar sight | Carroll scoring from a header and an Arsenal defensive mix-up
November 2010
Leaves Gunnersaurus green with envy as he jumps up to head home the winner at the Emirates, a goal that books him a first ever England call-up.
He starts against France at Wembley but has few chances to show his aerial prowess as England, predictably, toil against their rivals from across the channel and ridiculously fail to put in any half-decent crosses for the humongous forward.
Ends the month with an impressive four goals, including a cheeky strike against Chelsea as he makes mugs of Alex and Petr Cech following a cock-up at the back.
December 2010
Mentor Hughton is ridiculously sacked for not having enough experience to get results, much to the disgust of the Toon Army, who are not placated when Alan Pardew joins the ranks of the Cockney Mafia.
Carroll is seen out smashing up Newcastle dancefloors with supposed father figure Nolan the day after the shock dismissal, but the pair bust out some even better moves against Liverpool, with the former setting up the latter for a goal before the striker caps off a fine individual display with a rocket from deep against his soon-to-be employers.
His month ends sourly, however, as he picks up a thigh injury against Tottenham that will keep him out until March.
January 2011
Hits the headlines again, and again for the wrong reasons as
The Mirror
regale an embarrassing night on the town for the not so divine ponytail, who allegedly had four jagerbombs, two pints and six bottles of beer before falling over and suddenly perking up "like a meerkat".
But the cheap beer and dangerous drinks are to be replaced by tears and champagne on the final day of the month, when a life-changing move to Liverpool is announced right at the end of the transfer window.
Newcastle originally rejected a £30 million bid for the striker, who had been linked with a move to Tottenham throughout the month, before the Reds came back in with a record offer for a British player of £35m, which saw pound signs flicker over Mike Ashley's eyes, with the unpopular owner leaping for joy and cashing in on the forward.
Despite Carroll's injury problems, he passes a medical at Melwood and is mobbed by fans who had hours before been burning their Fernando Torres shirts as the Spaniard travelled to dot the i's and cross the t's on a contract at Chelsea.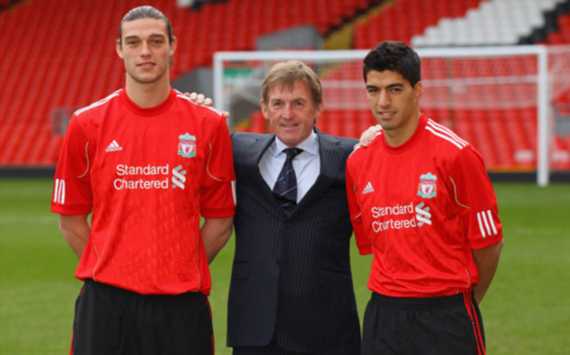 The gruesome twosome | Fighter and biter sign for Liverpool
February 2011
The striker, who had come in for criticism from angry sections of the Newcastle support over his decision to leave, claims he never wanted to depart from his boyhood club but was forced to do so by Ashley. Nevertheless, he receives a rapturous welcome from his new fans and there are no crocodile tears as he is paraded around Anfield prior to the game with Stoke, where he sees his new strike partner, Luis Suarez, open his scoring account for the club in a comfortable win.
Carroll misses the entire month with injury, but gets to go to see Boyzone with new boss Kenny Dalglish, receives the coveted No.9 shirt, and creates the Premier League's first ever pirates association with new team-mate Sotiros Kyrgiakos. An invite is sent to Alberto Aquilani, but the midfielder replies: "No way, me wanna stay in Italy and be a casanova."
Also goes to Prague with Liverpool squad and remarkably does not go to a casino, strip joint or any bars in the gambling, cheap women and beer capital of Europe.
March 2011
Finally makes Liverpool debut as a late substitute in a rout of Manchester United at Anfield. Every long ball that the beast touches is met with a standing ovation, but the day belongs to fellow new boy Suarez, who sets up two of Dirk Kuyt's three goals – proof, if ever there was needed, that Dalglish can perform miracles on Merseyside.
The Englishman also makes his European debut in an away defeat to Braga, where he is partnered by fat dwarf Joe Cole. The pair look like an evil genius and his hired goon and appear to have as much understanding as a dog doing a crossword.
Plays four games for Liverpool but never comes close to scoring, yet in only his second England appearance he gets off the mark with a rifled shot from inside the area against Ghana. However, boss Fabio Capello warns him to cut down on the lager if he is to make it to the top.
April 2011
With fears growing that he is just Peter Crouch with added meat, Carroll's move to Anfield is questioned by some supporters, but the youngster shows his class with what can best be described as an absolute thumper of a goal from range against Manchester City, before he gets on the end of a Raul Meireles cross to head in as Liverpool convincingly dispatch of Roberto Mancini's men.
The striker is mobbed by team-mates and 'Sweet Carroll-nine' is belted out from the Kop, who give him a standing ovation as he is taken off in the second half.
However, the British record signing sees his knee bend all over the place at Arsenal, and is forced to sit out his side's hammering of Birmingham the following week.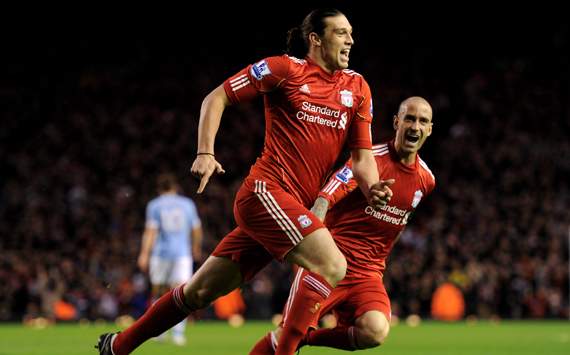 Giant | Meireles isn't happy there, he's trying to run away
May 2011
An incredible 12 months reaches its most surreal moment as Carroll, who had envisioned a full career at his boyhood club now faces the prospect of lining up against them for the very first time in his life as Newcastle travel to Anfield in the Premier League.
Few would have predicted the meteoric rise nor the shock transfer to Merseyside a year ago, least of all the man himself, who, unsurprisingly is snapped necking down a few pints in Madrid with his team-mates who have flown out to watch the Champions League Clasico. You can take the boy out of Newcastle....
Follow Nick Price on