COMMENT

By
Greg Stobart
at St James' Park
Of all the candidates suggested
for who kicked a hole
in
Manchester United
's dressing room wall at Wembley,
Dimitar Berbatov
has the most compelling motive.
The Bulgarian striker may be top scorer in the Premier League but his campaign has hit a brick wall of its own, culminating in his complete omission from the 18-man squad against Newcastle United on Tuesday night.
As
Goal.com UK
revealed earlier this month, United are prepared to cash in on Berbatov this summer, and that possibility is growing ever more likely with each passing week. Bayern Munich and some leading Italian clubs will be watching developments with increasing interest.
Berbatov is yet to sign an extension to his contract at Old Trafford, which runs until next summer, and his miserable look in the stand at St James' Park suggested he is not going to agree a new deal any time soon.
The 30-year-old has worn a constant look of apathy from the day he completed his £30.75 million move from Tottenham in 2008.
United fans have never warmed to him, citing his apparent laziness on the pitch and his lack of drive, but their anger peaked as he spurned two glorious opportunities in the FA Cup semi-final defeat to Manchester City on Saturday.
For many in the stands, it was seen as the final straw for a player who has never reached the heights of his displays at Tottenham, never appeared able to cope with the pressure and expectation of life at the most famous club in England.
His manager, Sir Alex Ferguson, appears to agree. While the Scot remained patient through Wayne Rooney's poor form earlier in the season, Berbatov has not been cut any slack.
The fact he was not even a substitute in the goalless draw at Newcastle – even Michael Owen got on the pitch – was as clear a message as Ferguson could possibly send to the player he courted for more than two years before finally signing.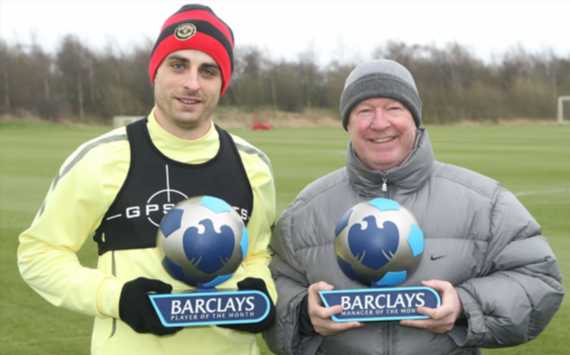 Happier times | Berbatov and Sir Alex share player & manager accolades for January
By now, Berbatov is used to watching the action from the stands, having started just three of the club's last 12 games despite his performances being considered good enough for him to make the PFA team of the year, announced on Sunday night.
Ferguson's lack of trust for Berbatov, however, appears only to have grown through the forward's United career. The former Bayer Leverkusen man has constantly found himself out of the starting line-up for key games and is now playing second fiddle to Javier Hernandez, who has developed a burgeoning partnership with Rooney.
Berbatov's medal count may have gone up at Manchester United, but his reputation as a footballer has taken a massive hit.
Too often, his goals come in the low-key encounters against the likes of Wigan and Birmingham, or his five-goal effort against Blackburn Rovers. Hernandez is the one who sniffs out crucial goals in the decisive moments of tight games.
He did not start either of United's Champions League semi-final games against Chelsea and was on the bench for the Premier League fixture against Carlo Ancelotti's side.
If he has not got the message, he is paying less attention than even the supporters thought.
Berbatov grew up a Newcastle fan, idolising Geordie hero Alan Shearer. It is poignant, then, that the end of his dream should come into such focus on a night at St James' Park.
Ferguson is ready to let Berbatov leave if he can bring in a suitable replacement and has hinted that he may make significant changes to the squad in the summer.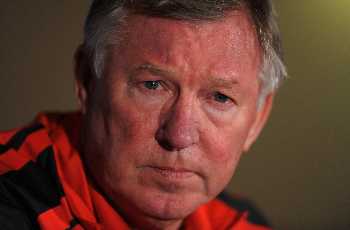 "If I see something I feel is a retrograde step I have to act and make decisions"
"It's a horrible thing to say but you can't be sentimental in this job," said the United boss this week. "My job is to manage United, to produce results and I am no different from any other manager. I'll not be regarded in the same way if I'm not successful.
"Everything to do with me is black and white.
 If it's on the football field and I see something I feel is a retrograde step, I have to act and make decisions.

 It is something that I have always been good at. I can make quick decisions and I am lucky that way."

Berbatov may have sat through a frustrating 90 minutes on Tuesday night after being dragged all the way to Newcastle only to have to watch his team fail to score.
But that is nothing in comparison with the irritation of the United manager – and the supporters – with his failure to fulfil the role the club thought he would offer.