COMMENT
By
Greg Stobart
at Anfield
Andy Carroll
was as relieved as anyone at Anfield when he opened his
Liverpool
account with a double that made him look every inch a £35 million player.
After five games for the club without a goal heading into the visit of Manchester City, Carroll could have been forgiven for feeling a little anxious about going the same way as Fernando Torres or Edin Dzeko.
But here he was the perfect target man, a marauding centre-forward with an eye for goal as Liverpool ripped City apart to secure a 3-0 victory that keeps alive their European ambitions.
Kenny Dalglish, the Liverpool manager, celebrated with as much joy as anyone in the ground as Carroll scored his first goal for the club by smashing a spectacular effort into the bottom corner from 25 yards.
The big Geordie was full of muscle and menace as he combined with the electric Luis Suarez, another January signing, who had the Kop on its feet almost every time he touched the ball.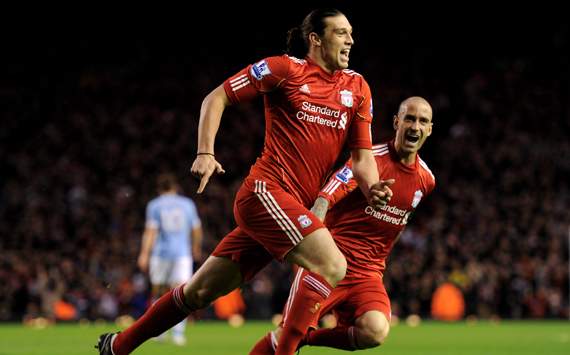 Off the mark | Andy Carroll celebrates his first goal for Liverpool in win over Manchester City
Carroll's greatest strengths were all evident in his second goal of the night, Liverpool's third after Dirk Kuyt had slotted home a neat finish.
As Raul Meireles floated a cross into the penalty area, Carroll was too quick in body and mind for Aleksandar Kolarov and launched himself at the ball before flicking it into the top corner of the City goal.
The 22-year-old Geordie is good mates with City goalkeeper Joe Hart but he was anything but friendly in the way he bullied Joleon Lescott and Vincent Kompany.
With the weight of that first Reds goal off his shoulders, Carroll played with far greater freedom, dropping deep to allow Suarez to run in behind and pulling on to the full-backs to nod the ball back across goal.
'One Andy Carroll' sang the Kop in recognition of the damage the former Newcastle man was doing to the City defence. After Monday night's performance, he may deserve a more memorable chant.
The new Liverpool No.9 showed the previous occupant of that shirt what a record signing should look like. Reds fans still afford a chuckle at Torres' travails at Stamford Bridge but his memory fades with each sensational performance from Suarez and Carroll.
If Monday night's win was the perfect advert for Carroll and Dalglish, it was tortuous for Manchester City striker Edin Dzeko.
City boss Roberto Mancini took responsibility for the defeat but the Bosnian had an even worse night, producing an anonymous display alongside the equally ineffectual Mario Balotelli, who replaced the injured Carlos Tevez after 15 minutes.
Dzeko is yet to score a Premier League goal since his £27m switch from Wolfsburg in January and did not even look interested as he toiled against Jamie Carragher. He can't hope to play against the likes of Notts County and Aris Salonika every week.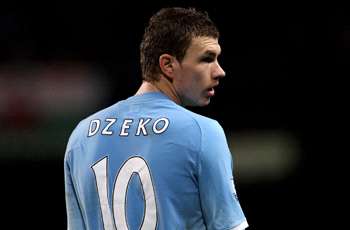 "Mancini must be concerned that he may have bought a dud. Dzeko has showed no indication of re-producing the form that saw him score 66 goals in 111 games for Wolfsburg and attract interest from top clubs across Europe"
The 25-year-old has managed to avoid scrutiny for his below-par performances largely due to the intrigue in Torres' woeful form in front of goal since his £50m British transfer record move to Chelsea from Liverpool.
Mancini was keen after the game to defend the player he had convinced the City board could fire his side to Premier League glory this season. "It is difficult for a player when they change clubs in January, it's the same for Torres," was Mancini's curt assessment of Dzeko's performance at Anfield.
But the Italian must be concerned that he may have bought a dud. Dzeko has showed no indication of re-producing the form that saw him score 66 goals in 111 games for Wolfsburg and attract interest from top clubs across Europe.
Mancini insists Dzeko will perform to expectations next season but there have been worryingly few signs of promise for a player who arrived with such a reputation and at such a huge cost. The visiting fans at Anfield made sure to let him know that he was not working hard enough, not showing enough desire or quality as he constantly lost 50-50 challenges.
Dzeko was not alone in producing an abject display at Anfield. Balotelli suffered the ignominy of being substituted himself seven minutes from time following a performance kindly described as "not good" by his manager.
But it was Carroll's all-action performance that put Dzeko's shortcomings into context. Both play a similar role but only one looks like the real deal, only Carroll has the quality and mental attributes to meet the expectations that come with a record price tag.
Follow Greg Stobart on