DEBATE
By
Oliver Yew
at the Emirates
For the second successive year
Arsenal
's season appears to have shuddered to a sudden halt at the vital point of the campaign.
After the 0-0 draw with Blackburn at the Emirates their hopes of lifting the Premier League title in May appear to be all but gone as they find themselves seven points adrift of leaders Manchester United at the top of the table.
Throw this on top of a horror few weeks for the club when they lost the League Cup final to Birmingham, crashed out of the FA Cup to Manchester United and were eliminated from the Champions League by a superior Barcelona side and you have the ruins of a season that promised so much for Arsene Wenger's side.
The big question is where has it all gone wrong for the Gunners?
Not even the Frenchman could put his finger on why his side produced one of their worst displays in what was one of their most important matches of the season.
"It is difficult to identify one special thing," he told reporters after the match against Blackburn. "I thought we started ok and after our game became flat and very few players looked to have the resources to put the pace up in the game.
"Overall it was a flat performance with a lack of energy level and a lack of sharpness. It was quite a big concern to see what we saw today."
The manager looked particularly dejected during his post-match press conference and he looked perplexed as to reasons why his side fluffed their lines in the title race.
But could it be time to question Wenger's role in his side's collapse this season and ask whether he has taken the club as far as he can?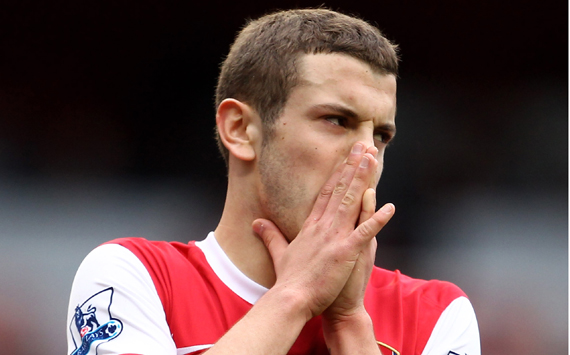 Frustrating Times | Arsenal's 0-0 draw leaves them seven points behind United
It is a question that splits the Arsenal fan base. There is a club motto that says 'In Arsene we trust' and many fans still stand by that phrase; but over the years the club's failure to get past April with their season still intact has worn patience thin, and a small minority have questioned Wenger's philosophy.
What was even more worrying about Arsenal's abject display yesterday was the fact they just did not seem up for what could be described as the most important game of their season.
After Manchester United's remarkable comeback against West Ham, Arsenal's match became a must-win encounter, but the Gunners lacked urgency and the desire to win a game which was vital to their silverware hopes.
The players should have needed no motivation, but not even Wenger could inspire his side.
His failure to strengthen the squad over the years has also been a huge frustration to many. The squad has been crying out for experienced players in vital positions - in particular tried and tested defenders and a new goalkeeper - but the Frenchman continues to back his policy of putting his faith in young talent and developing them into world class stars before dipping into the transfer market.
WENGER'S REACTION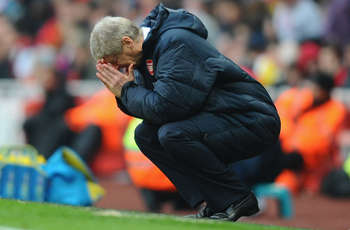 "Overall it was a flat performance with a lack of energy level and a lack of sharpness. It was quite a big concern to see what we saw today"
While Wenger has helped talents like Jack Wilshere, Samir Nasri and Cesc Fabregas to flourish, many would question the decision not to supplement them with more experienced stars, when the club insist there is money to spend and some would say it is a key reason behind the trophy drought.
There is no doubting Wenger is a stubborn character and it is shown by not wavering from his strict transfer policy; but his stubbornness can also be seen in his tactics.
"Overall it was a flat performance with a lack of energy level and a lack of sharpness. It was quite a big concern to see what we saw today."
Arsenal never seem to deviate from their 4-3-3 formation. Even when they are chasing a game they never change their system to suit the match situation and it is something which makes them predictable and gives them no plan B.
Criticism has been levelled at Wenger for this but even when it is obvious the formation is not working and the game is crying out for something different he does not change his tactics.
There are always two sides to every argument though and Arsenal punch well above their weight in terms of money spent on players and also wages.
The Gunners' wage bill comes in well below those of their main title rivals at £110.7 million, while Manchester United fork out £131.7 million and Chelsea a whopping £172.6 million. Throw in the January transfer window and the difference becomes even bigger.
And the reality of the matter is that despite those differences, and despite their setback against Blackburn, Arsenal are still second in the league table and still have a mathematical chance of winning the title.
Wenger has overseen the move to a new stadium, and despite the consequent debt incurred, and having his hands tied in the transfer market, he has kept Arsenal in the top tier of European competition.
He has created a legacy and brought the beautiful game to north London.
Four weeks ago, with Arsenal still in four competitions, many were praising Wenger's influence and his ability to perform wonders on a shoestring budget, but fast forward and the criticism comes from all sides.
Goal.com UK
wants to know your view. Has Arsene Wenger taken Arsenal as far as he can? Or can he keep going and lead the Gunners back to glory?