As a supporter of a football team there is always that one match you always dread.
Saturday comes and it is not the thought of playing Manchester United or Chelsea away but facing a side your club has always struggled against that strikes fear into the manager, players and supporters of a club.
This weekend sees Manchester United travel to east London to face West Ham, while Chelsea travel to the Britannia Stadium for a tough match against Stoke.
The Hammers have often enjoyed playing Sir Alex Ferguson's side, recording some excellent results against them in important matches. In 2007, Carlos Tevez scored the only goal of the game as West Ham ran out with a 1-0 victory and avoided relegation on the last day of the season.
This season the Hammers beat United 4-0 in the Carling Cup and the sight of the Red Devils has often brought out the best from the east London outfit.
As part of Wimbledon's 'Crazy Gang' that produced one of the great cup final upsets of all time when they defeated Liverpool to win the 1988 FA Cup, John Scales knows what it's like to be the smaller team punching above their weight. He believes West Ham can continue their good run over Sir Alex Ferguson's side.
He said: "This is a tricky tie for United because of the history of the fixture," he said.
"Current players will tell you it doesn't affect them and that they are not aware of history but it is an important part of the game. It will be in the back of their minds.
"West Ham have their tails up at the moment after some good results and also the additions to the squad in January have boosted everyone at the club.
"United will be anxious as their away form has been poor all season but in Sir Alex [Ferguson] they have one of the best managers of all time so they should have no problem in getting up for the game."
Chelsea also face a tough trip to the Britannia Stadium to play Stoke. The atmospheric ground is seen as one of the toughest places to go in the Premier League with all the top teams having dropped points there in the past. Tony Pulis' side are a team who know their own strengths and play to them, just like Wimbledon did in their 'Crazy Gang' pomp.
"Some clubs will be better prepared to deal with certain styles but Chelsea face a difficult task against Stoke," said Scales, who won three caps for England in a career that also took in spells at Liverpool and Tottenham.
"Tony Pulis' side is very physical and maybe Chelsea are the best prepared of the top sides to deal with that but some won't, that is why it is a difficult place to go.
"Carlo Ancelotti's side will have a tough battle on their hands."
It is not just Manchester United and Chelsea who do not like playing certain opposition.
Arsenal fans fear the worst when they play any physical side but they will remember their team's struggles against Bolton during the time when Sam Allardyce was at the helm. Tottenham supporters can also recall a time when they failed to beat Chelsea for 19 years.
Liverpool had their struggles against Coventry during the 90s while every season West Brom fans always look to see when they have to play Stoke. The Baggies haven't won against the Potters in the last 27 matches.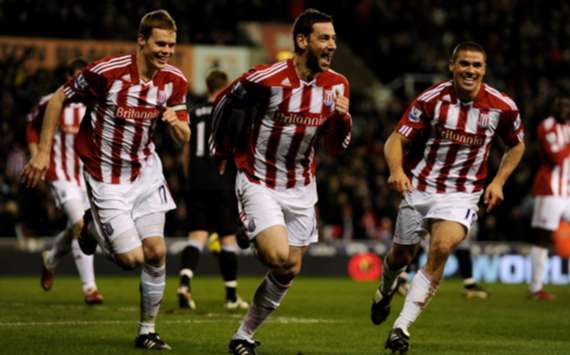 Tough fixture | Stoke have a reputation for making life hard for the big teams
It is not a new phenomenon, and Scales says that the Wimbledon side he was part of used to relish the opportunity to ruffle the feathers of more fancied sides.
"Psychology in football is a big factor and at Wimbledon we played on that," said Scales, who made 240 appearances for the club, scoring 11 goals.
"We did not respect reputations on the field and we played with no fear.
"We looked at every game with confidence and had a positive outlook. It scared some clubs who came to play us and if they weren't up for it against us they could come unstuck.
"Some teams are definitely intimidated by other teams and it is mostly down to style of play. At Wimbledon we liked to intimidate the visiting teams on and off the pitch but most of it was down to our physical style of play."
The curse of the bogey team is not unique to the rough and tumble of England. In Germany, Kaiserslautern has often enjoyed upsetting the odds whilst this season Hannover has revelled in beating bigger teams.
In Turkey, İstanbul Büyükşehir Belediyespor, offers a tough away trip for the big teams such as Fenerbahce, Galatasary and Besiktas - all of whom have lost to the minnows in the last two years.
Whilst in South Africa, bigger clubs such as Kaizer Chiefs, Orlando Pirates and Mamelodi Sundowns all dread a trip to Bloemfontein Celtic, where passionate home support drives the lesser team on.
SCALES ON WIMBLEDON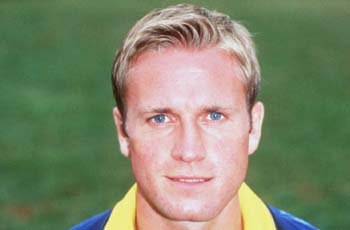 "
We did not respect reputations on the field and we played with no fear
"


But how does a top side deal with the prospect of playing against a team they have struggled with in the past?
Clinical sports psychologist Dr Victor Thompson works with amateur and professional sportsmen and women in a number of specialist areas, including anxiety, stress and confidence.

He believes it is vital for the club on a poor run to get all negative thoughts out of their system before the match.

"Confidence is a major aspect of all levels of sport," he said. "On any given day upsets can happen because teams don't perform or they have a bad day and every team has a capacity for that to happen.

"But confidence is all important. If you believe you will lose because of a bad run against a certain club, you will lose. If you expect a certain match to go wrong, it will go wrong.

"A team has to believe it will not go wrong and then come up with a plan to back it up. Individuals will have to train harder come up with good tactics and just be confident in what they are trying to do.

"This is also where a coach comes in because he has to instill confidence and make sure his side are better prepared for the match than the last time.

"The manager has to try and make the squad see that this time it will be different and give them positive expectations."
For the team on the end of past upsets, it is a matter of breaking the cycle, according to Dr Thompson.

"Professional sportsmen know shocks will happen but to overturn a poor run against a certain side they have to feel things are different," he added.

"That is why a club will not dwell on history. They won't ignore the past but if they have a poor record against one particular side they will try to ignore that and focus on the recent history.

"If they are in good form over the past two weeks they will look to that as a positive and use it to their benefit."
BOGEY TEAMS | The strangest English top-flight strangleholds

Wimbledon over Everton - One defeat in 10 matches from 1987 to 1991
Chelsea over Tottenham - No defeats in 19 matches stretching from 1987 to 2006
Stoke over West Brom - Undefeated in 27 matches, with 20 wins, since 1989
Coventry over Liverpool - Seven wins and just five defeats between 1992 and 1999
Bolton over Arsenal - Only one defeat in eight games from 1992 to 2007
Sam Allardyce is a good example of a coach who gets the most out of his sides and his Bolton side always gave the top teams a hard time, especially Arsenal.
The Trotters' physical style unsettled Arsenal and for a number of years the Gunners dreaded a trip to the Reebok Stadium. Allardyce's Blackburn also took great pleasure in upsetting Arsene Wenger with their physical approach towards the end of last season.
Dr Thompson thinks the managers of both sides would have vital, but differing, roles to play in getting the players up for the game.

"In this day and age professional sportsmen do look after themselves," he said. "What I mean by that is they look after how they prepare before the game, how they cope during and also how they are affected afterwards.

"But on some occasions it is necessary for a manager to help his players get up for a game. They can do that by talking about the history of a fixture and what has gone before or just focusing on the individual and what he needs to show in his performance.
"If a smaller club has a good record over a Manchester United, Arsenal or Chelsea, the manager will definitely try to use it to his advantage.

"He will use it to get the players up for the game and show them, through the result, they have the potential to win the match again," he added.

"It's a case of getting the players to believe and showing them they are under no pressure. They have less to lose and if they believe it they will perform better on the field."
Wimbledon had a similar record against Everton as Bolton did against Arsenal back in the late eighties.

The two sides played 10 games during that time with Wimbledon victorious on five occasions and drawing four times. They only lost one game against the Toffees in the four-year period.

The first of their good spell of results against Everton came in a fiery FA Cup clash in 1987 with a 3-1 victory and Scales believes a lot of their success against the Toffees was because their styles matched up well.

He said: "Against someone like Everton back in the late 80s and 90s our styles of play were totally different and they just did not like matching up to us.

"They would look at the Wimbledon team and know they were in for a fight. We matched up well against them and just played to our strengths, which seemed to nullify them."

With the title contenders facing tough ties this weekend up against difficult opposition and also teams fighting for survival it promises to be a key weekend in the Premier League.
Our

provides the best breaking news online and our

football fan community is unmatched worldwide. Never miss a thing again!