In-form Reds have chance to salvage campaign
DEBATE
By Owen Watson at Stadium of Light
Nobody can say that
Liverpool
didn't enjoy a fair slice of good fortune as they beat
Sunderland
2-0 on Sunday afternoon. Fans streaming out of the Stadium of Light were under no illusion as to the root cause of the result. "These referees always favour the top four or five teams in the country," lamented one Mackems supporter. Which may or may not be true, but the underlying assumption is key: Liverpool are once again one of the best sides in the land.
Although they presently sit sixth in the table, they're joint top with Everton and Chelsea on the form guide and since Kenny Daglish was appointed they've taken 20 points from 10 games. If they'd accumulated points at the same rate over the course of the entire campaign to date, that return would be good enough to see them second in the league with 60 points.
There's clearly been a transformation in Liverpool's fortunes and there's a whole host of reasons why. Defensively, they've rediscovered the frugalness they became known for under Rafa Benitez – they've kept clean sheets in half the league games they've played under Daglish. But this solidity hasn't come at the cost of attacking impetus, as since Roy Hodgson's dismissal they have scored in every Premier League they've played in.
Dalglish has clearly struck the right balance between defence and attack, but he has undoubtedly been aided by the surge of electricity that is Luis Suarez. The Uruguayan's influx has reinvigorated a Liverpool side that had looked lethargic for long periods of the campaign. His goal against Sunderland typified his audacity; wriggling his way along the byline he had only one thing on his mind as he approached the goal from the acutest of angles. Simon Mignolet had anticipated a cross and was left red faced as Suarez battered the ball beyond him and into the side netting at the far side of his goal.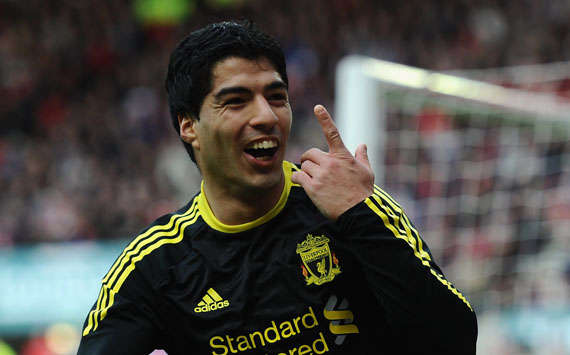 Biting back | Luis Suarez is hungry for success with Liverpool
When you compare his impact with other big money January acquisitions made by Liverpool's rivals for the European places, without wanting to pander to stereotypes, it looks like the Merseysiders have committed an act of robbery. Edin Dzeko and Fernando Torres are yet to convince their new supporters, while Suarez already has two goals in five matches and a raft of assists to his name. He's even putting more established strikers like Jermain Defoe and Didier Drogba to shame.
Really, the only problem for Liverpool is that they are running out of games. They find themselves four points behind Tottenham, having played a game more than Harry Redknapp's side, and eight points behind Manchester City. That's a big gap to bridge with eight games left to play, but the plus side is they still have to welcome both Manchester City and Tottenham to Anfield in the remaining weeks of the campaign – if they can take six points from those two games and not drop many other points along the way, they just might find themselves sneaking back into Europe next season.
At whose expense?
If Liverpool were to claim a European spot next season, who would be the side to lose out? On paper, Tottenham seem to be the side most at risk as they have a very busy April schedule – playing seven games in the space of four weeks, including Champions League ties against Real Madrid as well as tough league games against Arsenal and Chelsea. Compare this to Liverpool who will only play four times in April. Spurs arguably have the better squad, but there's no doubt they'll need it if they are to ward off the challenge of Liverpool.
Manchester City, like Liverpool, crashed out of the Europa League and can concentrate on the league – although they play Manchester United in the semi-final of the FA Cup it seems inconceivable they'd be willing to let that pass them by. Especially since the FA Cup itself provides a route into the Europa League for the victor. But if City can avoid defeat at Anfield, the chances are they wouldn't drop down to sixth – though their current form is the worst of all contenders – as they have seven very winnable remaining fixtures. Even if they did lose to Liverpool, the Merseysiders would have to make up five more points on City in seven games, barring an implosion in Manchester that simply won't happen.
Finally, Chelsea could potentially be leapfrogged by Liverpool. They have the Champions League still to focus on, and if they do bypass Manchester United and reach the semi-final then Carlo Ancelotti may take his eye off the ball in the Premier League. That said, they're already nine points ahead of Liverpool and have a game in hand. Although they have to travel to Old Trafford in the league and host Tottenham, it would take a collapse of unprecedented proportions to see Chelsea fall from third down to sixth in two months of football. Not even Rob Green could take his eye off the ball for that long.
All Liverpool can do is win their remaining games and hope one of their rivals suffer a collapse. It's a shame for Liverpool as they really have turned their campaign around, but it looks like a return to European football next season will be a stretch too far.