By
Nick Price
Mad Jens Lehmann has returned to liven up the season
WWTLW
cannot hide its excitement over this transfer, not least because of the public feud with Manuel Almunia – who doesn't love a good intra-squad rivalry? – but because of the sheer lunacy of Mad Jens himself.
The man has jumped behind an advertising board (while the ball was still in play)
to take a leak
,
playacts
, generally
prats about
like he's playing in the park, probably argues with his own reflection and is more entertaining than all the other goalkeepers in the league combined.
A thank you is in order for Arsene Wenger for livening up the rest of the season for all us neutrals. Here's hoping that Almunia cocks up at some point so Mad Jens gets a few games in the title run-in.
The FA have finally found a backbone and stood up to Sir Alex Ferguson


It's a rarity when this column is grateful for the work of the Football Association. When they're not ripping off fans they're usually bowing down to the Premier League and the bullying managers that populate it, with the Old Trafford boss being the chief whinger.
So it was good to see the FA stick to its guns by not only hitting Sir Alex Ferguson with a three-match ban for his comments about Martin Atkinson after the defeat to Chelsea, but also enforcing a suspended two-match ban from last year, meaning the Manchester United boss will have to chew his gum and mutter swears from the stands like the rest of us.
Just because he's got a 'Sir' in front of his name does not mean he's above the law or any better than us mere plebs who have to make do with Mr, Master, Mrs or Miss. He slandered a referee yet somehow still thinks he's totally in the right and it's all a big media conspiracy against him – cry
WWLTW
a river.
Given that the FA have suddenly grown a pair, his decision to finally accept the club's advice not to contest the charge was a wise one.
The Champions League is back (at last)
A few weeks ago this column derided Europe's elite competition for being as exciting as doing the dishes. This week, however,
WWLTW
has changed its tune and thanks the football Gods for bringing us entertainment.
The goalfest in Munich, the nerves at Old Trafford and the majesty at the Bernabeu added to last week's drama in Barcelona and at White Hart Lane.
That said,
WWLTW
has no interest in watching Chelsea this season after they effectively sleepwalked their way through to the quarters and would certainly still rather watch Blackpool or a tiddlywinks championship than see Carlo Ancelotti try to coax the best out of his new No.9 – you know, the one who looks like that former Liverpool striker who was dead good for a few years.
Fernando Torres is fooling nobody with his excuses any more
"I did not imagine leaving Liverpool but then the Chelsea train passed by and I had to catch it because of the dream I have of winning," said Torres this week. "I want to win the Premier League and I felt I had to go."
Methinks the Spaniard got last year's schedule because Chelsea are currently nine points off top spot (just nine points above Liverpool) and playing some truly soulless and uninspiring football.
Some dreamer you are, Fernando.
The striker also took a leaf out of Carlos Tevez's 'Idiot's Guide to Rationalising A Controversial Move' book by claiming that he showed his loyalty to his former club by signing for Chelsea and not Manchester United or City. That's a bit like saying you're sorry to your girlfriend for cheating on her but making out that it's all okay because you did the dirty with a relative stranger and not her sister or best friend.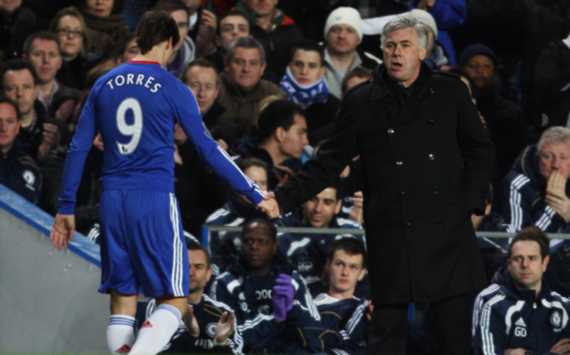 "Have I done well, boss?" | "Nah, but we can work on more excuses in training"
Uefa find new ways to be reprehensible
By the time this column goes up Eric Abidal may well be undergoing surgery to have the tumour on his liver removed, and we all hope that it is benign and he can return to playing for France and Barcelona as soon as possible.
What we will learn this weekend...


The clash of the expensive strikers when Manchester City's Edin Dzeko and Chelsea's Fernando Torres go toe-to-toe (or knee-to-pelvis given how wonky their accuracy has been this season) will be decided by an ugly goal from an ugly defender.
Arsenal will somehow conspire to throw away a lead at West Brom and Arsene Wenger will pluck another excuse out of his backside for it. Yet the Gunners will still close ground on Manchester United, who will be shot down by Bolton's loan ranger Daniel Sturridge.
Mario Balotelli and Jens Lehmann will do something that makes us all either laugh or shake our heads at their stupidity.
The post-match press conference at Goodison Park will be more depressing than a Linkin Park concert as David Moyes and Mark Hughes – the two most miserable men in the league – whinge and moan incessantly.
But ridiculously this week, Uefa prevented Real Madrid and Lyon – Abidal's former club – from sporting t-shirts in support of the stricken defender. While wearing clothing bearing best wishes might not have a tangible impact upon Abidal, the gesture offends nobody and reminds us all that some things are bigger than the bitterest of rivalries and the sport itself.
Yet Uefa – who seem only to excel at pricing normal people out of cup finals and procrastintrating over the bigger issues like discrimination – wouldn't allow it.
What soulless curmudgeons.
Bayern Munich are just a German Newcastle United
In Germany the Bundesliga giants go by the moniker of FC Hollywood due to the amorous lifestyles of their players back in the '70s and '80s, but if Bayern were a movie they wouldn't be a special effects blockbuster, despite all their wealth, but a straight-to-video flop.
This season, Louis van Gaal – who will be leaving at the end of the season after failing spectacularly this year – has been effectively sacked but will still be in charge until the end of the season. That in itself is a joke. But their capitulation at home to Inter on Tuesday night was farcical.
FC Straight to Video became only the second team in the history of the Champions League to win a first leg away from home but be overturned on their own turf. Them lot give Newcastle a run for their money as the most ridiculously run club in European football.
Mario Balotelli is an absolute idiot (surprise, surprise)
Last week he had an allergic reaction to the pitch, this week he had an allergic reaction to common sense.
Chasing a game in Europe at home with nary a bad challenge in it, the Italian striker lunged studs up into a Kiev player. It wasn't even in a dangerous area (the ball that is, not Balotelli's foot), so why he thought it necessary to launch into someone like that is staggering.
Presumably he's been taking kung fu lessons from team-mate Nigel de Jong?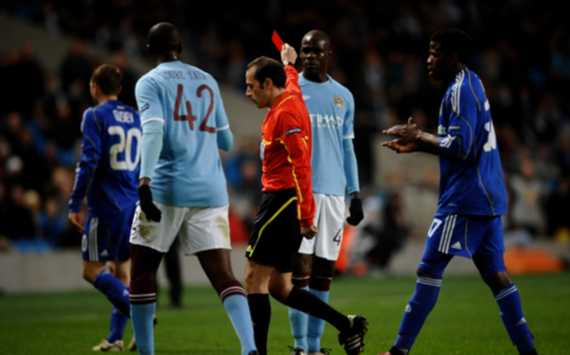 "I only kicked him in the chest, ref" | Mario can't understand why he's been sent off
Javier Hernandez is a bit good, isn't he?
While most of us could have scored from two yards as the Mexican did against Marseille, few of us would have the foresight and physical ability to actually get into the places the little striker does.
Scrap the Ole Gunnar Solksjaer comparison, the guy's the most natural striker in the Premier League since Robbie Fowler in his Liverpool pomp.
WWLTW
's favourite player of the season, unless Mad Jens makes an appearance. Come on Manuel, do us all a favour and pull a hamstring or something.
Follow Nick Price on