Which of the many electrifying moments first made you aware of
Luis Suarez
? The infamous World Cup handball? When he became the 'Cannibal of
Ajax
' for biting an opponent? How about his 81 goals in 108 games in Holland?
Regardless of how you discovered the fiery Uruguay forward, all of those dramatic memories will pale into insignificance if he completes his highly anticipated move to Anfield after the clubs agreed on a £23 million deal and helps save Liverpool's season.
Kenny Dalglish has been tasked with rescuing the Reds after the woeful start under Roy Hodgson, and the new old man at the helm has, after a rocky patch, started to get the team back on track.
He has also identified what so many have known for some time: his weak squad needs an injection of quality and Fernando Torres needs some help scoring goals, with Suarez seen as the man to plug the gaps.
But who is this contentious South American? A cheating, opponent-biting troublemaker, or one of the great mercurial talents of his generation?
Suarez finds himself on the brink of a move to Liverpool after the limping giants of Merseyside finally agreed a fee with Ajax, who are believed to have angered the player when they did not contest a seven-match ban that was imposed by the Dutch Football Federation after he bit a PSV Eindhoven's Otman Bakkal.
But Suarez is no pantomime villain. A hardworking young footballer who has come a long way since his modest beginnings as one of six siblings growing up with their mother, a single parent, in Salto, Uruguay.
He began his career with Uruguayan side Club Nacional de Football, where he scored 12 goals in 29 appearances – a record which alerted European clubs to this emerging talent.
Dutch side Groningen persuaded him to leave Uruguay when he was just 19 in a move worth £650,000. But he played just one full season there as his 10 goals in 29 appearances brought him to the attention of Europe's elite.
In January 2007, he received three yellow cards and one red card in a five-game spell, in which he also scored four goals. It was typical Suarez and a portent of things to come.
Ajax won the battle to sign him with a fee of £5.5 million enough to secure the talents of the prodigious striker, whose scoring feats would soon make him one of the most talked about players in the world.
His record at the Amsterdam Arena has been stunning – the facts speak for themselves. Suarez scored an astonishing 35 goals in 33 league games last season, 49 in all competitions, and, unsurprisingly, picked up the gong for Player of the Year.
In all, Suarez's tally for Ajax stands at an incredible 81 goals from 108 league matches since he joined in the summer of 2007. How Liverpool could do with some of that magic rubbing off on their moribund season.
"He is unpredictable and hard to influence, but that makes him special too," said his former Ajax boss Marco van Basten.
A successful season was made all the memorable after replacing Arsenal-bound Thomas Vermaelen as the club's captain. Life appeared to be going very well. However, three events in the seven months that followed have conspired to transform Suarez's life.
Picture the scene: it's the last minute of extra time in the World Cup quarter-final between Uruguay and Ghana, Dominic Adiyah's header is angling into the net, a certain goal which will knock your country out of the tournament.
Suarez wasn't going to stand by and allow his nation to exit – and in doing so hand an African side a place in the last four for the first time in the history of the competition.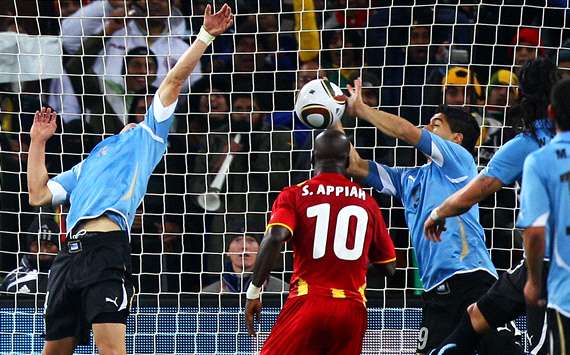 Hand of God | Whatever he achieves, Suarez will always be remembered for this
His deliberate handball on the goal-line in the final minute of extra-time prevented Adiyah's header from sending Ghana through, Asamoah Gyan missed the resulting spot-kick and the South Americans went through 4-2 on penalties.
If the 'save' stuck in many fan's craws, the way he celebrated Gyan's miss enraged much of the football world – fists pumping, face lit up with pure joy as the penalty soared over the bar.
Indignant, Suarez compared his actions to those of Diego Maradona in 1986, he said: "It was worth being sent off in this way for because at that moment there was no other choice.
"The Hand of God now belongs to me. Mine is the real Hand of God. I made the best save of the tournament."
No-one will remember the fact that he enjoyed a fantastic finals, the twin attack with Diego Forlan was one of the best on show and he scored three goals.
Suarez would be forgiven a sigh of relief as he returned to club football in Holland for the 2010-11 season, but another scandal was soon to envelope him. A rather innocuous clash with rivals PSV was marred by an act of rage by Suarez, who was clearly seen to bite Bakkal on the neck.
His club took immediate action, banning him for two games. Dutch football's ruling body then stepped in to ban him for seven.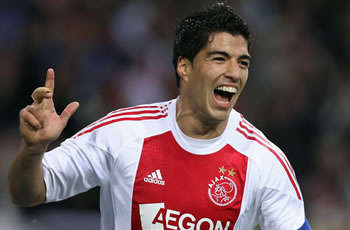 "I want to join a real football club where they play good, attacking football... I've an obsession to win trophies. I am a South American with the mentality to win."
Two weeks later manager Martin Jol dropped another bombshell, he resigned on December 6 with the club sitting in fourth place in the Eredivisie.
This final development confirmed to Suarez that a move away from the Amsterdam team was the best way forward, upset at the way his manager was treated.
A fortnight ago he signalled that his intention was to leave Ajax, search for pastures new and go on the hunt for silverware.
He said: "If I move I want to join a real football club where they play good, attacking football.
"I will decline any offer from clubs like Shakhtar Donetsk or Zenit St Petersburg where they offer you sacks full of money. I've an obsession to win trophies. I am a South American with the mentality to win."
And so here we are, Liverpool have seen off the attentions of Tottenham and look set to capture Suarez for a fee that eclipses the one that brought Fernando Torres to Merseyside. How will he fare? It's very difficult to tell at this stage.
There's certainly two sides to the Uruguayan, varying degrees of success and drama follow him wherever he goes. One thing we do know is that the intriguing story at Anfield is about to get a whole lot more interesting.