By
Danny Hart
5. Manchester City are going to get even more defensive
Despite spending heavily last summer and keeping up with league leaders
Manchester United
at the top of the table,
Manchester City
have earned critics for their defensive style of play.
Roberto Mancini's side were booed off against Arsenal earlier this month for setting out for - and getting - a 0-0 draw, but since then have leaked goals against Wolves and Leicester.
Mancini admitted in the week that his side
need to improve defensively
, while Kolo Toure insists
it's defenders that win teams the league, not goalscorers
.
What it means is that the cut-and-thrust of City's play in the past few outings is likely to be curtailed, if Mancini gets his way.
Not that it should matter against Aston Villa, a team they destroyed 4-0 at Eastlands during the festive period.
The Midlands club have been dragged into a relegation battle, which has forced them to move in the transfer market and bring in Kyle Walker, Jean Makoun and Darren Bent.
Reports this week have suggested that Houllier may look to inject a Barcelona-esque style of play to the club, but for the time being expect Villa to line up in the same way that hasn't worked for them so far this season.
4. Holloway and Bruce can join forces and be angry at Villa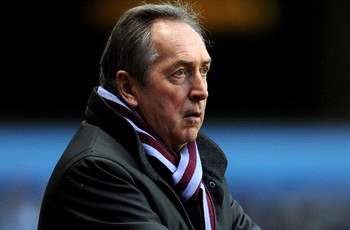 Blackpool and Sunderland meet at Bloomfield Road, but managers Ian Holloway and Steve Bruce have been on the same side for much of the week, railing against Aston Villa.
Holloway blasted the club last week for their bid, thought to be around £3.5 million, for Blackpool captain Charlie Adam, and has now described the offer as "derisory".
"Obviously Aston Villa are a massive club, but how can they rate Darren Bent at that sort of figure [£18m] and offer me that for Charlie?" he said. "I think it is quite derisory."
Meanwhile, Bruce has hit out at Villa boss Gerard Houllier over the way he has acted - or not acted - after signing Bent, with the Frenchman not contacting him over the move.
"Out of respect and being a manager of his status maybe a phone call from him to say 'listen Steve, we're after your striker', I'd have thought that might have been the way forward," Bruce said.
"It usually is with the great managers I've had the pleasure to deal with in the past, that's usually the case."
3. Handshake or no handshake?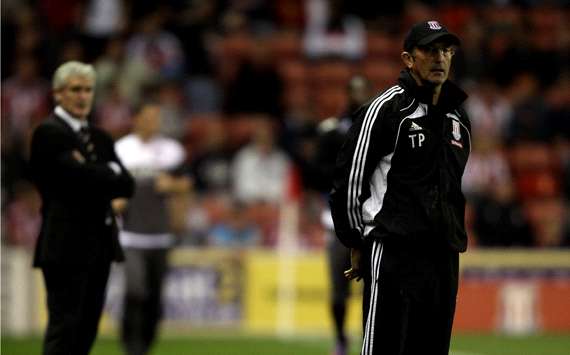 While Andy Wilkinson's shocking challenge on Moussa Dembele was the main talking point after Stoke's League Cup win over Fulham in September, there has been a feud boiling over ever since.
So enraged was Cottagers boss Mark Hughes after the last-minute tackle - which saw his player ruled out for three weeks, despite concerns he may miss months - he refused to shake the hand of his Stoke counterpart Tony Pulis at full-time, storming down the tunnel in frustration instead.
How did Pulis get his own back? Well he did exactly the same in return to Hughes when the two sides met at the Britannia again in December. Two rare Chris Baird goals secured a shock away win for Fulham, and Hughes shrugged the incident off after the match.
"He was probably getting his own back," he said. "Tony offered his hand initially and then took it away. I'm big enough to accept that if that's how he wants to be."
It's not quite John Terry and Wayne Bridge all over again, but it does add some spice to an otherwise ordinary fixture.
2. Spurs won't be able to continue scouting Andy Carroll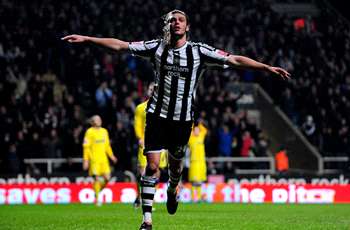 Andy Carroll has become the hottest prospect in English football after starring in the Premier League for Newcastle United this season.
Chelsea and Tottenham are among the clubs who have been linked with the England international, but Alan Pardew has reiterated that his player is not for sale.
Harry Redknapp has admitted to being an admirer of Carroll and says anybody would like to have a player of his calibre in their team, although Spurs have baulked at the £20m asking price Newcastle have currently put on their star man.
And if there was any doubt left as to where the striker's future lies, it will surely be put to bed this weekend, won't it?
Carroll has been ruled out for a further three weeks with a thigh injury so will not have the chance to impress Redknapp when Newcastle host Tottenham on Saturday. Something tells us that Spurs won't be thrown off the scent all that easily though. Expect this one to resume in the summer.
1. United beating the Blues yet again?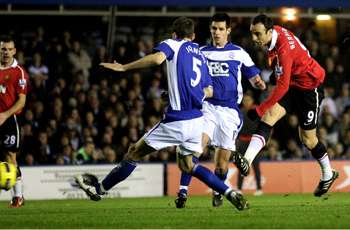 Birmingham were the overachievers of the Premier League last season, finishing ninth after earning promotion from the Championship, but they've struggled this term and are just one point above the relegation zone.
The one team Alex McLeish wouldn't want to be facing this weekend is Manchester United, a side who haven't lost against the Blues in over 32 years. But that victory was an emphatic one as Joe Jordan's goal for United that day was a mere consolation in a 5-1 thrashing at St Andrew's.
Twenty-four games on, and Birmingham's hoodoo against the Red Devils still doesn't look like ending. They have lost their last nine matches at Old Trafford without scoring a single goal, but have held them to 1-1 draws in their two most recent meetings at St Andrew's.
Sir Alex Ferguson's men are still unbeaten in the league this season and have failed to win just once at home, a 2-2 draw with West Brom in October. The likelihood of Birmingham ending their jinx gets slimmer by the stat.