EXCLUSIVE
By
Wayne Veysey
in La Manga, Spain
Anderlecht
have slapped a £25.2 million price tag on Belgian teenage sensation
Romelu Lukaku
, the club's general manager has revealed.
In an exclusive interview with
Goal.com UK
, Herman van Holsbeeck claimed the "top 15 clubs in the world" are monitoring the 17-year-old striker, with the queue headed by Chelsea, Tottenham, Liverpool and Real Madrid.
INTRODUCING ROMELU LUKAKU
Anderlect say Lukaku will not be sold this month but are resigned to losing him in the summer when he will have turned 18 and finished his schooling.
Speaking at Anderlecht's winter training camp at the La Manga Club resort in Spain, Van Holsbeeck said: "If there is a team coming with €20m (£16.9m) we will keep him. He has a contract until 2013 but we have the option for two more years.
"Our price will be around €30m (£25.3m). If you ask for between €20m and €30m for a footballer in Europe there are a maximum of 15 teams who can pay this amount. These 15 teams are all interested in Romelu Lukaku but it depends sometimes on what resources the team has at the time. Everybody knows Romelu and everybody wants Romelu but some teams don't need him at the moment.
"We received one offer from an English club three days before the end of the August transfer period. It was €10m immediately and €10m in one year. We would not accept the offer because we want to keep the player."
Anderlecht have not disclosed the identity of the club that made the offer, which was worth £17.5m based on exchange rates at the time, although Van Holsbeeck denied that it was Tottenham, as has been reported.
Most of the leading clubs around Europe are monitoring Lukaku's situation but the Belgian club believe his most likely destination is England.
Van Holsbeeck explained: "I think he will go to the Premier League. For him the team is in England. We have some managers who send people to inform us about the interest. It depends on the offers. We know that teams like Chelsea, Tottenham and Liverpool are interested in him and that they follow the player.
"There is some interest from Real Madrid but we know they are interested in every good young player. What for us is the right club? The Premier League clubs from the UK are the biggest clubs in the world with a lot of money. In Spain you have only Real Madrid and Barcelona who have big money. In Italy there is also the financial crisis. Or he goes to Germany.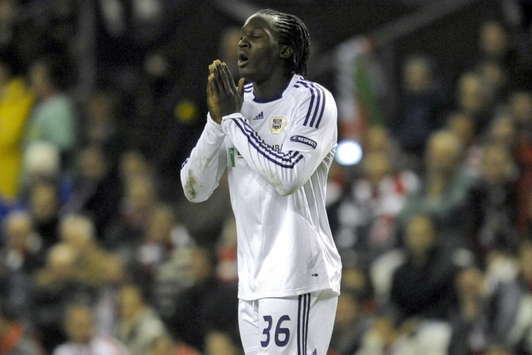 Handy performer
| Anderlecht have warned that it will cost £25m to land Romelu Lukaku
"We have a player with the capacity to play in the UK, where you need to be strong and fast. There are teams who can pay this [£25m] for really top players. I think he has the capacity to play there and it is the best competition in the world."
Madrid manager Jose Mourinho has openly admitted his admiration for a player who has continually broken records since making his Anderlecht debut only 11 days after his 16th birthday. The 6ft 3in forward, who specialises as a lone central striker, became the youngest ever top scorer in Belgium last season with 15 league goals, and his 76 appearances in all competitions since breaking into the first team have yielded 33 goals.
Given that Lukaku has a release clause in his contract that will be triggered in 2013, Anderlecht accept that the striker is probably in his final season at the club.
"At the end of the season it will be difficult for us to keep him," said Van Holsbeeck. "I know he was a supporter of Chelsea when he was a young boy. If Manchester United, Manchester City or Tottenham come in for him, it is also an interesting prospect.
"In the negotiations with the parents and management team everything is clear. We are like partners in this deal. Sometimes there is a fight but here things are very clear with everybody.
"There are good agreements. We want to do it since the beginning with Romelu and his family. We will discuss the team and see what is the best for all the parties. It depends on how the discussions are going with the club. Maybe the club let him play for six more months or one more year at Anderlecht."
Van Holsbeeck admitted that it was unrealistic for Anderlecht to hang on to Lukaku for much longer.
"If you have this kind of talent you want to keep him and do something in the Champions League," he explained. "But this is life in modern football. If you have a young player in the youth academy and there is a team who will pay €30m when you have a budget of €35m per year, if you don't sell you are a bad manager. Our club is a company and there are people who invest money.
"At this moment that is the only way we can keep our level as the biggest and top club in Belgium. If you can make young players better and sell them for big money you can do more things. We want to build a bigger stadium. For Champions League we only have 20,000 people. Every match is sold out.
"We are busy now building a new training centre for the youth and first teams. This is my eighth season here. We have been champions four times and we have been in the Champions League four times but the level in the Champions League for us is a little bit too high."