Does the Frenchman possess a squad good enough to win the league?
COMMENT
By Chris Davie at St Andrew's

Arsene Wenger
has endured various criticisms during his five recent trophyless seasons at
Arsenal
, and the latest gripe involving the Frenchman was his decision to rotate eight players who went on to stumble against
Wigan
.
But as
Manchester United
and
Chelsea
have proved over the years, it takes a squad to win the
Premier League
– not just a good starting XI.
The congested winter fixture list is possibly the most arduous stage of the English season, and securing seven points from three games - all of which came within the space of just six days - has kept Arsenal within a whisker of the Premier League summit.
Lest we forget, Wenger's side were nine minutes away from making it three wins over the festive period but defensive errors at Wigan subsequently led to Sebastien Squillaci's own goal, as well as the Arsenal manager being lambasted from every corner for attempting to fully utilise his squad.
As Wenger retorted in his post-match press conference on Saturday, after being questioned on his thoughts surrounding his selection critics: "If I'd stuck with the same team that beat Chelsea, we could have dropped points against Wigan and Birmingham."
As a manager, Wenger has every right to attempt to rest players when he deems it appropriate. If you examine the Premier League title competition, what makes the race so close this campaign is how developed each team is, and the choice each manager has at his disposal is greater than in previous seasons.
The oil-funded millions pumped into Manchester City have ensured Roberto Mancini has enough resources to cover every position, and although the Italian may still be in search of his perfect first-team, his squad is capable of mounting a challenge for domestic honours.
Sir Alex Ferguson has enjoyed too many Premier League campaigns to be ill-equipped throughout a season. Manchester United's record this term speaks volumes - and traditionally, after Christmas is usually the time when they tighten up and drop fewer points.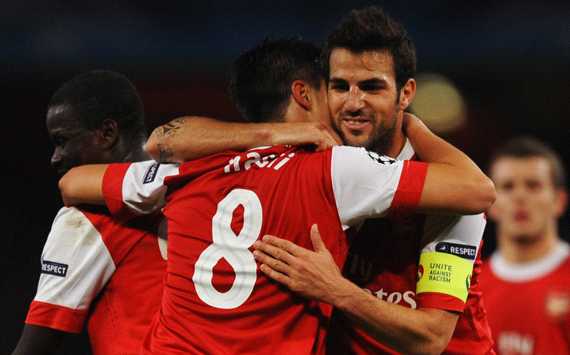 Deadly duo | Much of Arsenal's success will depend on Fabregas and Nasri
Chelsea, despite their poor form, still have a group of players capable of winning the title, and contrary to what recent results suggest, Carlo Ancelotti can still rotate personnel and pick up points. Remember, the champions have been without their influential midfielder, Frank Lampard, for most of this season and have also been forced to navigate their way through matches with, at times, a makeshift defence.
And finally the dark horse – Tottenham. Credit to Harry Redknapp since he has continued to prove his side are capable of balancing domestic fixtures with a flourish in the Champions League. Whether this can continue through until May remains to be seen, but for the moment, Spurs have the luxury too of being able to rest players in the knowledge the team fielded is capable of securing a win.
But Arsenal's latest success against Birmingham has perhaps highlighted their potential downfall this season. The convincing victory was orchestrated primarily by Cesc Fabregas and Samir Nasri. The two combined on several occasions to probe and threaten the St Andrew's rearguard and their inspired performances contributed significantly to dispatching a side who have only been beaten once at home in 15 months.
The pair were absent from the starting line-up against Wigan, as Fabregas was suspended and Nasri, who was initially one of the players rested, only came on when the match was levelled at 2-2 with seven minutes remaining. The draw at the DW Stadium suggested that Arsenal may not have a squad deep enough to win the Premier League.
On paper, Wenger has a series of choices to select from when opting to rotate his side, but in reality, it seems Arsenal's title prospects will hinge on whether Nasri can sustain his sublime form and Fabregas replicate his instrumental performances, because their replacements have shown they are not yet ready to carry the burden in the absence of their senior team-mates.
Andrey Arshavin is perhaps one who has fallen by the wayside in recent weeks as despie scoring the first and setting up the second at Wigan, the Russian did not feature against Chelsea, and only briefly came off the bench at St Andrew's and had little opportunity to impress. The forward's tendency to drift in and out of games makes him a less dependable player in situations which require consistency.
Theo Walcott is another hallmark of variation. The winger displays flashes of real talent and combined with searing pace, he is capable of getting the better of any defender. However, these moments are few are far between and for each neat finish and bursting run past a player there is still a poor first touch, or a lack of judgement which stalls a counter-attack.
Injury has plagued Tomas Rosicky's career so far at the Emirates, but the Czech midfielder is now back and also needs to be knocking harder on the door of a regular first-team place. His performance against Wigan was encouraging but in a similar vein to Walcott and Arshavin, displays need a higher level of consistency and results need to be obtained in the absence of key players.
Having opted to revert back to the side that beat Chelsea for the match against Birmingham, Wenger has perhaps proved he is not entirely able to pledge his faith in his squad rotation, but over the course of the season, injuries and suspension may force the Frenchman's hand and only then will we know whether Arsenal are true title candidates.