By
James Daly

It's been a funny old year in the world of football and plenty of people have been opening their mouths without any thought to what will come out.
And there has been plenty to talk about, from the spectacular French fallout during the World Cup to Wayne Bridge's decision to withdraw from the England squad to Rafael Benitez's rapid decline at Inter.
And each episode has given us plenty of juicy quotes from a year when footballers and managers have been liberal with their words.
Goal.com UK
hand picks the best soundbites from 2010 below.

January
"I feel he was a boot-licker when he stood by Ferguson's comments that I wasn't worth that money."
- Carlos Tevez hints at Gary Neville's foot fetish before his new side Manchester City clashed with cross city rivals United in the League Cup.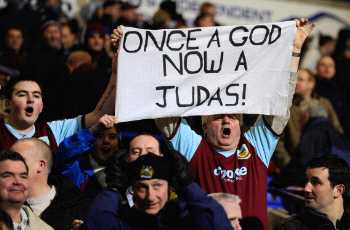 "Perhaps they should call me Moses, as I led them out of the wilderness."
- New Bolton boss Owen Coyle has been doing his homework on Biblical stories, after Burnley fans dubbed him 'Judas' for switching Turf Moor for the Reebok.
"People want money, people want goals, they want me to stay, but I'm missing my home. The smile on my face, disguises the case, I bury the truth deep down in my soul."
- Darius Vassell goes all Morrissey as he blogs from his hotel room in Ankara.
"I am more than happy [at Blackpool] and I am afraid the chairman will need a hell of a tub of cream to get rid of me – I'm like a bad rash and not easily curable."
- And finally, the Godfather of inane quotes Ian Holloway scoffs at reports he is ready to leave Blackpool.
February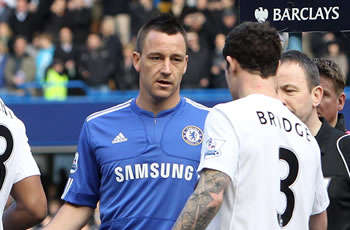 "It has always been an honour to play for England. However, after careful thought I believe my position in the squad is now untenable and potentially divisive."
- Wayne Bridge decides sharing a changing room with someone who has shared his girlfriend isn't what he's about.
"Listen, this is a special approach in the Anglo-Saxon countries. If this had happened in let's say Latin countries then I think he would have been applauded."
- Sepp Blatter, though, is on John Terry's side.
"It's a team without secrets for me. But at the same time I think I'm a coach without secrets for them. It will be easy for me, but I think also easy for them."
- Jose Mourinho isn't hiding anything from Chelsea as his Inter side take on (and are ultimately successful against) his former side in the Champions League.
"Do they think the time they got in is acceptable especially when they had training or treatment on Sunday morning? Going out in town after a defeat is not professional."
- Here's a football rarity - a serious Holloway quote. The Seasiders boss was not joking around after Neil Eardley, Barry Bannan and Ishmael Demontagnac were spotted in a nightclub.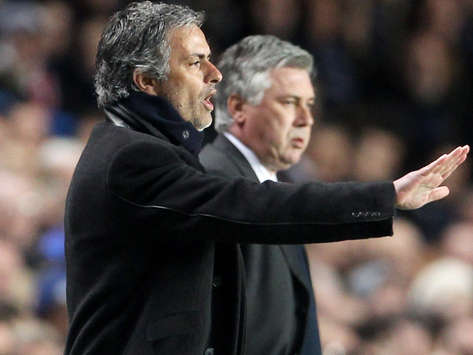 It's a secret |
Jose got one over old side Chelsea in the Champions League

"I'd prefer to kiss a nice, beautiful lady rather than the badge."
- After Mourinho's badge-kissing antics at Inter, Chelsea boss Carlo Ancelotti prefers to save his lips for something else.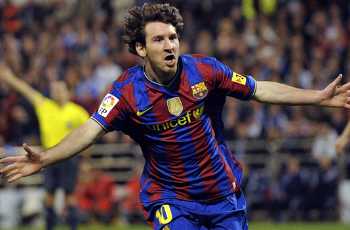 "If it were not for Messi, I would be coaching in La Segunda [Division]."
- Barcelona coach Pep Guardiola comes over all humble after another Messi masterclass against
Zaragoza
.
"I would rather sit down and have a cuppa with Neil Ruddock, who broke my leg in two places in 1996, than with Teddy Sheringham, who I've pretty much detested for the past 15 years."
- I'm not sure what's worse: Andy Cole still bearing a grudge against Teddy Sheringham or choosing to spend time with Neil Ruddock.
"In the first half we were like the Dog and Duck, in the second half we were like Real Madrid. We can't go on like that. At full-time I was at them like an irritated Jack Russell."
- Holloway after the fairytale comeback against Crystal Palace at home to salvage a 2-2 draw.
April
"They got him sent off, everyone sprinted towards the referee - typical Germans."
- Manchester United boss Sir Alex Ferguson does nothing for Anglo-German relationships after Rafael is sent off against Bayern Munich.
"As a child I used to support Inter, but since Moratti came in I support every team apart from Inter."
- Luciano Moggi isn't a fan of Inter chief Massimo Moratti. Just in case you were wondering.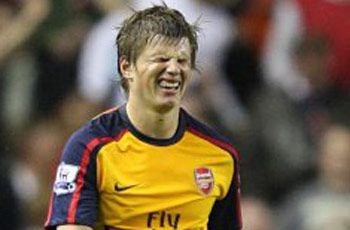 "If I had it in my power to introduce a ban on women driving cars and to withdraw all their licences, I would do it without thinking twice. In my opinion a woman and a man are two absolutely different creatures."
- His football may be forward thinking but Andrey Arshavin's views on women come straight out of the dark ages.

"The dietician is going to get rid of that when he comes in. Although, first, we've got to get a dietician. That's one of the things on my list."
- As talk of Blackpool reaching the Premier League increased, Holloway promised to ditch his players' habit of chomping biscuits on the team bus and celebrating victories with a bag of chips from the seafront.
May
"You're finished granddad."
- Mario Balotelli has no respect for his elders after this insult directed at Francesco Totti, according to the Roma No.10.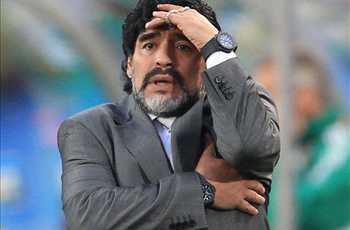 "What an a**hole you are. How can you put your leg there where it can get run over, man?"
- Ever the diplomat, Diego Maradona manages to find fault with the camerman whose leg he had run over.

"In England it's carnage. If in a match one of the players doesn't bleed, doesn't smash his head in a collision or lose his leg, the fans feel cheated - the game was a failure."
- Just say that to Terry Butcher's face, Andriy Voronin.

"I want to win the Champions League in two years. Well, that's as wild a dream as us being in the Premier League."
- Holloway plays down his team's chances of promotion.
June
"I read the letter. I don't think the players wrote it. It was typed out on a computer and there were no spelling mistakes."
- French Football Federation (FFF) general secretary Henri Monteil fawns to stereotypes after the French squad's letter announcing a playing strike during the World Cup.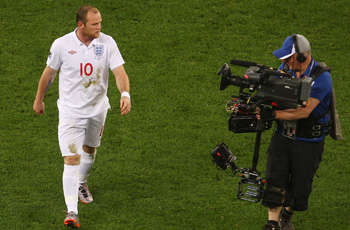 ''Nice to see your own fans booing you. That's what loyal support is.''
- Wayne Rooney's message to the world after the disappointing Algeria draw during what can only be described as a mutual display of frustration.
"Pele has to go back to the museum."
- Pantomime season rolled into the summer as Diego Maradona and Pele swapped pops at each other.
"I want Chelsea at home – and if that's the case, watch out Chelsea."
- As his team does indeed prepare for life in the top flight, Holloway sets out his wishes for a first day clash.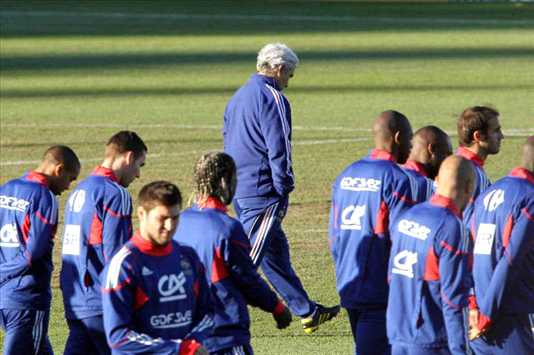 Ousted |
The French players go on strike
July
"I don't have a problem with Maradona, I just do not think he is a good coach. He has an outlandish lifestyle and rarely is that a positive thing for the team."
- Brazil legend Pele hits back at the Argentina coach's methods.

"If I have the game that England's John Terry had against Germany I cannot go back to my country."
- Argentina defender Martin Demichelis manages to predict his own performance in the quarter-final defeat to Germany.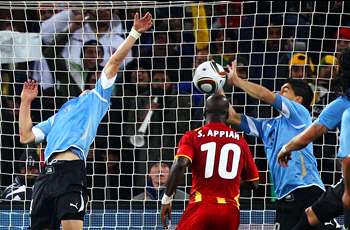 "The 'Hand of God' now belongs to me. Mine is the real 'Hand Of God'. I made the best save of the tournament."
- Uruguay forward Luis Suarez manages to ignore world wide anger at his goal-line save against Ghana, finding the funnier side.
"It's a mad house in the Premiership and I'm glad I'm in it."
- Actually, it's Premier League these days Olly but we'll let you off.

"These people are clowns. I am dying with laughter."
- There are probably a fair few people at the FFF who secretly hope Nicolas Anelka would die of laughter after this comment.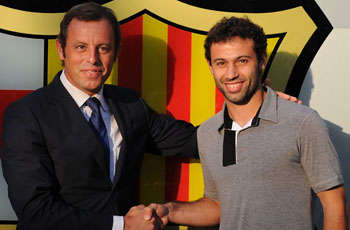 "Roy Hodgson knows the truth. This is a happy moment for me so now is not the time to say it, but a lot of lies have been told about me and I will respond to them."
- Javier Mascherano peels open the proverbial can of worms on his switch from Liverpool to Barcelona.
"I'm not a wheeler dealer. Don't call me that. I'm a ****ing football manager."
- Pretty sure Harry Redknapp doesn't have that printed at the top of his CV.
"I might be in a bit of a Skoda garage rather than a Mercedes garage, but I am telling you some old bangers don't half polish up great."
- Holloway's response to fielding one of the cheapest squads in Premier League history.
September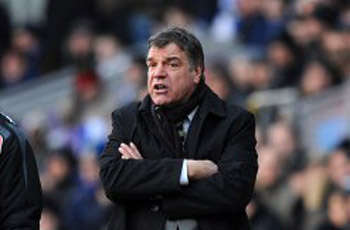 "I'm not suited to Bolton or Blackburn, I would be more suited to Inter or Real Madrid."
- It turns out the new owners of Blackburn agreed with Sam Allardyce, sacking him two months later.
"I get 'fat head' at Liverpool, 'Elephant Man' at Manchester City and 'Mr Potato Head' at West Brom. Is there something wrong with my head or something?"

- It's like being back in the school playground for Sunderland boss Steve Bruce.



"I am a coach, not Harry Potter. He is a magician. Magic is fiction and I live for football, which is real."
- Jose Mourinho for once not in bullish mood on his unveiling as Real Madrid manager.

"I'm not even interested in the England job. I like working with people every day. If Harry ­Redknapp wants it, give it to him."
- Holloway rules himself out of the Three Lions job, and Redknapp into it.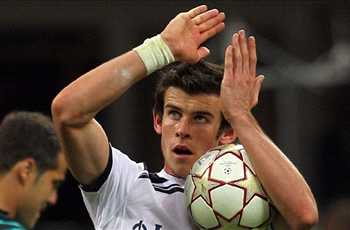 "He was amazing. They're just doing some drug testing now, the dope testers are here, and I hope they're testing him."
- Harry Redknapp lavishes praise on Gareth Bale after the Welsh winger's gut-busting display against Inter in the Champions League.
"Have you seen the last six World Cups? It is better going to the dentist I suppose."
- Either Manchester United boss Sir Alex Ferguson really hated the World Cup this summer, or isn't fussed about going to the dentist.

"I've got nothing against foreign managers, they are very nice people. Apart from Arsene Wenger."
- Stoke manager Tony Pulis is still bearing that grudge against the Arsenal boss.
Reporter: "Ian, have you got any injury worries?" Holloway: "No, I'm fully fit, thank you."

- That's just childish Ian.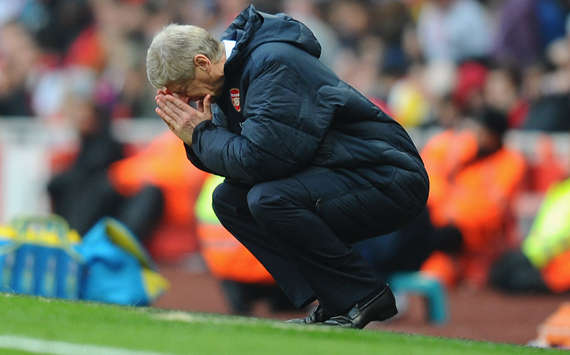 Not nice |
Wenger won't have received a Christmas card from Tony Pulis
November
"I would not dignify you with my spit. You're garbage."
- Fifa vice-president Jack Warner turns on the charm with reporter Andrew Jennings after the BBC's Panorama show unearthered alleged bribery in the organisation.

"Gareth Bale literally has three lungs."
- Either Jamie Redknapp hasn't quite got a grasp on the English language or he knows something we don't.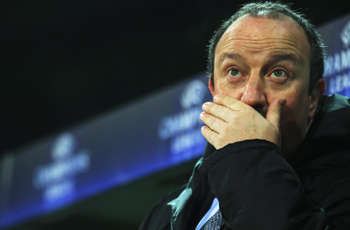 "Every single press conference is even worse than the last one. He's talking about things that he doesn't know. And some people cannot see a priest on a mountain of sugar."
- Inter boss Rafael Benitez leaves everyone reaching for their Spanish phrase books when speaking about Roy Hodgson.
"If some bright spark from the Premier League, or Barclays Premier League as we're supposed to call it, wants to come down and have a chat and a cup of coffee...you'll probably get it chucked in your lap."
- Holloway's response to suggestions he may receive a fine for playing a weakened team against Aston Villa.
December
"Well, there is only one player who is a tiny bit better than me: Leo Messi. The rest are behind me!"
- If by 'tiny bit' you mean 'gargantuan proportions of better' Mario Balotelli then yes, you are right.
"If Pep told me to throw myself off the third tier of Camp Nou, I'd think: 'there must be something good down there'."
- Something suggests there is a chance for Barcelona boss Pep Guardiola to exploit Dani Alves' unwavering trust in him.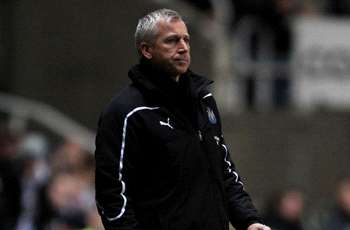 "I've had a lot of texts from managers saying 'you must be mad going there' because it is such a tough agenda, with the history of the ownership and the managers, but it is a massive club."
- New Newcastle United boss Alan Pardew reveals that most Premier League managers see the Magpies exactly as we do.

"In football you need to have everything in your cake mix to make the cake taste right. One little bit of ingredient that Tony uses in his cake gets talked about all the time is Rory's throw. Call that cinnamon and he's got a cinnamon flavoured cake. It's not fair and it's not right and it's only a small part of what he does."
- I'm sorry, what was Holloway talking about there? All I can think of now is cake.