ANALYSIS
By
Alex Dimond
at the Emirates Stadium
It's easy to admit to deficiencies after they've been erased.
Just ask Arsene Wenger. For so long, as his side steadfastly refused to live up to their undoubted ability against Premier League title rivals, he denied any existence of mental block on such occasions.
Yet intriguingly, after Monday night's impressive 3-1 victory against Chelsea finally ended what had become a recognized hoodoo for the club, the Frenchman was suddenly far more willing to acknowledge the issues his players had struggled with in the past.
"Fabregas said maybe we are scared to win," Wenger noted, referring to his captain's recent comments in the wake of defeat to Manchester United about Arsenal's big game failings. "It is a strong word to use but maybe there is something in it. There wasn't any of that tonight though.
"Two years ago with the same players we were maybe battered by Chelsea; last year we felt we were getting closer, and this year at Chelsea [earlier in the season] and Manchester United we came out feeling frustrated, that we could have done better and maybe we played with the handbrake [on].
"I hope that the victory tonight will convince the players we are on the right path."
Wenger, for one, believes his side have now turned a corner. Criticised for so long for failing to perform on the biggest of occasions, it would be churlish to deny the Gunners credit for a fantastic performance that successfully rid them of their Chelsea hoodoo.
They might have to win a few more such games before their 'big game, small performances' tag is truly removed (against Barcelona and Manchester United in the New Year would certainly do the trick in that regard) but the feeling around the Emirates at the final whistle was clear — now we can achieve anything.
But what sparked such a change in fortunes?
Goal.com UK
looks at some of the reasons behind a memorable Arsenal win:
Getting the team selection right - particularly Walcott
Wenger's post-match words might have showered praise on the team, but that shouldn't detract from what was something of a tactical masterclass.
The 61-year-old has occasionally been criticised for refusing to set-up his side to counter specific threats of opponents, preferring instead to focus on his own players' strengths, but on Monday he tempered that approach to devastating effect.
Opting for the out-of-form Robin van Persie ahead of the decidedly more prolific Marouane Chamakh was one such decision, and one that certainly paid off.
Chamakh's aerial presence might have given John Terry and Branislav Ivanovic more to worry about, but Wenger wisely realised the Chelsea duo would still struggle more against the Dutchman's greater sense of movement.
And so it proved, as Van Persie's many darts behind and between the two defenders regularly posed problems and opened up the play.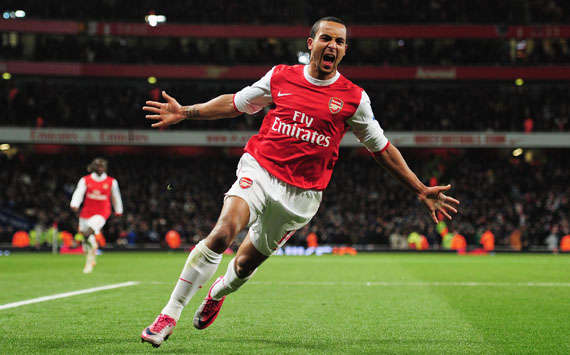 Prepare for take-off | Walcott's selection allowed Gunners to take flight
The big decision, however, was to select Theo Walcott over Andrey Arshavin and adjust the other players accordingly.
Walcott would go on to decide the game, assisting the second and scoring a third in quick succession, but the way his presence kept Ashley Cole — who provided two assists in the Blues' 3-0 win in the same game last year — pegged back in his own half for much of the game was equally significant.
"Yes," Wenger said simply, when asked if it had been one of the Englishman's best games in an Arsenal shirt, before going on to offer some tactical insight to his selection. "He gave us a balance tonight because we like to go to feet, we have players who like to go towards the ball [to collect it] like Van Persie, but he also likes to go behind."
Walcott's pace and presence on the right simultaneously blunted one of Chelsea's biggest weapons and created one of Arsenal's.
Along with selection of Johan Djourou over Sebastien Squillaci at centre-back and the implementation of an obscenely fluid midfield unit (players regularly interchanged position in the centre of the park, with Van Persie on one occasion even swapping with Jack Wilshere) that flooded Chelsea's bemused ranks it was an inspired selection from Wenger — and perhaps a defining one if the side now go on to progress as he envisions.
Playing the Arsenal way - with a hint of Barcelona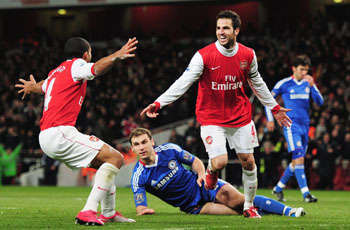 Prior games with Chelsea have not been kind on Arsenal, with 'men against boys' a particularly familiar, and hurtful, refrain. Games in recent times have taken on a remarkably similar outlook — the Gunners dominating possession, but their London rivals showing far more attacking thrust and a better finishing touch.
Not on Monday, however. Whatever Wenger said to his side before the game will likely remain a secret, but clearly he instructed them to go out without fear and attack. After all, if the whole world was expecting them to be beaten, then what exactly did they have to lose?
The Gunners came out and immediately showed an intent and conviction to try and win the game — with no evidence of any 'handbrake' being in operation. Even in the first half Chelsea were given great amounts of space in which to counter-attack, Arsenal playing a pressing game similar to the closing containment style employed by Barcelona.
It meant there was space for Chelsea to counter-attack at times, Didier Drogba pulling one effort wide in such a scenario in the first half. But the Gunners stuck to the gameplan and it worked to devastating effect either side of half-time.
Alex Song's opener saw Arsenal players swarming around the ball on the edge of the penalty area, and the Cameroonian was in line to sweep home when Fabregas was dispossessed in the box.
The start of the second half saw an even more pronounced commitment to pace and pressure, and brought two swift goals, both of which came from stealing the ball from Chelsea and having players perfectly placed to take advantage.

Finding a (timely) scoring touch in front of goal
Such expansive play is nothing without a finishing touch, however, a criticism that has often followed the north Londoners after any and every game they fail to win. Initially it looked like it might be the same story all over again, with lone striker Van Persie making some incisive runs but showing real signs of rust with his errant finishing.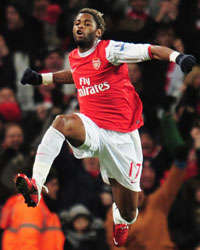 Salvation came from an unlikely source, however, as Song — nominally the deepest of Arsenal's midfielders — showed uncharacteristic sharpness in front of goal to slot a first-time shot past Petr Cech just a few minutes prior to half-time.
It was a defining moment in the game — not just in the goal but in the reaction it created. Every one of the Gunners' 10 outfield players rushed to celebrate with the Cameroon international, as they all engaged in an impromptu bundle that the Chelsea players had to walk past as they dragged themselves back towards the centre circle.
As Song emerged from the bottom of the pile to finish off an emotional celebration, there was a sense even then that the worm had turned.
Entering the break buoyant, the Gunners emerged in similar high spirits and — taking advantage of opponents disorganised by the substitution of holding midfielder John Obi Mikel and subsequent adjustments — took two more chances that were presented to them. From there, as Carlo Ancelotti admitted afterwards, the game was won.
Silencing Didier Drogba
Another gold star for Wenger, whose selection of Johan Djourou — the club's most in-form centre-back, if not always an obvious starter — was proven correct. The Swiss international did a fine job in marshalling the Ivorian striker, who failed to get anything like his usual opportunities against Arsenal throughout a frustrating 90 minutes.
Drogba had scored 13 goals in 13 previous games against the Gunners, but never looked like adding to that on Monday. Djourou's partner in crime, Laurent Koscielny, may take some criticism for the goal Arsenal did concede (an Ivanovic header, ironically from a Drogba set-piece) but he too played a key role in keeping the nemesis at bay.
Indeed, it was something of a team effort in dealing with the 32-year-old, as Cesc Fabregas and Alex Song were also often seen challenging Drogba on the floor and in the air, another testament to the pressing game Arsenal employed.
Chelsea just aren't Chelsea anymore


It was always coming: the caveat. Arsenal may have been good, but Chelsea were equally as bad.
"I hoped that it would be better," Ancelotti, never one to overstate things, noted. "I found we worked well these two weeks [in training] but it was not enough. We did not play well, we were not 100 per cent.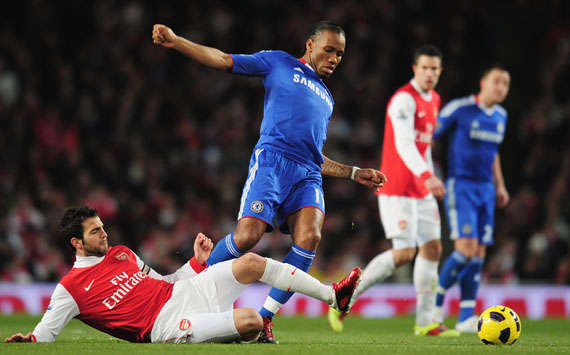 Hungry for more | For once, it was Fabregas and not Drogba winning the battles
"The first half was good defensively but we did not have a good transition, we misplaced passes in midfield. The second half we started badly, we conceded two goals, and from that point it was impossible to come back, even though we responded well."
That would be to put things mildly. This was not the Chelsea we have come to know and expect; imposing in midfield and ruthless in front of goal. In the absence of Nicolas Anelka Chelsea were always going to be even more reliant on Drogba, but Salomon Kalou failed to offer any real threat for his side once it became clear his countryman was going to be silenced.
It was in midfield, however, where the real problems raged. Michael Essien looked a shadow of his normal self, as he and the not fully-fit Frank Lampard were overrun by opponents who seemed to glide around them at will. Mikel had no more success in shackling the Arsenal midfielders, but his withdrawal for Ramires at half-time only caused 10 minutes of disorganisation that proved fatal.
And that's before any discussion about the general lack of commitment, team cohesion and inspiration that was on display.
"I think we went in a difficult moment without our key players, we lost confidence and now they have come back it is not so easy," their manager tried to offer by way of explanation for an extended run of seven domestic games without a win.
"We have to improve. We are slipping, and when you play a good team like Arsenal you can lose."
Perhaps. But there is a general malaise around the Stamford Bridge club at the minute, one exemplified by the fact that Wenger was less willing to dismiss the Blues' title chances than Ancelotti.
A win was always going to be vital for getting Chelsea back on track, but as it is their rivals grabbed a triumph that may yet be looked back on in future seasons as a landmark.