Reds' experts speak to Goal.com UK ahead of Sunday's clash
By
Stephen Darwin
To say
Roy Hodgson
is currently under pressure as manager of
Liverpool
is probably quite the understatement. After the club's worst start to a season in 57 years, the Reds sit in ninth spot in the
Premier League
table after 17 games, 12 points behind leaders
Manchester United
and nine points off the pace in the race to finish in the
Champions League
spots.
A decent run in the Europa League has done little to quiet the murmurings of discontent amongst fans of the Anfield club and, with that in mind,
Goal.com UK
spoke to
Well Red magazine
editor
Gareth Roberts
,
The Empire of the Kop
editor
Antoine Zammit
and
This Is Anfield
co-editor
Matt Ladson
to get their views on Hodgson's immediate future and whether he should be shown the door if the Reds come unstuck against Blackpool on Boxing Day.
Well Red magazine editor Gareth Roberts
If Liverpool lose at Blackpool on Boxing Day it will be met with a shrug. That sad fact alone should seal Roy Hodgson's fate.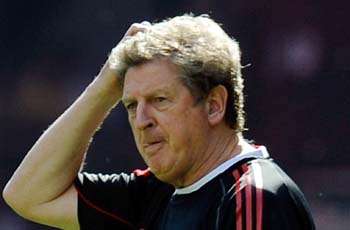 "He 'gets' the league, they said. Unfortunately, he doesn't 'get' the club."
The boardroom suits brought in to fire-fight under Hicks and Gillett told us Hodgson would squeeze out more from an under-performing squad packed with internationals.
He was proven Premier League quality, the League Managers' Association Manager of the Year - the Englishman who would provide the warmth to counter the supposedly frosty approach of Rafa Benitez.
He 'gets' the league, they said. Unfortunately, he doesn't 'get' the club.
Liverpool are halfway through a season of joyless, safety-first football with an away record that means the Reds are welcomed with open arms wherever they go.
Anfield history books have been rewritten in the section reading 'worst start to a season' while fans are left peeping through their palms every time Hodgson speaks publicly.
His tasteless broth of blame, excuses and finger-pointing is not satisfying the appetite of a fan-base used to dining on success. Even the owners say his reign so far has been "unacceptable".
The best reason for keeping Hodgson is that he can keep things ticking over while a manager who better suits the club's vision is identified.
Yet every game that goes by seems to end with Liverpool taking another backwards step.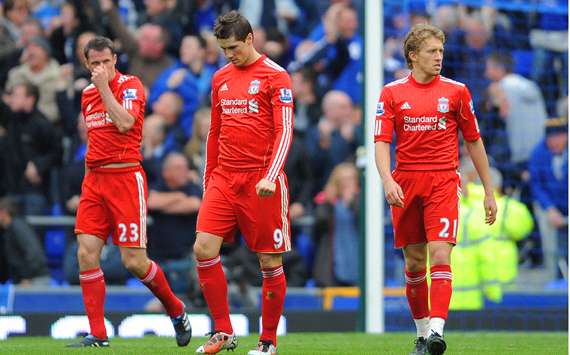 Mersey misery | Loss to Everton epitomised Liverpool's struggles this season
Meanwhile, the stand-in needed when Hodgson was handed the reins is still available and ready to go at the drop of a hat – Kenny Dalglish.
The 'King' is a winner, he gets the club, he knows the fans and he'll instantly command the respect of the players.
Hodgson's negativity is dragging everyone down. Dalglish could give everyone the short-term lift that could even inspire a top-four finish.
The Empire of the Kop editor Antoine Zammit
On Sunday we kick off the second half of the Premier League campaign as we take a trip up the coast and take on Premier League new boys Blackpool.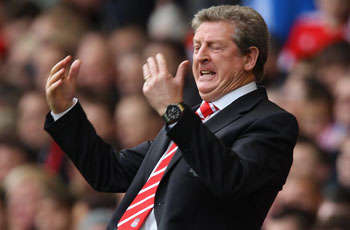 "We are Liverpool; we belong in the Champions League. We belong in the top four, not meandering around mid-table."
The Seasiders have already beaten us at Anfield this season in what was the last game of the Hicks and Gillett era. We simply cannot afford to drop points this time, as it will make our quest for that elusive fourth place very difficult.
Our new owners (John W. Henry & Tom Werner) have hinted that they are starting to lose patience with Roy Hodgson. Should we lose this game, they must take action. We are Liverpool; we belong in the Champions League. We belong in the top four, not meandering around mid-table.
Ironically Blackburn and Newcastle, both of whom are even with us in terms of points, let their managers go recently, expressing their dissatisfaction with their current performance. Does this mean that Newcastle and Blackburn have higher standards than us? I hope not. Why are 22 points not good enough for Blackburn and Newcastle, yet okay for us? The answer is, it's not.
Something needs to change. Our away form is simply disgraceful to say the least, with our only win in a game that we were lucky not to lose. Enough is enough, this game should be Roy's last chance. Enough of the negative, boring football. Let us go for the win, please Roy. WE ARE LIVERPOOL F.C. for crying out loud.
There is a possibility that the game might be called off should the deep freeze not lift in time, as Blackpool don't have under-soil heating. If that happens, it could be a blessing in disguise for Roy, who will get to live another day. Regardless, however, if our form does not turn around immediately, starting with this game, Roy must go.
This Is Anfield co-editor Matt Ladson
The truth is that most Liverpool supporters would like Hodgson to leave the club regardless of the result on Boxing Day, but a second defeat of the season to Blackpool may be enough to persuade those who matter that Hodgson is out of his depth at Anfield.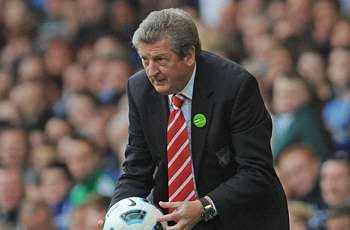 "His appointment was underwhelming and the football that has followed has been miserable."
There's numerous reasons for why the fans don't back him; not least that many feel he should never have been given the job in the first place. His appointment was underwhelming and the football that has followed has been miserable. Furthermore, some of the things he has said in press conferences have been truly embarrassing and have showed he fails to understand the football club, its fans or its heritage.
He has constantly contradicted himself and appears to have been on a mission to lower the expectations of all at the club, turning us into a midtable team when the vast majority of this squad finished second just 18 months ago.
Roy claims this isn't his squad and blames the previous regime, but the worst players in the squad are those he signed (Christian Poulsen and Paul Konchesky) while much better players have been loaned out (Alberto Aquilani and Emiliano Insua).