By
Richard Parry
While the majority of supporters were left twiddling their thumbs as heavy snowfall settled the bulk of football matches last weekend,
Manchester City
fans were giving the thumbs up with the realisation that their side could lead the title race come Christmas Day.
MORE...
With only Blackburn, Bolton, Sunderland and West Ham offering Premier League followers a taste of the action, Roberto Mancini's side saw their fortunes change – as a fixture that seemed destined to make them play catch-up put them on the front-foot, and the last match of the round has now suddenly become one of the few likely to go ahead.
Nonetheless, Monday's clash with Everton at Eastlands offers more connotations of a full moon than a blue one, as City's opponents, not to mention their own history, show that Mancini's men may have to wait till next year to be Christmas No.1.
Ghosts of Christmas past
City have not sat atop of the tree on December 25 for 81 years, but perhaps more importantly, the blue half of Manchester have yet to top the Premier League table outright in the entirety of Sheikh Mansour's tenure, despite having been at the helm for two years, three months, and 19 days.
Even for the greedy, that's quite an advent calendar.
Ghosts of Christmas present
Everton may currently occupy a lowly 15th spot in the Premier League, but their form against the country's 'big six' has certainly not disappointed their avid followers.
Only Arsenal have taken maximum points from David Moyes' side thus far, a 2-1 victory at Goodison Park in November, as the Toffees have beaten arch rivals Liverpool (2-0) and drawn with Chelsea (1-1), Manchester United (3-3) and Tottenham (1-1).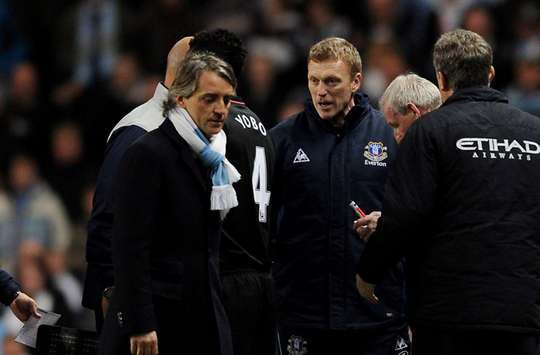 Blue rage | Mancini and Moyes squared up at Eastlands last season
Ghosts of Christmas yet to come
But as the saying goes, 'history counts for nothing in football'. Players, coaches, clubs change; all true, but very few head-to-heads offer such balanced statistics as Manchester City versus Everton.
In total, there have been 166 league and cup meetings between the two sides. Astonishingly, both Everton and Manchester City have recorded 62 wins apiece, with 42 draws along the way, and if that wasn't enough, both sides have netted a total of 226 goals each. Remarkable.
So can we expect more of the same come kick-off? Quite possibly, but the City fans will be hoping for better – after all, Moyes' side recorded the double last season, winning both games by two goals to nil, and who can forget the
Mancini-Moyes ruckus
during last season's corresponding tie.