ANALYSIS
By Owen Watson at Stadium of Light
As the snow returned with a vengeance and wrought havoc on the Premier League fixture list, a blizzard of a very different kind swept through the Stadium of Light.
Danny Welbeck
's progress this term has been chilling. It speaks volumes that
Sunderland
fans now expect their manager to make room for the Englishman in his starting line-up alongside record signing
Asamoah Gyan
and goal machine
Darren Bent
.
MORE...
On one level his contribution is simple, he's given a Sunderland side - who didn't win a game last season in which Darren Bent didn't score - another outlet. The Black Cats have picked up seven points in games where Welbeck has found the net and Bent hasn't.
After a good start last season, Sunderland slipped in winter when Bent's goals dried up. In the last eight games, Sunderland have collected a healthy 15 points and Bent has only scored once.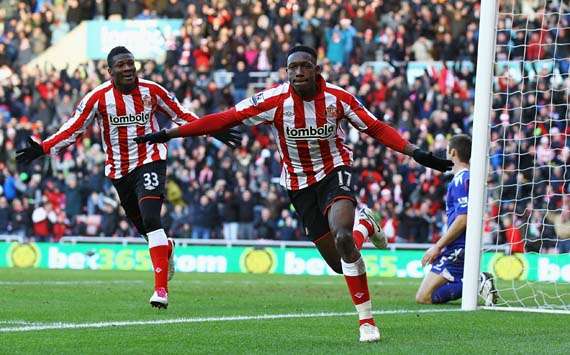 Wel-done | Old Trafford loanee is making a big impression at Sunderland
LIFE AFTER UNITED

Gerard Pique
- Left for Barcelona for £5m in May 2008, aged 21. Has won eight major honours with the Catalan club since.

Ryan Shawcross - Left for Stoke for £1m in January 2008, aged 21. Was called up to the England squad last March.



Giuseppe Rossi - Left for Villarreal in July 2007, aged 20. Captained Italy in their last fixture in November.



Fraizer Campbell - Left for Sunderland in £3.5m deal in July 2009, aged 21. Currently sidelined with a cruciate knee ligament injury.



Danny Simpson - Left for Newcastle in January 2010, aged 23. Injury has limited his appearances this season.

But Welbeck has provided more than goals for his adopted team.
His linkup with Bent, whether playing alongside him or starting from the left, has been impressive, and his energy and desire to drive forward has given Sunderland another dimension in attack. He causes problems when he comes inside, and defences are struggling to find the answers.
He still has a lot to learn, but his rate of improvement over the course of this season has been remarkable.
Should I stay...
The question is; does he offer Manchester United something they don't currently have?
He's certainly a bigger threat than Federico Macheda, and his current goal scoring form of five goals in six starts is up there with the best of them. He's also more versatile than the young Italian, providing a genuine alternative on the left wing. With Giggs struggling for fitness in his advanced years, and Park jetting off to the Asian Cup, having Welbeck available to fill in on the left would be a useful option.
But there's a glass ceiling waiting at Old Trafford. Javier Hernandez has burst onto the scene this season and Welbeck would surely be below the Mexican in the pecking order. Even if there's a short-term vacancy on the left flank, Park is an established first team regular that would be difficult to dislodge, and in the long-term Nani will be first choice on the left when Antonio Valencia returns on the right.
...or should I go?
The conundrum for Welbeck is the main reason for his progression this season has been the playing time he's getting at Sunderland. Steve Bruce and his assistant Eric Black have subtlety underlined this message whenever probed about whether Welbeck's loan deal will be made permanent. Even Sir Alex Ferguson acknowledged this in recent comments, pointing out that the last time Welbeck got a run of four consecutive games was in the Manchester United youth team.
Having had a taste of first team action, it may be difficult for him to turn back. It's clear that getting a run in the starting line-up has benefitted him immensely, and Sunderland seems to be a good fit for him. He has a clearly defined role in the team, and he's going from strength to strength.
Tomorrow is another day, as they say, and Welbeck is adamant that he wants to focus on the short-term, building on his eye-catching start for Sunderland. But if continues on his current trajectory there will become a point when this talented young footballer has a very difficult decision to make.