During the past six seasons
Chelsea
and
Manchester United
have shared the
Premier League
title between them, both clubs lifting the trophy three times each.
MORE...
However, do games between the two title challengers really decide the destination of the Premier League trophy in May? Or do the other 36 games each side have to play throughout the season hold more significance?
Here,
Goal.com UK
look at results between Chelsea and Manchester United over the last six seasons and how they have affected the final league standings in each year.
2009-10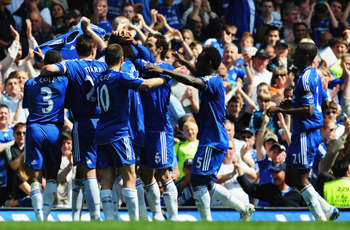 Champions:
Chelsea
Chelsea 1-0 Manchester United
(November 8, 2009)
A game in which chances for both sides were sparse was eventually decided by a John Terry header that left Chelsea five points clear at the top of the table, as they set the early pace in the Premier League. However, although significant in the final points tally, the title race would later swing one way and then another in the months to come.
Manchester United 1-2 Chelsea
(April 3, 2010)
Chelsea completed their first double over Manchester United since the 2004-05 season with a victory that sent them back to the top of the table. With the momentum now in their favour, Carlo Ancelotti's side never looked back as they went on to lift their third Premier League title.

Final Premier League standings:
2008-09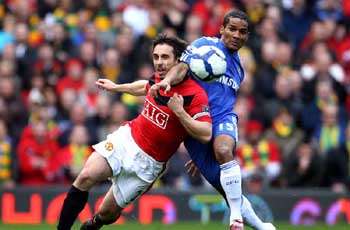 Champions:
Manchester United

Chelsea 1-1 Manchester United
(September 21, 2008)
The Blues put the demons of their defeat in the previous season's Champions League final against Manchester United behind them, as a Salomon Kalou goal salvaged a draw and continued Chelsea's impressive start to the season under their new manager, Luiz Felipe Scolari.
Manchester United 3-0 Chelsea
(January 11, 2009)
A resounding win for Manchester United enabled them to put further distance between themselves and Chelsea in the title race, and was undoubtedly a factor in the Blues' sacking of Scolari just weeks later. Sir Alex Ferguson's side were also able to see off the added threat of Liverpool in the coming months, as they ultimately claimed their third successive league title.
Final Premier League standings:
2007-08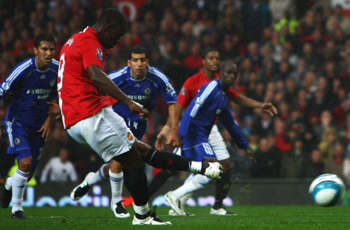 Champions:
Manchester United
Manchester United 2-0 Chelsea
(September 23, 2007)
Although this defeat was still a significant blow to their title hopes, Chelsea's season would prove to be more greatly affected by the events that immediately preceded this game. Jose Mourinho's dramatic exit from the club just days before left Avram Grant in control of the Stamford Bridge side and deprived the Blues of the "special one's" undoubted talents, which had already brought such success to west London.
Chelsea 2-1 Manchester United
(April 26, 2008)
Despite the turmoil in the first half of the season, Avram Grant made a good fist of the job of managing Chelsea throughout the rest of the year after Mourinho's departure. This victory over Manchester United kept the title race alive as it put the side's level on points with two games to play. As it was, the title race went to last day of the season where a comfortable victory over Wigan for Manchester United ensured that they reclaimed their Premier League crown.

Final Premier League standings:
2006-07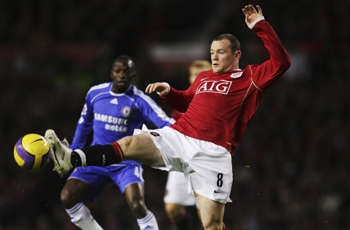 Champions:
Manchester United
Manchester United 1-1 Chelsea
(November 26, 2006)
In an archetypal game of two halves, Louis Saha's first-half strike was cancelled out by Ricardo Carvalho's header in the second period. However, Manchester United were most pleased with a share of the points, as the draw ensured they stayed three points clear of Chelsea at the top of the table.
Chelsea 0-0 Manchester United
(May 9, 2007)
Manchester United had already reclaimed the Premier League title from Chelsea's grasp prior to this game, hence why both sides fielded weakened teams. However, Sir Alex Ferguson's side may have felt they missed a trick in not heaping further misery on their opponents despite already having the championship sewn up, as Chelsea had done to them in the previous two seasons.
Final Premier League standings:
2005-06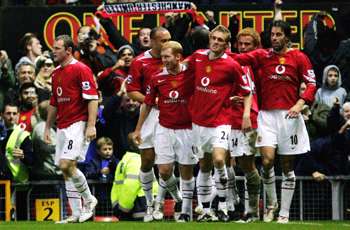 Champions:
Chelsea
Manchester United 1-0 Chelsea
(November 6, 2005)
Darren Fletcher's first-half goal ensured that Chelsea lost for the first time in 41 Premier League games, but in reality, this defeat did little to hinder the Blues in their quest to reclaim their Premier League crown. Manchester United still trailed the Stamford Bridge side by 10 points despite victory in this game.
Chelsea 3-0 Manchester United
(April 29, 2006)
Chelsea clinched their second successive Premier League title with a resounding win over their nearest challengers. Sir Alex Ferguson must have been wondering what the future held for his Manchester United side, such had been Chelsea's dominance in the last two seasons.
Final Premier League standings:
2004-05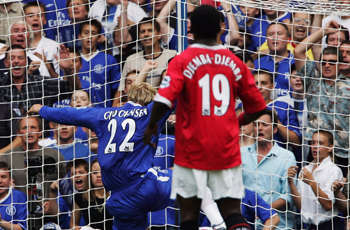 Champions:
Chelsea
Chelsea 1-0 Manchester United
(August 15, 2004)
Jose Mourinho's era as manager could not have got off to a better start as one of Chelsea's nearest title challengers were beaten in his first Premier League game in charge. Although Manchester United eventually ended the season significantly behind the Blues, it is in no doubt that this opening day victory for Mourinho's side gave them the belief and confidence to go on and claim their first Premier League crown.

Manchester United 1-3 Chelsea
(May 10, 2005)
Chelsea had already sewn up their first Premier League title before visiting Old Trafford and were therefore applauded on to the pitch by Manchester United players in this game. As if this wasn't humiliation enough, a convincing win for the Blues ensured that they broke the record for the number of points gained and the number wins in a Premier League season.
Final Premier League standings: