Teenage star set to spark bidding war as he prepares to leave Anderlecht
EXCLUSIVE
By Wayne Veysey | Chief Correspondent
Real Madrid have been given a boost in their attempt to sign Romelu Lukaku ahead of Chelsea and Manchester City as Goal.com UK can reveal that the teenager has started learning Spanish.
The 17-year-old striker, who was the subject of a £17.5 million bid from an undisclosed Premier League club last summer, is set to leave Anderlecht at the end of the season when he graduates from High School.
It is understood that Chelsea is his preferred destination and that some of the rivals for his signature, who include City, Tottenham, Arsenal and Manchester United, have been told that Lukaku has already agreed to join the Premier League champions.
Nevertheless, sources close to the Belgium international insist he is still keeping his options open as he completes his schooling.
Lukaku has a customised study programme devised by Anderlecht to dovetail with his football commitments for club and country.
He is doing a two-year diploma in tourism and PR and, as part of the course, began learning Spanish and accountancy notions in the current academic year, which started two months ago.
Lukaku, who is said by insiders to be a "quick learner", hails from the Flemish-speaking area of Antwerp and also speaks French and conversational English.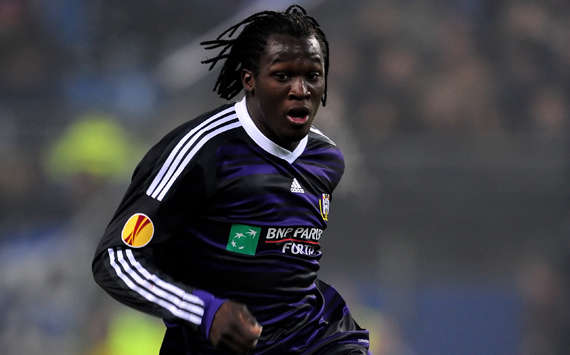 Educating Romelu | Lukaku has begun learning Spanish in his final year at High School
He took his books with him as the Anderlecht squad travelled to St Petersburg on Tuesday for Wednesday night's Europa League match against newly-crowned Russian champions Zenit.
The world's leading clubs will have a greater idea of the teenager's plans when he speaks to the media in a specially arranged session later this month. The teenager has a release clause in his contract that will be triggered in 2012.
Real Madrid manager Jose Mourinho has openly admitted his admiration for a player who has continually broken records since making his Anderlecht debut last year.
The 6ft 3in forward, who specialises as a lone central striker, became the youngest ever top scorer in Belgium last season with 15 league goals, and his 70 appearances in all competitions since breaking into the first team have yielded 30 goals. A fortnight ago, he scored his first goals for his country, a double in a friendly against Russia.
During a recent interview, Mourinho made a point of praising Lukaku's father Roger, a former professional footballer.
"It is true we wanted Romelu, but he has a very clever dad," said Mourinho. "He wants Romelu to stay at Anderlecht for one more year. I wish all dads were like this."
Chelsea have been monitoring Lukaku since he was 15 and have had a head-start on their rivals ever since the player was photographed at Stamford Bridge in a Chelsea shirt earlier this year when he went to the stadium as part of a school trip. Didier Drogba is on record as saying he has phoned the youngster and urged him to sign for Chelsea.