Kolo Toure
has launched a scathing attack on some of his
Manchester City
team-mates, claiming that a number of them are lazy.
The defender believes that such players feel wronged that they are not given a place in the starting line-up, despite not working hard enough on the training ground to warrant one.
He believes that imposing fines on lethargic players would ensure that everyone is training at full intensity.
"You need to be honest, even if you hurt people," Toure said to
The News of the World
.
"And there are some players here, I am not scared to say, who are not working hard enough for the team.
"Some don't do enough in training, but still expect to play. We all get big wages at City, but some need to work harder.
"You cannot have a place in the team - even if you are an international - if you don't show what you can do in training.
"As players, we have the best job in the world and if the manager said, 'You haven't worked hard enough, you will only get half your wages this week', it would make the players fight harder.
"I'm a professional footballer and, to me, playing regularly is the most important thing; money is secondary."
Toure also admitted that there is unrest in the City camp, and maintained that the current situation is only working to the detriment of the team as a whole.
This weekend it was reported that Emmanuel Adebayor, Wayne Bridge, Joleon Lescott and Shaun Wright-Phillips confronted manager Roberto Mancini concerning his alleged preferential treatment of young Italian striker Mario Balotelli.
And last month, Gareth Barry, Joe Hart and Adam Johnson got into trouble after hitting the tabloids for the wrong reasons, attending an alcohol-fuelled late-night students' party at St Andrews while on a golfing trip to Scotland.
Johnson has also recently maintained that he could leave for greener pastures, whereas Balotelli - a big money summer signing - has already been linked with a move to AC Milan.
"There are players with big egos here, but you get that at every club," said Toure.
"I signed from Arsenal, where we had Thierry Henry, Patrick Vieira, Dennis Bergkamp, all top players, but their behaviour was fantastic. The most important thing was for the team to win - it didn't matter who was playing.
"If everybody fights with each other, the team is not going to get better."
Brotherly love
| Toure insists his brother Yaya deserves his fat pay packet
Players at Eastlands are widely reported to be earning astronomical wages, but the centre-half believes that some of them are worth the salaries that they currently receive. And he includes his brother Yaya among those who warrants a weighty pay packet.
He said: "Look at Carlos Tevez. I read City want to give him £250,000 a week for his next contract.
"Why? Because he deserves it, he is the best player at City.
"People also talk about Yaya's salary but he also deserves it. He signed from Barcelona, where he won five trophies in one year. He won the Champions League - did anyone from City win that?
"He came from a big club to a club which wants to be big, so he deserves his money and people need to understand that."
With the fractious nature of things behind the scenes at Eastlands, the difficulties have begun to overflow onto the pitch, from which the team were recently booed off after a goalless draw with Birmingham City.
That result marked the fifth of six games in all competitions in which the Eastlands club have failed to register a victory. But the Ivory Coast international still believes that his side can win the Premier League this season.
Toure said: "City want to be a big club. We feel pressure that we have to deliver and we can still win the title.
"I can't say we will because it is very difficult. There are top teams like Manchester United, Chelsea and Arsenal.
"At the moment we are not consistent enough. We played well in beating Chelsea, but lost to Wolves and you cannot play like that.
"The bust-ups happened, but there is always fighting at clubs and that is normal. It shows the team has hunger, the players want to win and I don't have a problem with that.
"When you have players from different countries, different mentalities, you will always have arguments.
"But the most important thing is the team - as long as each player does his job, that's it, no buts.
"If a player's commitment starts to drain, the manager needs to control that, but he cannot go to everyone's house, so it's difficult. For me, the only thing that will calm us is to win. We need a trophy this season. And then we will get into the habit of winning."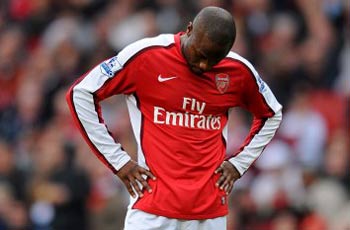 Exit
| Gallas fuelled Toure's departure
The 29-year-old is certainly accustomed to that winning habit, having won two league titles in his homeland with Mimosas before joining Arsenal in 2002. He spent seven years in north London - winning a Premier League title, an FA Cup and two Community Shields in the process.
However, his last few years under Arsene Wenger saw the club go trophyless.
The centre-back insists, though, that this was not the reason why he chose to leave the Gunners in favour of a move to Eastlands.
"Leaving Arsenal was very difficult," said Toure. "The main reason I left was because I didn't get on with [William] Gallas.
"In the beginning my relationship with him was fine - I saw him as a big brother. I was his friend but then he started to disrespect me, to treat me badly.
"He would tell me, 'Don't talk to me' and I never knew why.
"It started when Arsene Wenger made him captain. I think Gallas thought I was jealous. I wasn't, I just wanted to help him.
"For me, the captaincy is nothing. Here at City I lost the armband to Carlos Tevez but I'm still playing my best football.
"I'm still a captain inside because when I play I just want to help my team-mates.
"Nowadays managers just give the armband to anyone to make them happy or to keep them at the club. But, for me, it's not a problem."
On February 23, 2008, Gallas took some heavy criticism for his sit down protest when the Gunners conceded a last-minute equaliser from the penalty spot against Birmingham City in the infamous game that saw Eduardo - now at Shakhtar Donetsk - suffer a broken leg.
Gallas sat down on the pitch in protest as the rest of the team went down the tunnel. Toure now claims that despite his deteriorating relationship with the then skipper, he defended him when his fellow defender refused to apologise for his actions.
"Gallas was the one who didn't talk to anybody after the game," he said. "The next day, Mr Wenger wanted Gallas to apologise to all of us but he refused.
"So I stood up and defended him. I told the players, 'Look, I know it's not right, but you need to understand he just wanted the best for the team'.
"Some of the players asked me, 'Why are you helping him? Why are you protecting him?'
"You need to understand people, but after that he still disrespected me."
Gallas was eventually stripped of the armband and young Cesc Fabregas was handed the responsibility of leading the team.
Toure has lost the Manchester City captaincy in favour of star striker Tevez, a key figure for Argentina and someone who reportedly does not see eye-to-eye with his manager at all times.
He added: "I think people take advantage because the Ivory Coast is not a big country. There is a prejudice against African footballers because our continent does not have a big football pedigree.
"If I came from a big football country like England, Brazil, Argentina or France I would have been captain, I would have had more respect."