EXCLUSIVE
By
Wayne Veysey
| Chief Correspondent
New
Manchester United
signing
Mats Moller Daehli
is the most naturally gifted player to hail from Norway since
Steffen Iversen
, according to a leading European talent-spotter.
Daehli, 15, is finalising his switch to Old Trafford after agreeing terms on a deal which will see him link up with the club's academy on February 1. As Goal.com UK revealed earlier this week, the midfielder is so highly rated by United that he has already been guaranteed a professional contract when he turns 17.
"In terms of overall potential, I'd say he's probably the most naturally gifted player to emerge in Norway since Steffen Iversen, whose talent was regrettably hampered by injuries," top Norwegian football analyst and consultant Tor-Kristian Karlsen told Goal.com UK.
"He's certainly been outstanding at youth level and excelled both at national and international level. He's been excellent even when playing against kids two or three years his senior.
"Above all his qualities, I'd say his 'Mediterranean' range of skills makes him special. He is a natural footballer. Everything he does on the pitch comes naturally to him, as if by instinct.
"This is very uncommon for Scandinavian footballers who are generally appreciated for their effort, physique and discipline. This kid is all about flair, skill, balance and a great natural footballing brain."
Karlsen has personally scouted the teenager, who joined Premier League side Stabaek from FC Lyn six months ago.
"I have seen him play and filed reports on him, as I do with most other prospects from the Nordic countries," explained the former Hannover, Bayer Leverkusen and Watford scout.
"But it dawned on me quite early that this kid was destined for Manchester United so I didn't encourage any of the clubs I work with to spend too much time on this case. They'd only be wasting their time.
"Several European club tops were interested, more than those reported in the media [Bayern Munich, Ajax]. But as far as I understand, at a certain point the family decided to politely pay little attention to approaches from other suitors and focus on Manchester United.
"As far as I know he's been a frequent visitor to the Manchester United Academy over the past year, so they would've known about him for quite a while."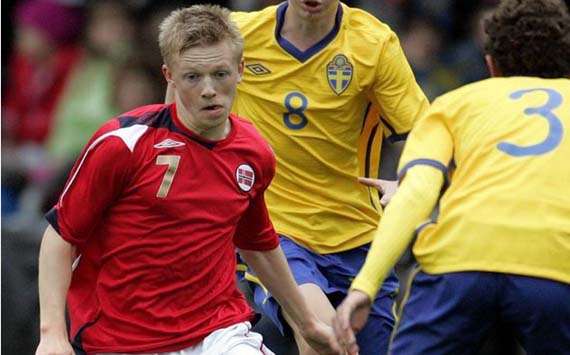 God-given talent | Daehli plays with a natural flair at odds with most Scandinavians
Karlsen is convinced that Daehli has the ability to make the leap from brilliant youth to United first-team regular.
"Without a doubt, there's nothing stopping him in terms of God-given talent," he explained. "But let's not forget that we're talking about a young boy, he might be looking at making his first team debut in three years' time at the very earliest. A lot can obviously happen between now and then.
"Compared to other top 15-year-olds he's of a relatively slight build. I'm not saying smallish players cannot make it all the way, there are plenty of examples of those who have, but there's no denying that there's currently a huge emphasis of physicality in the modern game.
"But when it comes to footballing brain, skill, range of passing, touch and movement he's got all the fundamentals to become a top-class footballer."
Norway was one of the most popular markets for Premier League clubs in the 1990s but the production line of the country that produced Iversen, Ole-Gunnar Solskjaer, Tore-Andre Flo, Ronnie Johnsen and Henning Berg has slowed down.
"Norway was an untapped market in the '90s, you could pick up a ready-made top league player for a pittance," said Karlsen. "But as the clubs priced themselves out of the market, the Premier League clubs progressively got richer and started shopping in more high quality markets such as France, the Netherlands and continental Europe in general. Scandinavia became forgotten.
"Added to that, I don't think Scandinavian clubs have been working well enough at youth level or even developed their top leagues enough to provide a platform fit to develop top players. Maybe the export riches and relative success in the '90s made them complacent."