EXCLUSIVE
By Wayne Veysey | Chief Correspondent
Aaron Ramsey
is set for a return to competitive action in 10 days but is not likely to return to the
Arsenal
first team until the new year.
The Wales midfielder has been pencilled in for his comeback for the reserves in a behind-closed-doors match against Everton at the club's London Colney training base on November 8.
But Arsenal's medical team are taking no risks as they carefully plan Ramsey's recovery from a career-threatening injury and are intent on gradually easing him back into competitive action.
Ramsey fractured the fibula and tibia of his right leg in a challenge with the Stoke City defender Ryan Shawcross on February 27 and was ruled out for nine months.
The teenager, 19, is working closely with Arsenal's newly appointed assistant fitness coach Marcus Svensson as he builds up the strength and spring in his leg following the injury. He returned to light training a fortnight ago with his senior team-mates and has gradually stepped up the intensity by incorporating more work with the ball into his rehabilitation programme.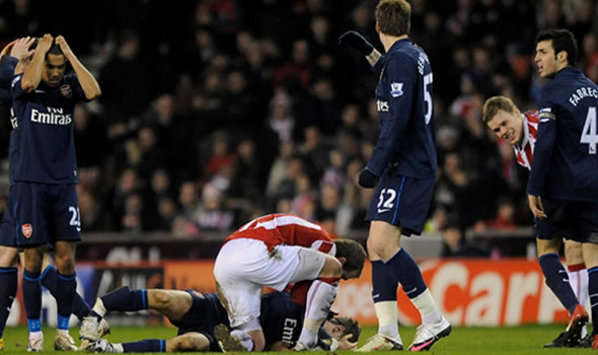 Cruel break | Ramsey suffered a serious leg injury against Stoke in February
"I'm doing what the staff are telling me here. I trust them and I think I'm on track," Ramsey said recently. "I'm just doing my pre-season work now, trying to get a bit of spring back into my right leg. I'm outside training with the fitness coach and I feel good.
"It feels great to be back outside kicking the ball again. I hate being in the gym. That's the worst bit about this. It's much better to be out in the air with a ball or even just running. I don't mind that. I just want to be out of the building."
Manager Arsene Wenger knows from previous experience of players who have suffered from horrendous injuries that the mental scars can take even longer to heal. Ramsey's former team-mate Eduardo struggled to regain the form he showed before his own career-threatening ankle injury and was sold to Shakhtar Donetsk in the summer.
Despite Ramsey's enthusiasm to make as swift a return as possible, Arsenal's coaching team are wary of pushing him too quickly.
The midfielder is also likely to play some part in the reserves match against Wolverhampton Wanderers on November 23 and if he shows no ill-effects, a December return to the first-team squad is likely.
Nevertheless, it is not anticipated that Ramsey will make anything other than a few short, substitute appearances before Christmas and that a return to the Arsenal starting line-up is unlikely to be before the new year.