EXCLUSIVE
Portuguese national team coach
Carlos Queiroz
has hailed
Liverpool
's signing of
Raul Meireles
from
Porto
, declaring that the player will be a great addition at Anfield.
Liverpool splashed out £11.5 million on the Portuguese international midfielder on Sunday and expect him to help fill the gap left by the departure of Javier Mascherano to Barcelona.
Meireles shone for Queiroz's side at the World Cup in the summer, and the former Manchester United assistant and Real Madrid coach told
Goal.com
that Liverpool supporters have much to look forward to.
"I think Raul Meireles is a fantastic player in the national team," said Queiroz.
"He's one of the pillars of the Portugal team. He's a great player and an excellent professional.
"He has all the conditions to be a success in English football at Liverpool. They have just signed the services of a player who stands out for his application, his professional dedication, his technical and footballing quality, and will be very successful for the Liverpool team."
Meireles, 27, had six successful years at Porto; where he won four Portuguese league titles, three Portuguese Cups and three Portuguese Supercups. During that time he played 153 times in all competitions, scoring 15 goals, and has played 38 times for Portugal, scoring six goals.
"He's a box-to-box midfielder, he's hard-working, creative, is a good finisher, he's consistent, very solid, a great team player," said Queiroz.
Meireles' qualities also extend to his approach off the pitch, according to the 57-year-old, who said: "He's a great person who is serious, he's a player who has a lot of capacity to communicate. He'll be a great reinforcement for the Liverpool team."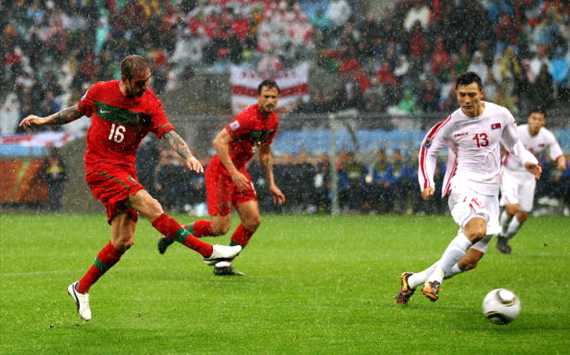 Deadly in red | Raul Meireles played for Queiroz's Portugal at the World Cup
But Queiroz also warned against any expectation that Meireles could contribute in the same way as the tough-tackling Mascherano had in his time at Liverpool.
He added: "Every player needs his space and time. He's Raul Meireles, not Javier Mascherano.
"He's a player who plays very well at both ends of the pitch, is good at defensive duties, but is also an attacking player with a very good nose for goal. He plays very well defensively and in attack. He's a complete player."
Meireles will be expected to strike up a good understanding with Liverpool's captain and midfield stalwart Steven Gerrard, and Queiroz insists this will not be a problem.
"All great players can play with great players," said Queiroz. "Steven Gerrard is a great player, and Raul Meireles is a great player, too."
Queiroz is currently embroiled in a dispute with the Portuguese Football Federation amidst claims he insulted an anti-doping agent at the 2010 World Cup, which he has strongly denied.
Goal.com is proud to be a premier partner of Digg.com and is pleased to offer exclusive invitations to our users to become participants in the Alpha launch of the new Digg.com.

Use this link to get early access to the alpha site.

Invitations are limited and are on a first come, first served basis so act now!