ANALYSIS

By Wayne Veysey | Chief correspondent
It takes two to tango. And Arsenal did not want to put on their shoes and dance.
Not at any point during the club's summer-long tug-of-war with Barcelona for their captain, talisman and prize asset Cesc Fabregas who, in the memorable words of Nou Camp passmeister Xavi, has Barca embedded in his DNA.
The more love letters that directors, players and presidents – past and present – from the Nou Camp sent to their hometown star, the more Arsenal dug in their heels and remained entrenched on the sidelines like the child at the school disco too shy to join in.
The end result of Barcelona's failure to prise Fabregas from his employers' iron grip is that the player, match fitness permitting, will lead out the team at Anfield in Sunday's Premier League curtain-raiser against Liverpool.
Many Gooners have been too overjoyed at the player's public statement of commitment last Friday to question whether his heart is really still in north London but so angered have Arsenal been by the conduct of Barcelona and the player himself over the last three months, they will accept having a disaffected skipper on their hands.
When the likelihood of player power notching up another victory seemed inevitable in early summer, one boardroom source told Goal.com UK: "Arsenal's resolve is being underestimated. We are more than happy to keep him for another season regardless of his state of mind."
From the moment that Fabregas set the wheels in motion on May 13 by telling a crowd of mainly Barcelona fans at an opening of a tourist complex just outside the city that he wanted his future to be sorted out 'before I leave for the World Cup', Arsenal were left in no doubt about the player's wishes.
Yet, more than 12 months previously, Fabregas had actually set his mind on leaving the Emirates Stadium and returning to the club that had been an integral part of his life since childhood.
Arsenal were so desperate to hang on to the player that they signed from Barcelona at 16 that the board sanctioned an unprecedented deal during the 2008-09 season to not only increase his salary from £80,000 per week to £110,000 per week but also back-date his pay for two years to compensate him for being underpaid over that period compared to other elite Premier League players. The result was that the player received a one-off sum of £3 million, which was effectively £1.5m for each of those two years. Fabregas' contract was also extended by another year to 2015.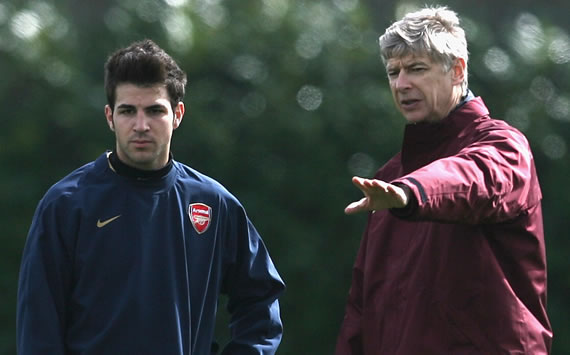 In awe | Fabregas' respect for Arsene Wenger has made it easier for him to stay
It kept Fabregas sweet but another season at the Emirates Stadium occasionally flickered yet ultimately petered out into disappointment. After his last contribution of what had been his best personal campaign in red-and-white had been to crash home a penalty against Barcelona with what transpired to be a fractured leg, he looked around the dressing room and did not feel he was among equals. Fabregas had made up his mind by the time Arsenal were completely out-classed once again in the return leg at the Nou Camp.
There was disagreement in Fabregas' camp about how best to pursue the move. The player was told by Barcelona and his father Francesc that he should go public with his intentions in order to put the pressure on Arsenal to sell. His other advisers, including agent Darren Dein, a veteran of Arsenal-Barcelona transfers, felt this was too risky.
By the time Barcelona faxed Arsenal with an offer of £29.2m for Fabregas on the evening of June 1, the Premier League club had decided to batten down the hatches. The statement the Londoners released, believed to have been personally written by chief executive Ivan Gazidis, was so strongly worded that it was clear that only a massive offer – around £50m – would bring Arsenal to the negotiating table.
Arsenal were angry, not only with the arrogance and self-entitlement of Barcelona, but also the ingratitude of the player himself. The club's pride and reputation was at stake. Furthermore, it was the first real test of Gazidis' transfer market savvy and cunning.
What the Spanish giants had under-estimated was that Arsenal's finances were in rude health and the club were not in desperate need of a Cristiano Ronaldo-esque windfall. The move to Emirates Stadium was generating significant cash – enough for manager Arsene Wenger to be handed a £45m summer transfer kitty - and the club's foray into the property market had proved a success, with the Highbury Square development now in profit.
Also in Arsenal's favour was Fabregas' respect and awe for manager Arsene Wenger, a master at understanding the footballer psyche. He told the Spaniard how much he valued him, to concentrate on the World Cup and ignore the speculation.
It then emerged that Barcelona's coffers were not as bulging as many presumed they should be for serial winners who are widely acknowledged to purvey the finest football on the planet. New president Sandro Rossell revealed that his regime had inherited debts from its predecessor and a £125m bank loan was needed to cover wages for June. Whether or not it was a political dig, it strengthened Arsenal's hand.
In the transfer poker game of bluff and double bluff, the Londoners were adamant they would not blink first.
Fabregas was left in no man's land. Friends said he felt 'stressed' and 'powerless'. He kept quiet about his club during the World Cup and went on holiday afterwards hopeful – but less confident – that he would get his dream move.
Barcelona submitted a second formal offer – believed to be around £33m – but a long way short of Arsenal's valuation for a World Cup winner, still only 23, with five years remaining on his contract and widely acknowledged to be one of the finest creative midfielders in the world.
Arsenal have won the battle and refused to buckle in the face of an orchestrated campaign from one of the biggest sporting institutions on the planet.
But eyes will be fixed sharply on Fabregas' commitment to the red-and-white cause. Do the club really want an unhappy player whose body is in London and heart with his comrades mixing football of beauty and brilliance in Barcelona?
The answer, it appears, is yes. The public statement released by the Spaniard last Friday is believed to have been completely independent of Arsenal, perhaps explaining why it hinted that he was settling for second best – for now.
Fabregas will inevitably move to Barcelona, probably next summer, possibly even in January – as long as they cough up what he is worth. But the club – and manager – to whom he owes his career have ensured that any move will be strictly on their terms.