Liverpool
have been handed a mouthwatering start to next season's
Premier League
campaign after it was confirmed that they will welcome
Arsenal
to Anfield on the opening day.
Manchester City also get a chance for some revenge on Tottenham Hotspur after the Londoners beat them to fourth spot last season, with Roberto Mancin's side travelling to White Hart Lane.
Manchester United will welcome newly-promoted Newcastle United to Old Trafford, whilst first up for Chelsea are another promoted side in the shape of West Bromwich Albion.
Blackpool have a Lancashire derby to open with, making the short trip to Wigan Athletic.
Opening day:
Aston Villa v West Ham
Blackburn v Everton
Blackpool v Wigan
Bolton v Fulham
Chelsea v West Brom
Liverpool v Arsenal
Man Utd v Newcastle
Sunderland v Birmingham
Tottenham v Man City
Wolverhampton v Stoke
Meanwhile, Boxing Day promises some festive treats for fans, with Chelsea and Arsenal tangling in a London derby, and Manchester City facing an interesting trip to the North East to take on Newcastle.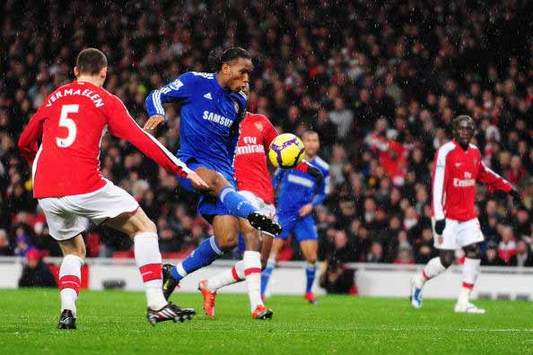 Festive feast | Will Drogba torment Arsenal again on December 26?
Boxing Day:
Arsenal v Chelsea
Aston Villa v Tottenham
Blackburn v Stoke
Blackpool v Liverpool
Bolton v West Brom
Everton v Birmingham
Fulham v West Ham
Man Utd v Sunderland
Newcastle v Man City
Wolverhampton v Wigan
As for the final day, Blackpool could be either bidding goodbye to the Premier League or sealing another top-flight season at Old Trafford, depending on whether your glass is half-empty or half-full. Villa face a potentially intriguing clash with Liverpool, and Arsenal will travel to Fulham.

Final Day:
Aston Villa v Liverpool
Bolton v Man City
Everton v Chelsea
Fulham v Arsenal
Man Utd v Blackpool
Newcastle v West Brom
Stoke v Wigan
Tottenham v Birmingham
West Ham v Sunderland
Wolverhampton v Blackburn