Spurs added six new players, though only Federico Fazio is likely to go straight into the first team, and have made a largely promising start even without the Argentine's presence
By
Ewan Roberts
Tottenham
had a relatively low-key summer compared to last season, coming out of the transfer window with a net profit as new boss
Mauricio Pochettino
is handed the task of getting last year's big-money recruits to deliver on their potential.
Nevertheless, there were plenty of incomings and outgoings at White Hart Lane and
Goal
assesses how the north Londoners performed in the market and the repercussions for the season ahead...
Humbling collapses against the Premier League's big guns – which continued, albeit to a slightly lesser extent, against Liverpool last time out – underlined the need for Tottenham to invest in a back line that meekly surrendered all too often last season and has looked ill-suited to playing the high line that will be retained by new boss Pochettino.
But the £8 million arrival of
Federico Fazio
from Sevilla could change all that. The Argentine, who initially struggled with
Los Rojiblancos
due to a number of injury problems, became the leader of the defence in recent campaigns and has, somewhat belatedly, developed into an imposing, authoritative presence in the heart of the back-line.
Sevilla have made their displeasure at losing Fazio for such a paltry fee well known, with Unai Emery lamenting the departure of a player who has captained the side, with and without the armband, and was rock-steady en route to Europa League glory. Having sold former skipper Michael Dawson, Spurs will need Fazio to fill that leadership void but he also brings a pumped up, win-at-all-costs attitude that the side have often missed.
Stylistically, Fazio should suit the brand of football Pochettino wants to play. He may not be the quickest but the 27-year-old reads the game incredibly well and his positivity in stepping up will be key to the side's pressing game. No Spurs defender got close to Fazio's 88 interceptions in La Liga last term (3.3 per game), while his height and physicality saw him win 76.9 per cent of headers in 2013-14.
WHAT THE MANAGER SAYS
: "Federico Fazio is an excellent signing for us - a positive influence both on and off the field. He is a big and strong defender and will give us something extra in terms of presence, aggression and will to win."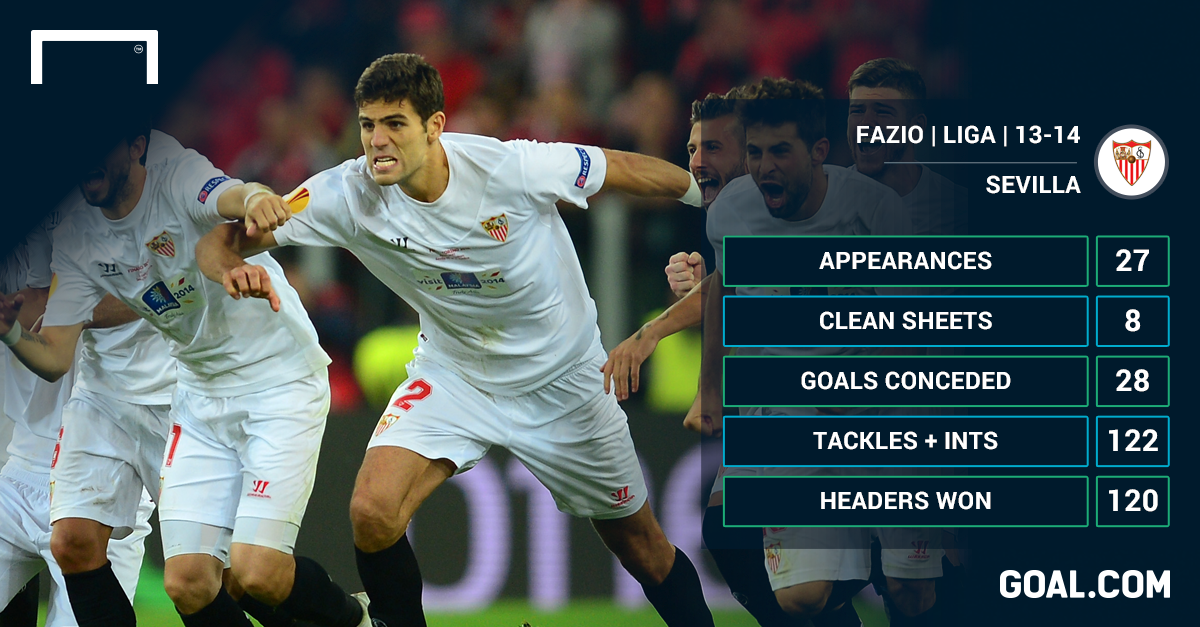 On a deadline day in which Tottenham allowed two fan favourites, Sandro and Lewis Holtby, to leave the club, the acquisition of
Benjamin Stambouli
– a largely unknown (on these shores, at least) midfielder from Montpellier – would have done little to placate the despondency that greeted those departures.
In time, however, the former France Under-21s international is likely to prove an exceptionally shrewd signing and meshes together some of the stand-out traits of both the Brazilian enforcer and the German playmaker. Having had just a year remaining on his contract with the Stade de la Mosson outfit, Spurs were able to pick up the 24-year-old for just £4.7m.
But don't let the price tag fool you. Stambouli has been a star for Montpellier practically since breaking into the first team and helped the club beat the might of Paris Saint-Germain to win Ligue 1 in 2012. He boasts the defensive awareness of Sandro, flying into crunching challenges - though is a touch more cultured and progressive on the ball - and marries that with an energy, zip and passion not dissimilar to Holtby.
Last season Stambouli made 110 tackles in Ligue 1, the fifth-most in the division (despite regularly deputising at centre-back), whereas the most that any Tottenham player accrued was 65. The Frenchman offers grit, tenacity and boundless passion and will quickly win over the Spurs faithful – especially if he continues to talk as fondly about Chris 'Magic' Waddle as he did in his first interview after joining the club.
WHAT THE MANAGER SAYS
: "Benji Stambouli offers us versatility as well as quality. He knows what it takes to win and will prove a tremendous addition in both defensive midfield and also in defence if needed."
PLAYER THEY SHOULD HAVE SIGNED
Tottenham spent much of the summer chasing Southampton's Morgan Schneiderlin, with both the midfielder and Pochettino keen to be reunited at White Hart Lane, though the south-coast club, determined to halt an exodus that threatened to destabilise them, refused to allow their 24-year-old talisman to leave.
Schneiderlin has quickly underlined why he is such a wanted man, netting twice against West Ham last time out, but the signing of Stambouli has lessened the blow of missing out on the Frenchman, while the north Londoners were already blessed with an array of midfield options – Etienne Capoue, for example, has made 14 tackles and interceptions this term as well as recording the most passes, 300, in the division.
What the 3-0 defeat to Liverpool underlined, however, is how much Spurs' attacking unit needs to improve in order to match, and keep pace with, a lightning-quick and ruthless Anfield offence. With Tottenham's attack now reliant on the unpredictable Emmanuel Adebayor and the inconsistent Nacer Chadli, it is clear this is where improvements were needed.
Pochettino will back himself to improve the fluidity and movement of his front line and prioritised strengthening a leaky back line in the off-season but there is a sense that PSV's
Memphis Depay
could have reinvigorated Spurs' attacking options and brought much-needed pace to a line-up that looked sluggish going forward compared to the Raheem Sterling-inpsired Reds.
Tottenham considered a £15m move for the Netherlands international, though ultimately he ended up signing a new deal with the Eredivisie side – and, after a flying start to the new season, Spurs may rue not pushing harder for a player who is drawing more and more suitors. He already has five goals in four league games, plus two more in the Europa League, and could be out of the Londoners' reach by the time that the window reopens.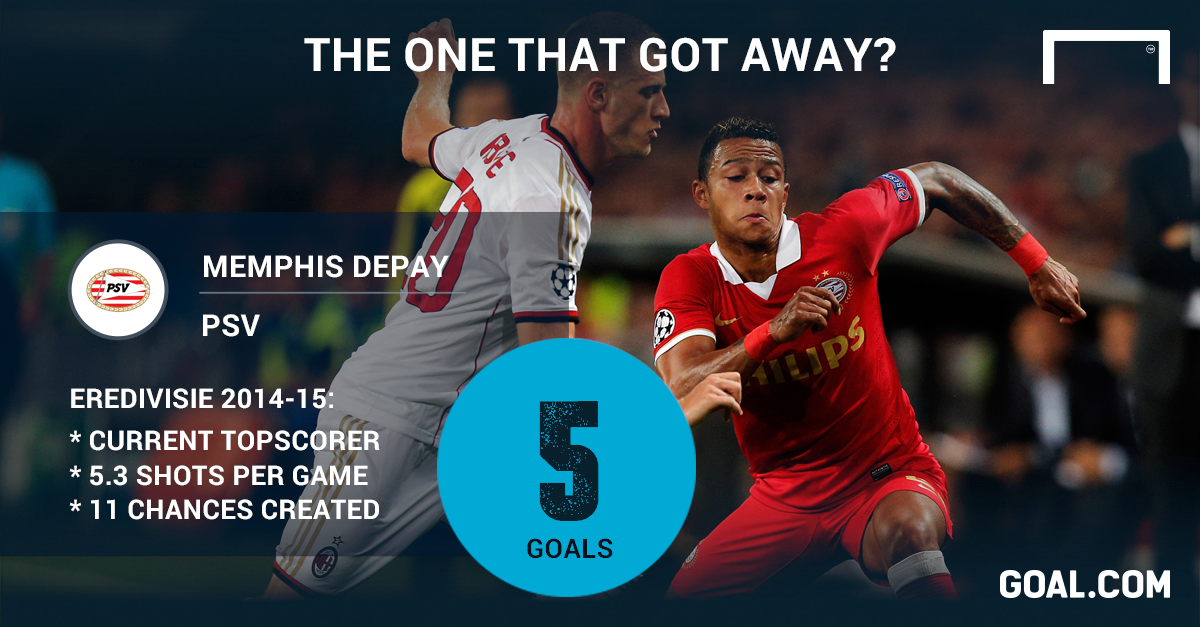 PLAYER THEY WILL MISS MOST
The summer transfer window proved to be quite a bittersweet time for Tottenham fans as Pochettino's overhaul saw a number of much-loved players shipped out, notably captain Dawson to Hull City, Holtby to Hamburg on loan and Sandro to QPR. All three will be missed but only one was, when fit, truly capable of being world class.
That player was
Sandro
, who might have hoped that his career at Spurs would be reinvigorated under a South American coach who demands work rate, tenacity and defensive awareness from his central midfielders – and whose style of play, with two holding midfielders, is a world apart from former boss Tim Sherwood, who ostracised the club's specialist anchormen.
Nicknamed 'The Beast', Sandro, on his day, was a powerful, dominant midfielder and routinely amongst the Premier League's leading interceptors and tacklers. Admittedly, his day had become less regular after a string of serious, career-threatening injuries but his form alongside Mousa Dembele in the 2012-13 season, when he averaged 6.9 tackles or interceptions per game, was perhaps the second most exciting facet of Andre Villas-Boas's ill-fated reign, just behind the rise of Gareth Bale.
Having struggled post-injury, Spurs are unlikely to end up with egg on their face for allowing the Brazilian to leave – though the same cannot be said of Gylfi Sigurdsson. The Iceland international is the leading assister in Europe this season, having setup four goals – and scored one himself – in just three appearances for Swansea City.