Speculation over Angel Di Maria's future at Real Madrid has never been more intense after the club's latest round of buying spectacular attacking talent but the Argentine's cameo in the first leg of the Spanish Supercopa on Tuesday was a big reminder of his quality.
The winger was hailed by Atletico Madrid boss Diego Simeone as
Los Blancos
' best player after the game -
Goal
evaluates his performance and future.
PERFORMANCE AGAINST ATLETICO
It was a night when the new
Galacticos
were off their game. James Rodriguez may have bundled in a late goal but the Colombian, having started on the bench, was restricted to a cameo.
Cristiano Ronaldo, worryingly for Real Madrid, was withdrawn as a precautionary measure due to injury while Gareth Bale was not at his best. Atletico Madrid's double-marking out wide shackled Madrid and it contributed to, ultimately, a pretty poor spectacle.
Enter Angel Di Maria.
The Argentina international may have only been on the field for a quarter of an hour but he provided a huge psychological boost to his team-mates and supporters once he came on.
As it was in the Champions League final, Di Maria made the vital headway. The Real Madrid faithful called for and cheered his introduction and his infectious energy was immediately apparent.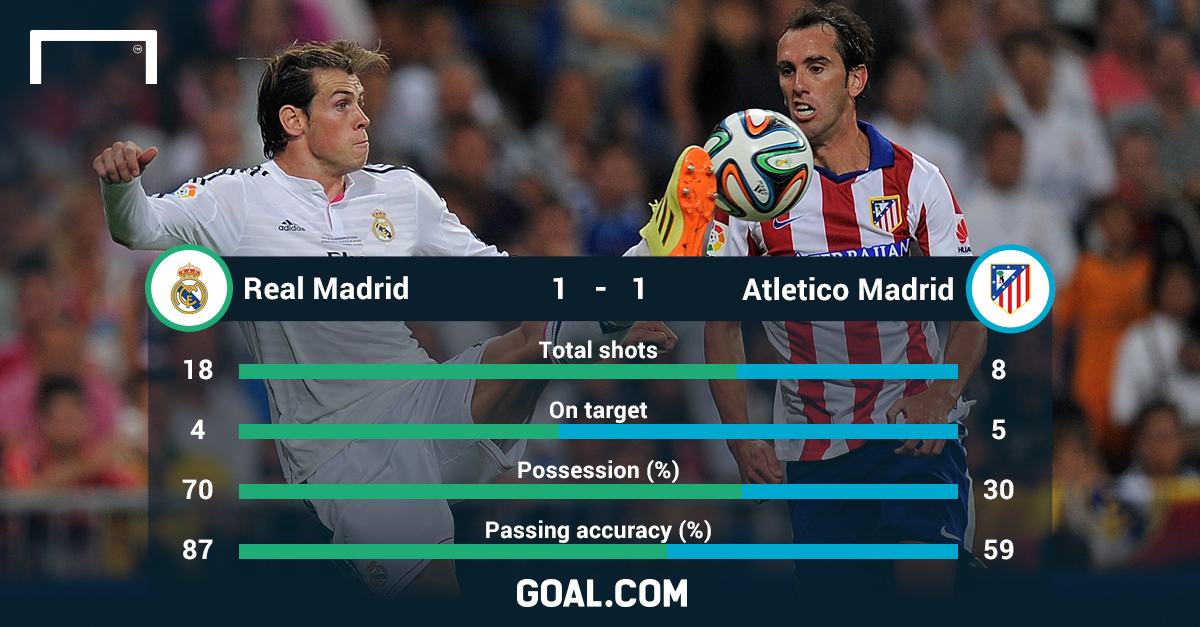 He set about Atletico with relish, providing accurate passes, incisive dribbles and even had a shot at goal. While not directly involved in the James opener, before Raul Garcia's equaliser, it was Di Maria who helped raise the hosts' tempo and it was no coincidence that the Copa del Rey holders went ahead with him on the field.
"The game changed with Di Maria," Atletico coach Simeone told the press. "It's logical as he's the best player they have. He's the player most likely to create openings in the opposition half."
Di Maria was introduced for Luka Modric after Madrid's midfield trio - the Croatian, Xabi Alonso and Toni Kroos - failed to cut through their city rivals and reigning Spanish title holders. That switch created a new dimension to Madrid's play.
It may also, however, offer a timely reminder to Carlo Ancelotti of Di Maria's strengths as he embarks on a campaign with the former Benfica man very much on the fringes of his squad. He left Di Maria on the bench, too, for the European Super Cup against Sevilla but Ronaldo was so good that night in Cardiff that any deficiencies were handily masked.
Not so against the rigidity of Simeone's expertly drilled unit.
Los Blancos
' attacking prowess means that teams this season will routinely pack numbers behind the ball so as to avoid being torn asunder on the break and, when teams hold fast, Di Maria is often the man to make inroads. That will have to be borne in mind by Ancelotti, who is preparing for life without him.
WHAT DOES THE FUTURE HOLD?
Carlo Ancelotti said before the first leg of the Supercopa that he was not entirely certain what the future would hold for Di Maria beyond the transfer window deadline.
He spoke of having a clearer picture of the composition of his squad once things "returned to normal". Well, there's a new normal at the Santiago Bernabeu and it boasts Toni Kroos and James Rodriguez, two incoming players who have pushed the Argentine down the pecking order.
Di Maria saw off the threat of Bale's arrival last summer by adapting his game and becoming one of Madrid's most important players but his task is doubly difficult this time around.
Paris Saint-Germain, at this stage, look out of the running but Manchester United are in a desperate situation with their squad woefully short of the quality needed to sustain a Champions League challenge.
However, Madrid do not release players, generally, on the cheap. Put simply, United must pay what Madrid are asking - some €60 million (£47.9m) - as well as meet the Argentine's wage demands and hope Ancelotti develops no Real Madrid blueprint with Di Maria at the centre of things before the end of August.
United's transfer campaign so far as been a washout and their current dilemma will do nothing to diminish those asking prices. Over to you, Ed Woodward.