PROFILE
By James Eastham
Two years ago I was standing next to one of the dads at a Lille Under-19 league game. Open-mouthed, he spoke softly and admiringly about the big striker dismantling the opposition defence on his own. "Pace, power, touch, technique – he's got the lot," he cooed.
The youngster he was talking about was Divock Origi. At the time, Liverpool's new £10 million signing was just another talented 17-year-old hoping to make it big in the game – but there was something special about him.
Whenever Origi turned out for Lille's Under-17s, Under-19s and reserves, he was the player your eye was drawn to, the one you wanted to get on the ball as often as possible. The stand-out performer in Lille's '1995' generation – 1995 being the year they were born – he was arguably the pick of that same age group anywhere in north-eastern France.
As a 16- and 17-year-old at regional youth league level, Origi blasted his way through opposition defences. Against weaker teams he could win games by being a flat-track bully because he was so much quicker and more powerful than his peers. Against better opposition, however, he would show there was a lot more to his game, producing flashes of technical mastery and moments of brilliant improvisation that reminded you he was a player of immense potential.
When Lille manager Rudi Garcia (now at Roma) handed Origi his senior debut in February 2013, the youngster was still two-and-a-half months short of his 18th birthday. He scored that night, but there was still a long way to go – his first 10 Ligue 1 appearances were all as a substitute, meaning he played only 161 top-flight minutes in the 2012-13 season.
The 2013-14 campaign was the year where Ligue 1 followers started to sit up and take notice: during that season Origi was on the pitch for a total of 1,285 Ligue 1 minutes, making 12 starts and 18 substitute appearances. His tally of five goals – notched at a rate of a goal every 257 minutes – was a decent return for two reasons: first, he was in and out of the side, which was difficult for a rookie trying to find his rhythm; and second, he played in more than one system and more than one position.
For all the progress he was making at Lille, the moment that changed his career actually occurred 400km away, at Aston Villa's Bodymoor Heath training ground, on April 3. When Christian Benteke tore his Achilles tendon that day, it opened the way for Origi to be included in Belgium's World Cup squad.
Origi was already well-known to coaches in the Belgium national team set-up because he had an excellent track record for his country at youth level. So observers were dispatched to Lille games, and when the reports came back good, Origi moved to the top of the shortlist to replace Benteke.
When Marc Wilmots named his 23-man party for Brazil, the media said Origi's inclusion was a surprise - but it was anything but. He was quite simply the best man for the job, with his versatility and level-headed affability making him ideal for the demands of a tournament.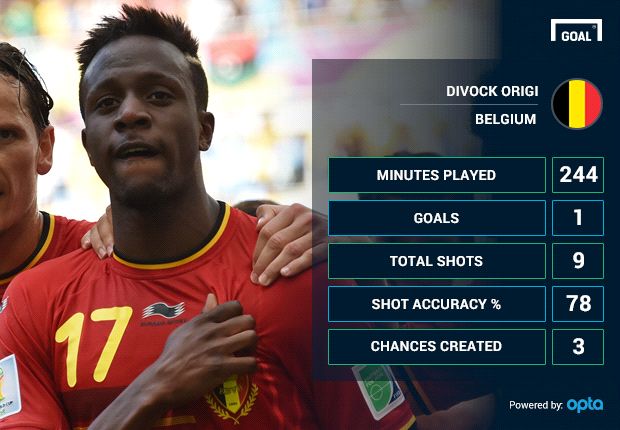 At the World Cup Origi showed glimpses of the skills Liverpool fans will have to wait 12 months to see: that desire to get behind defences with or without the ball; his increasingly sharp penalty-box awareness, emphatically demonstrated by the way he checked his run before shooting first-time high into the net to secure Belgium's 1-0 group-phase victory over Russia; and, above all else, that sensational pace. At full speed, Origi resembles a 200m sprinter coming off the bend and turning on the turbo-chargers. There isn't a centre-back in the world it would be smart to back to beat him in a one-on-one race.
For all that, he isn't the finished article. His decision-making can be erratic, especially when more than one defender lines-up directly in front of him; on occasion, he loses his thread of what he's trying to do with the ball; his performance level can fluctuate wildly during the course of a game; and what you might call his 'game understanding' – how to harmonise with attacking colleagues in a variety of match situations, where and when to make runs in order to hurt the opposition most effectively - needs refining.
But if it all comes together, the grand claim that Brendan Rodgers made as he unveiled Origi as a Liverpool signing on Tuesday – that "he can be one of the most exciting talents in world football" – should stand up. The potential that Liverpool have paid handsomely for is clear and abundant. At 19 years old, the rough edges Origi has are the rough edges you would expect a player of his age to have.
His physical and athletic gifts, coupled with good touch, technique, an eye for goal and a good attitude, suggest he has the necessary qualities to make it to the very top.