ANALYSIS
By Sam Lee
Manchester United
are very much at a half-way house at this point of the summer. The club have spent around £60 million on transfer fees alone already, but the sense is that the real business is still to come. With a number of players still to be shown the door, there are far more questions than answers.
Who's arriving? Who's leaving? Who will be captain? Which formation will be used? Just how much money is available?
Louis van Gaal's arrival will rightfully provide plenty of excitement ahead of the new season, but with just over three weeks to go until the opening fixture against Swansea City, he has little time to run the rule over the players at his disposal and evaluate whether they are willing and able to buy into his philosophy.
He got the very best out of the Netherlands at the World Cup as he was able to pick trusted young players he had handed debuts to, plus more battle-hardened veterans who could carry out his orders to a tee - the best example being Dirk Kuyt.
It's unlikely he has even figured out if he has these players at United yet. Perhaps more importantly, this is a squad which simply needs more players. A vast overhaul would've been necessary after a terrible season under David Moyes, let alone after losing several big dressing room influences and essentially an entire defence.
The departures of Rio Ferdinand, Nemanja Vidic and Patrice Evra not only leaves the club well short on defensive options but also leaders. With Ryan Giggs moving into his coaching role it only exacerbates the issue.
Between David de Gea and the forwards, United need a shake-up. The confidence-sapping campaigns suffered by the already injury-prone trio of Phil Jones, Jonny Evans and Chris Smalling mean at least one new centre-back is a must. Arsenal's Thomas Vermaelen is a target, not least because he can provide cover on the left, and Feyenoord's Stefan De Vrij is also on the agenda.
Top of the list is Mats Hummels of Borussia Dortmund. The Germany stopper is exactly what United need at the heart of the defence, but he is not expected to force the issue and Dortmund will not let him go cheaply, so expectations should be adjusted accordingly.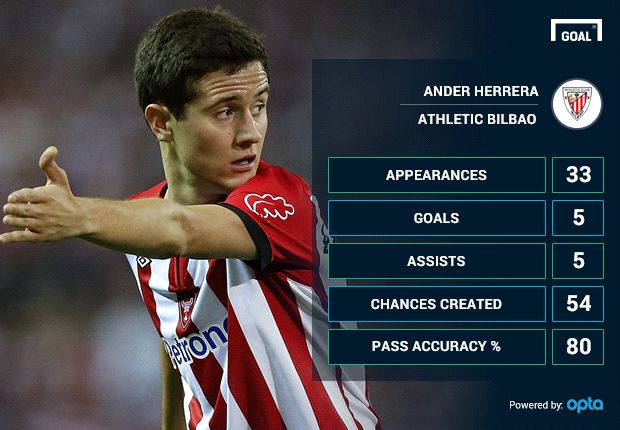 Stats from 2013-14 Primera Division*
Things are even worse in midfield. Ander Herrera is a very good signing, even if the club should have sealed the deal when they had the chance last summer, but it is slim pickings around him. Michael Carrick will be out until October with an ankle injury, leaving the much-maligned Marouane Fellaini and Tom Cleverley, plus Darren Fletcher, who at least will have a full pre-season behind him as he recovers from ulcerative colitis.
United must strengthen here and they are dreaming big. Arturo Vidal and Angel Di Maria have been identified, showing that executive vice-chairman Ed Woodward is at least trying to attract the top names, but the club have been dealt a blow in that particular pursuit, with the
Juve star saying on Thursday that he does not intend to join the Red Devils
.
One would expect that United will not give up lightly with Vidal, though - he remains a top summer target.
But there is still much work ahead for Woodward. Paul Scholes summed it up perfectly: "Edward Woodward has an awful lot to prove this time that he's good enough at his job. He has to bring the players in that the new manager wants.
"It's obvious that last year he didn't manage to do that. If he doesn't we are not going to get anywhere near the top."
Don't rule out a deal for William Carvalho, who Moyes was very keen to sign before he was sacked, if Di Maria and Vidal cannot be tempted.
For all the concerns about philosophies, though, if United can land three of Hummels, Vermaelen, Carvalho and Vidal they would be well in the mix for Champions League qualification - unlike Moyes, Van Gaal will be able to get results in his first season even if the tools are not quite to his liking.
Carvalho, a defensive midfielder, would provide some balance to a top-heavy squad - Van Gaal has already cited the surplus of No.10s - while Vidal, a wonderful midfielder capable of adapting his game, would be perfect for a number of roles and should really be signed at all costs.
Van Gaal, following the 7-0 win over LA Galaxy, has said he will play 3-4-3 next season, and Juan Mata, the current record signing, could be accommodated as a No.10. In reality, the 3-4-3 is essentially the 3-5-2 which was used at the World Cup, and will actually resemble more of a 3-4-1-2 given the presence of a playmaker (such as Wesley Sneijder with the Netherlands). Robin van Persie, the expected new captain, would likely play up front with Wayne Rooney.
This would also limit the need for new signings at full-back, given the presence of three central defenders, though it does mean cover in the centre is a must.
Rafael and Luke Shaw, the £30m arrival from Southampton, would provide the width as wing-backs, with Antonio Valencia another option on the right.
Ander Herrera would take one central midfield slot alongside a potential new signing - though Vidal is the priority, Carvalho would perhaps offer the better balance.
The problem with such a formation is that players like Nani, Kagawa, Valencia, Wilfried Zaha, Ashley Young, Adnan Januzaj and Danny Welbeck would be fighting over scraps. Of those players, though some of them will be sold, only Valencia and perhaps Januzaj and Kagawa could provide the required diligence and work-rate to fulfil their defensive duties. Welbeck can and has, but has already stated his preference to play up front, and his game is better suited to sprints rather than lugging himself up and down the flank.
Another option is a more simple 4-3-3, which Van Gaal has trusted in the past. New central defenders and midfielders will still be required, but so, surely, will be cover at full-back given Evra's departure and the absolute lack of a challenger to Rafael.
The idea, however, is simple. A standard back four, with Herrera, a new signing and Mata as a No.10 forming the midfield three, with Van Persie in the centre of the attack, Rooney on the right and Januzaj/Welbeck on the left.
This also opens up rotation options for the likes of Young, Nani, Zaha et al in the wide areas.
All this means, of course, is that the pressure is squarely on Woodward's shoulders. United's rivals for the top four have been impressive in their business already, and they are building on far steadier foundations.
With the massive new adidas kit deal, plus a wealth of global partners, Woodward has shown he can cut it in the boardrooms of the world's biggest companies, but he will be have to do the business with his counterparts at Europe's biggest clubs if Van Gaal is to get United back to the top of the tree.