POLL
On Friday Liverpool confirmed that they have agreed a deal worth in the region of £70 million with Barcelona for the transfer of troubled talisman Luis Suarez.
Explaining his decision to leave to the Reds fans, Suarez admitted he had fallen in love with the club during his time on Merseyside but claimed that living with his wife's family in Spain was "a lifelong dream and ambition".
Brendan Rodgers, meanwhile, admitted that Liverpool had done everything to try and persuade their star man to stay but insisted that the club will go from strength to strength next season regardless.
"I am confident we will improve the team further and will be stronger for this coming season, when we will be competing on all fronts; domestically and in the greatest club competition in the world, the Champions League," he said in a statement on the club's official website.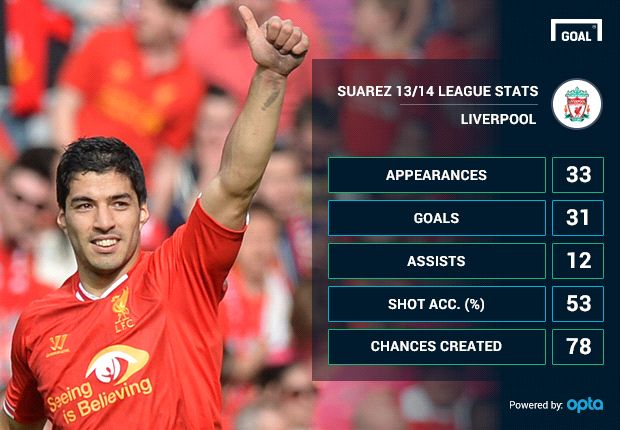 Liverpool have already signed Southampton duo Adam Lallana and Rickie Lambert and are pursuing deals for Lazar Markovic, Wilfried Bony, Divock Origi, Loic Remy, Dejan Lovren and Ben Davies.
The £70m windfall from the Suarez deal will go a long way towards financing Rodgers' reinforcing of a squad which came within a whisker of winning a first league title in 24 years last season.
Equally, he will be without the frequent headaches - and toothaches - that a man with Suarez's penchant for controversy and lengthy suspensions causes.
But there can be no denying that the Uruguayan, for all his faults, was the catalyst for that surprise title charge with an incredible 31 goals and 12 assists in 33 matches.
He will be impossible to directly replace, but can Liverpool build a better team without him?
HAVE YOUR SAY
Is it the right time for Liverpool to part with their talisman? Was £70m too good a price to refuse? Or is a player of Suarez's unique talents too valuable to discard, regardless of the money on the table?
Have your say by voting in our poll, leaving your thoughts on
Twitter
and
Facebook
and making sure that you leave your comments below!